Building and Running a project
Assuming you have defined a project and written one or more .java files (the Java source files that you write in the editor), building a project involves compiling the source files into .class files. For example, if you have defined a file, Game.java, then Game.class is the compiled file. When running the project, the Java runtime interpreter accesses only the .class files. Here are a few things you should know:
When you save a source file (click on the save button or choose File | save from the menu), Eclipse also compiles and produces the .class file.
If you ever need to recompile all your source files, choose Project | Rebuild All from the menu. You may need to do this if the .class files have been deleted or moved outside Eclipse, or if you have edited or copied the source files from another editor or source.
To run your project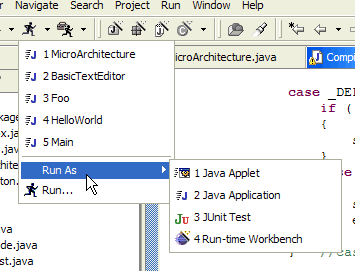 Clicking the Run button on toolbar (an icon of a small person running) will run the most recent project that was previously run. If this is not your current project, do the following:
Pressing the small down arrow icon, to the right of the run button will display a list of recent projects - just choose the one you wish to run if it appears in the list.
If the current project does not appear in the list, choose Run As, then click Java application. (or Java Applet or JUNIT Test if this is what you are writing).
When running a project that writes to the console (using statements like System.out.println(..)), a console panel should open at the bottom of the Eclipse window. This will display output. If Java's Swing classes are used to output graphical windows and other widgets, these should pop up when the project is run.