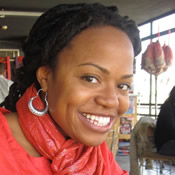 Robin G. Nelson
Assistant Professor of Anthropology
Office: Dana Science Center 348A
Tel. (518) 580-5419
E-mail: rnelson1@skidmore.edu
Spring Office Hours:
Tuesday, 1:00-3:00 p.m.; and by appointment.
EDUCATION
PhD, University of Michigan, 2008
Thesis: Investing in Men, Investing in Mothers – Evolutionary Anthropology of Kinship and Health in Jamaica
MA, University of Michigan, 2006
AB Anthropology (Honors), Brown University, 2001
REGIONAL FOCUS
Jamaica, Caribbean, Caribbean Diaspora communities
RESEARCH AND TEACHING INTERESTS
My research explores kin and parental investment in studies of sociality and health in contemporary Caribbean populations. My current research on caretaking strategies, residential contexts, and child health outcomes contributes to a broad focus on the influences of social experiences on health outcomes over the lifespan. Future research will include a dual-sited research project investigating the long-term effects of social upheaval on kin investment practices and health outcomes amongst contemporary island and Caribbean Diaspora populations.

My course offerings reflect my research interests in human biology, and broad training in biological anthropology.
COURSES
AN-102 Anthropology of the Human Past
AN-252D Caribbean Health and Culture
AN-351C Biological Approaches to Medical Anthropology
SSP-100 Scribner Seminar: Modern Family - The Science and Social Experiences of Human Bonds
SELECTED PUBLICATIONS
Nelson, R.G. 2010. John Hawks and the Public's Consumption of Biological Anthropology. American Anthropologist.112 (2): 309-310.
Nelson, R.G. 2009. Adult health outcomes and their implications for childhood nutritional stress in Jamaica. American Journal of Human Biology. 21 (5): 671-678.
Robinson TM, Nelson R, Artis D, Scott P, Boyer JD. 2004. Experimental Leishmania major infection suppresses HIV-1 DNA vaccine induced cellular immune response. Cells Tissues Organs.177 (3): 185-8.
Robinson, T.M., Nelson, R.G., Boyer, J.D. 2003. Parasitic Infection and the Th2 Polarized Immune Response Alters a Vaccine Induced Immune Response. DNA and Cell Biology, 22:421-430, 2003.
AWARDS AND FELLOWSHIPS
Wenner Gren Post-PhD Research Grant, Wenner Gren Foundation (2011)
Academic Senate Research Funding, University of California, Riverside (2010, 2011, 2012)
Rackham Outstanding Graduate Student Instructor; Rackham Graduate School, University of Michigan (2008)
Award for Innovation and Originality in Undergraduate Teaching for Darwin, Disease and Decay: Evolutionary Anthropology, Culture and Health, Department of Anthropology, University of Michigan (2007)
Rackham Merit Fellowship for Graduate Studies, Rackham Graduate School, University of Michigan (2002 –2007)