The Skidmore College Project on Restorative Justice conducts research, teaching, training, and technical assistance for restorative justice projects in schools, universities, communities, and the criminal justice system.
---
Restorative Justice is a philosophical approach that embraces the reparation of harm, healing of trauma, reconciliation of interpersonal conflict, reduction of social inequality, and reintegration of people who have been marginalized and outcast. RJ embraces community empowerment and participation, multipartial facilitation, active accountability, and social support. A central practice of restorative justice is a collaborative decision-making process that includes harmed parties, offenders, and others who are seeking to hold offenders accountable by having them:
Accept and acknowledge responsibility for their offenses,
to the best of their ability, repair the harm they caused to harmed parties and the community, and
Work to rebuild trust by showing understanding of the harm, addressing personal issues, and building positive social connections.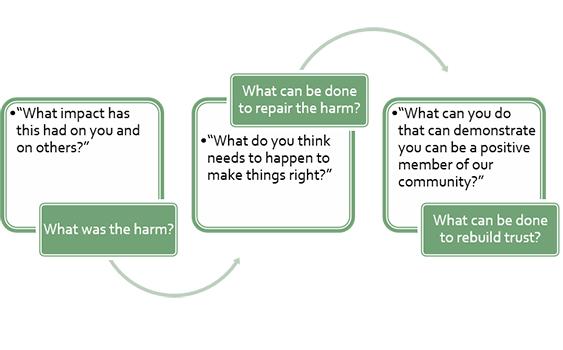 Events
TRAINING
Restorative Justice Across Student Affairs
July 9-11, 2018
ACPA, Washington, D.C.
Information and Registration
SYMPOSIUM
Restorative University Roundtable
July 9, 2018
Victoria University of Wellington (New Zealand)
Information and Registration

PRECONFERENCE WORKSHOP
Restorative Justice and Catholic Social Thought
ASACCU Visioning Social Change for Catholic Education Conference
July 17, 2018
University of San Diego
Information and Registration
TRAINING
Restorative Justice Across Student Affairs
October 10-12, 2018
Skidmore College
Information and Registration
---
Order copies from Good Books.