The Skidmore College Project on Restorative Justice conducts research, teaching, training, and technical assistance for restorative justice projects in schools, universities, communities, and the criminal justice system.
---
Restorative Justice is a philosophical approach that embraces the reparation of harm, healing of trauma, reconciliation of interpersonal conflict, reduction of social inequality, and reintegration of people who have been marginalized and outcast. RJ embraces community empowerment and participation, multipartial facilitation, active accountability, and social support. A central practice of restorative justice is a collaborative decision-making process that includes harmed parties, offenders, and others who are seeking to hold offenders accountable by having them:
Accept and acknowledge responsibility for their offenses,
to the best of their ability, repair the harm they caused to harmed parties and the community, and
Work to rebuild trust by showing understanding of the harm, addressing personal issues, and building positive social connections.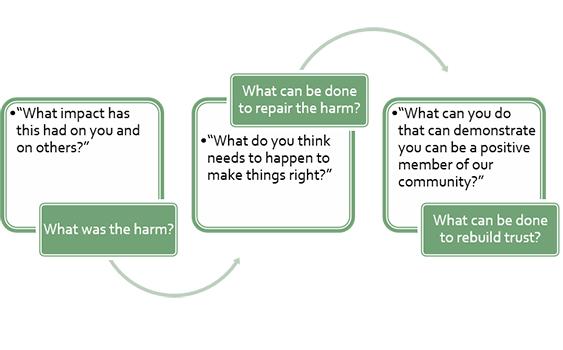 Events
TRAINING
Restorative Justice for College Student Misconduct and Residential Life
January 11-13, 2017
Swarthmore College
Swarthmore, PA
Information and Registration
WORKSHOP
Restorative Justice for College Student Misconduct and Residential Life
March 26, 2017
ACPA Convention
Columbus, OH
Information and Registration
TRAINING
Restorative Justice for College Student Misconduct and Residential Life
May 23-25, 2017
ACPA National Office
Washington, DC
Information and Registration
---
Recent News

July 28, 2016--Campus PRISM team meets with White House Task Force on Protecting Students from Sexual Assault, Department of Education Office of Civil Rights, and Department of Justice Office on Violence Against Women in Washington, D.C.
June 28, 2016--David Karp presents on Campus RJ at Dalhousie University international RJ conference--see the VIDEO.
June 14, 2016--Skidmore RJ Project assists in the development of the restorative practices section of the Strategic Plan for Juvenile Justice Reform for nine counties in the NY State Capital Region.
April 6, 2016--Campus PRISM Project releases its report on using a restorative approach to address campus sexual and gender-based misconduct.
March 1, 2016--Restorative justice makes headway in Saratoga area schools.
February 17, 2016--Campus PRISM Project Webinar available for free: Restorative Responses to Campus Sexual Assault. Kaaren Williamsen and David Karp with host, Howard Zehr.

February 16, 2016--Campus PRISM Project to meet at international restorative justice conference, Dalhousie University, June 26, 2016.
January 19, 2016--David Karp featured at sexual assault conference at Hudson Valley Community College.
December 13, 2015--New publication by David Karp and Olivia Frank, "Anxiously Awaiting the Future of Restorative Justice in the United States,"Victims & Offenders.

December 11, 2015--New publication by David Karp and Olivia Frank, "Restorative justice and student development in higher education: Expanding 'offender' horizons beyond punishment and rehabilitation to community engagement and personal growth," in Offenders No More: An Interdisciplinary Restorative Justice Dialogue.
November 20, 2015--Skidmore's Campus RJ Training: "Restorative Justice training draws practitioners from across the country"
September 9, 2015-- The New York Times Editorial Board endorses our work: "An Alternative Approach to Campus Justice"
---
New Publication
A new edition of the
Little Book
is now available. Order copies from
Good Books
.