Depositing Funds Into Your Declining Balance Account
You may deposit money into your account in a variety of ways:
Quick-Deposit with your MasterCard, VISA, or American Express using our online Web service: CLICK HERE

All that is required is the Skidmore ID # for the student whose account you wish to deposit to.


Mail your check to the Card Office using this form (PDF)


Deposit cash using the Value Deposit Terminal located in Case Center
Bring your check, cash, or credit card to the Skidmore Card Office.
Regular employees can enroll to have card account deposits automatically deducted from their payroll earnings by completing and submitting this form to the Card Office (Starbuck Center) or Payroll Office (Barrett Center).
Make your deposits early! Then, you can use the funds as soon as you receive your Skidmore Card. The money you deposit on your Card remains available as long as you attend Skidmore College.

Remember that you can use your Card wherever you see the logo displayed.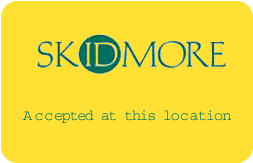 When it comes to convenience, this Card is your ticket!
The Skidmore Card Office
Skidmore College
815 North Broadway
Saratoga Springs, NY 12866
Questions? Give us a call at 518-580-5854.