Skidmore Locations
Your Skidmore ID Card is accepted at the following CAMPUS locations for the purchase of goods and services:
Skidmore Shop

Murray-Aikins Dining Hall

Spa Snack Bar

Burgess & Atrium Cafes

Skidmore Post Office

Health Services

Office Services

Media Services

Student Government Association (Parking Fines)

Vending Machines (Drink & Snack)

Laundry Machines

Library Copiers

Art Department

TANG Museum Store
Several OFF-CAMPUS (click here) merchants will also honor your Skidmore ID Card for the purchase of goods and services!
---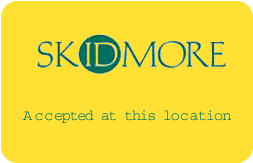 Remember that you can use your Card wherever you see the logo displayed.
Check the lists for our on-campus and off-campus partners.
When it comes to convenience, your Skidmore IDCard is your ticket!