Creative Thought Matters
Claiming Our Distinctive Identity: Creative Thought Matters

Skidmore's identity encompasses of the institution's historic strengths in the fine, performing, and studio arts; its early championing of "mind and hand" and interdisciplinary study; and its continuing ability to attract well-rounded and multidimensional students, faculty, and staff—including students whose breadth of interests can best be accommodated by two or more majors or minors. Built on this foundation is a tradition of achievement in the humanities, natural sciences, and social sciences; close research, scholarly, and artistic collaboration between faculty and students; and faculty research that frequently crosses disciplinary boundaries.


The Positioning Statement

Creative Thought Matters (CTM) encapsulates the Skidmore spirit. This statement reflects the central role of creative thought not simply in the arts but in everything we do. And it further places a premium on our predilection to bring that creative thinking to a realization—thus the word "matters." While Creative Thought Matters is technically a positioning statement, it is also statement of aspiration. It is therefore not necessarily intended to describe everything we do at Skidmore as much as to differentiate what is unique about much of what we do.

Creative Thought Matters sets a high standard for the College, but one we believe we can attain. Unlike several institutions that have positions and brands centering only on creativity or creative thinking—which restricts the promise to art for its own sake or thinking for its own sake—Skidmore's position focuses equally on outputs, on results, on how creative thought is made manifest in the world. In essence, CTM acknowledges the strength of a strong interdisciplinary liberal arts curriculum infused with the arts married to our historic "mind and hand" philosophy, which values real-world actions and outcomes. Our promise, then, is that students who choose to attend Skidmore College will be exposed to an environment shaped by aesthetic values, rich in imagination, and interdisciplinary in scope that will inform how they understand the world and, in turn, help shape it themselves.


As we state in our admissions materials:

Every life, every career, every endeavor is made more profound with creative ability at its core.

We believe that a key purpose of a liberal arts education is to encourage, challenge, and explore creative thought.

We do this through our curriculum, campus environment, and teaching approaches, which work together to provide students with an intellectual foundation while encouraging them to explore the areas of study that most align with who they are and where they want to go.

If you believe that your life and success will be shaped by your ability to think, create, and communicate—if you believe that creative thought matters—then you should apply to Skidmore.

Camera-ready and digital copies of the CTM logo are available from the Office of Communications. For more information, contact the senior graphic designer at 518-580-5739.


DO

Use the CTM positioning statement when appropriate. CTM logo text should be set in the Frutiger bold typeface, in upper and lower case as shown.


DO NOT

Use positioning statements or "tag lines"/slogans other than Creative Thought Matters.

GUIDANCE FOR PUBLICATIONS

CTM clearly needs to be present in all major communications from the College. Of course, the Creative Thought Matters statement can be placed on publications, Web pages, and merchandise to literally state our case, but not all Skidmore materials carry the statement; hence, CTM must be present in a style of writing and design that immediately demonstrate that creative thought does indeed matter to the institution.

IMAGE: Skidmore's admissions viewbook uses the CTM statement on its cover and integrates the theme throughout the text.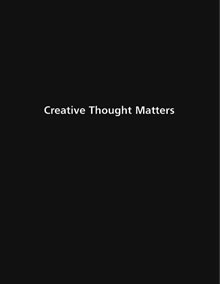 DO

Use photographs that are bold, energetic, genuine, and expressive whenever possible.