Featured Alumni
Rebecca Greenbaum

Hometown: Brooklyn, New York
Graduated from Skidmore in 2011 as a Dance Major with a Minor in Biology
"I arrived at Skidmore a complete 'bunhead', classically trained in ballet with no prior modern dance experience. During my four years in the dance department, both the faculty members and the vast array of guest artists we had the opportunity to workwith exposed me to a wide range of contemporary dance. I was also encouraged to explore my own movement vocabulary without having to brand myself with a specific style. I did not expect to dance as a career, but the faculty encouraged me to go for it and I am so thankful to everyone there. Being at Skidmore fortified my love of movement, ultimately leading me to a professional career in NYC."
Bio:
Rebecca Hope Greenbaum's early training was as a year round student at the Joffrey Ballet School. She has attended programs with American Ballet Theatre, Alonzo King's LINES Ballet, the San Francisco Conservatory of Dance, the Lar Lubovitch Dance Company, and the Mark Morris Dance Group. After graduating from Skidmore College, she moved back to New York City, where she has danced with Emily Craver and Dance VisionsNY. She is currently an MFA candidate at NYU's Tisch School of the Arts. She also dances for Christal Brown's INSPIRITdance and apprentices for Zvi Gotheiner's ZviDance. She has presented her own work at Dixon Place through NYC 10, a NYC Dance Week initiative. She is a certified Pilates Instructor through the Equinox Pilates Institute.
In her own words:
I have just begun a two-year MFA program in dance at New York University's Tisch School of the Arts. My MFA class is made up of 15 students, ages 22-33, with a wide range of professional experience. Our day begins bright and early with 8am Pilates followed by two technique classes in Ballet/Pointe and Modern. In the afternoons, we have our academics: Graduate Acting, Music Resources, Composition, Improvisation, Kinesthetics of Anatomy, Dance History, and electives. At first, I was skeptical of how some of these subjects are pertinent to dance, but came to see that a well-rounded dancer should be fluent in it all. In the second year of the program, we are members of the Second Avenue Dance Company. The SADC takes company class together and performs both old repertory and new works by NYC and world-renown choreographers. Spaced throughout the year are Showings to which we can apply, in order to show our own work. I believe the goal of the program is to have students leave as well versed performers and/or choreographers who each have a unique voice along with the knowledge to converse intelligently about dance. I feel very taken care of at NYU and hope that my experiences here continue to enrich who I am as a person, and who I am as an artist.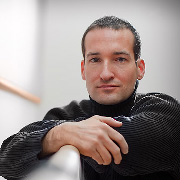 Eric Handman
Hometown: Katonah, New York
Graduated from Skidmore in 1991 with a degree in English and an MFA in Modern Dance in 2003 from The University of Utah
"Without knowing it, I began learning how to teach while learning how to dance at Skidmore. My most memorable teachers were collegial, authentic, grounded, dynamic and non-dogmatic. They empowered me to uncover, discover and recover myself. What seemed like their knowledge at the time, feels like their wisdom now. They taught with character. Eventually it ignited mine. An enduring lesson from Skidmore: you teach through your character, and your passion gives value to what you teach. The value the Skidmore community placed on making art was just as transformative for me as the art itself. And the importance of being considered a valued member of a meaningful community is in my bones because of my time at Skidmore."
Bio:
Hailing from New York City, Eric Handman is an Assistant Professor at the University of Utah's Department of Modern Dance. He is a choreographer, performer, and educator. He spent much of the Nineties as a professional dancer in New York City as a member of such companies as Doug Varone and Dancers, Joy Kellman & Company and Nicholas Leichter Dance. He has also danced for choreographers David Dorfman, Lisa Race, Stephen Koester, Charlotte Boye-Christensen, Pooh Kaye, Wendy Perron, Simone Forti, Debra Fernandez, Tim Harling & Lisa Giobbi, Eun Me Ahn, and Koosil-ja Hwang. He teaches domestically and internationally and specializes in technique, improvisation, contact improvisation, composition, qualitative research methods, aesthetics, criticism and theory. He has served on the board of directors for the Congress on Research in Dance and is a member of the Entrepreneurial Faculty Scholars at the University of Utah for his work on integrating mobile technology and choreographic thinking.
In his own words:
Teaching is about leading students from the known into the unknown. The obstacles that await us in a creative process are endless — and crucial. Since there is no blueprint for making art, passion, courage and support are necessary. It isn't certainty that's gained from experience, but familiarity with ambiguity and practice with trial and error. Intuition develops over time. The chance to see yourself taking risks and transforming obstacles into opportunities is empowering. It's a DIY world and my time at Skidmore was a critical early chapter in giving me the guidance, grit and technique to find, sustain and renew my own vision.
Maggie Stack
Hometown: Pittsburgh, Pennsylvania
Graduated from Skidmore in 2009 as a double major in Studio Art and Dance
"When I arrived at Skidmore in 2005, I had all the intentions of studying Studio Art and Religion and only taking dance classes on the side for fun. I came from a strict ballet technique background and suffered from a foot injury that I was convinced had ended my career. The Skidmore Dance Department rekindled my love to move and sparked my interest in modern vocabulary, in which I had never fully invested. In four years, I fell deeply in love with dance again and I established a family within the department that I will hold dear for the rest of my life. My professors and fellow peers that I embraced through dance at Skidmore are still significant figures in my life today. To them I am forever grateful."
Bio:
Maggie began her training at Pittsburgh Ballet Theater. After graduating from Skidmore, she moved to San Francisco to train at the San Francisco Conservatory of Dance under the direction of Summer Lee Rhatigan. In the Bay Area, Maggie has performed with Amy Foley, Christine Cali (Cali & Co.), Alyce Finwall Dance Theater, FACT/SF, Katie Faulkner's Little Seismic Dance Company, and Malinda LaVelle's Project Thrust. Maggie joined San Francisco's modern dance company, ODC in January 2012.
In her own words:
Prior to my full-time contract at ODC, I enjoyed the crazy lifestyle of a freelance dancer, administrative assistant and hostess at a restaurant. Although my schedule with ODC is now a bit more set, crazy is still my normal. ODC rehearses from 12:30 to 5:30 Monday through Friday on non-show weeks. We are in constant motion. Depending on the time of year and what we are preparing for, we are usually resetting a piece of older choreography while simultaneously creating new work. As a new company member, resetting work can be a challenge since many of the other dancers have been around for up to nine years and are more familiar with the archives of ODC material. I prefer the creative process because it has a more immediate meaning to me. Our Artistic Director Brenda Way and Co-Artistic Director KT Nelson are ever-present figures in our daily rehearsals. They are edgy women in and out of the studio. Sometimes it can be hard to keep up with their mindsets but more often than not confusion is followed by laughter.
I am curious and excited to see where ODC takes me next. In nine months, I have participated in a home season at Yerba Buena Center for the Arts, San Francisco's most prestigious stage available to modern dance and been on tour to Beijing, China to dance in the Beijing Dance Festival. As the newest company member, traveling to Asia was the ultimate bonding experience with all the other artists. You can't beat a 12-hour plane flight to break the ice.
For more information on ODC Dance Company visit: http://www.odcdance.org/dancecompany.php
Jesse Kovarsky

Hometown: Chicago, Illinois
Graduated from Skidmore in 2010 with a Major in Dance and a Minor in Art History

"I came to Skidmore as a possible Theatre major and self-designed food journalist major, but when I was given the chance to perform in a dance production, I was hooked! Throughout my time at Skidmore, the faculty saw my potential and gave me their full support. They provided me with the belief that dance was an area in which I could thrive. What I valued most was that the department as a whole, including faculty, students, and the designed curriculum, nurtured a frame of mind where I was able to mature as an intelligent dancer; one who moves with thought and purpose. I can honestly say Skidmore made me hungry- eager to work, determined to get on stage, and motivated to maintain realistic goals while dreaming big at the same time."

Bio:
Jesse began dancing at the age of 20 at Skidmore College. After graduation, he moved to London to join Transitions Dance Company at Trinity Laban Conservatoire of Music and Dance. While there, he worked with choreographers Martin Nachbar, Lucy Guerin, and Melanie Teal. After receiving his Masters in Performance from Laban, he worked with Sidi Larbi Cherkaoui on the major motion film Anna Karenina, directed by Joe Wright. Immediately following, he performed the main role of 'Omar' in The Death of Klinghoffer at The English National Opera directed by Tom Morris and choreographed by Arthur Pita. He will reprise the role of Omar in The Metropolitan Opera's production in 2014. Jesse worked with Russell Maliphant performing the duet '2X2' in the show Men in Motion II at Sadlers Wells Theatre. He is a member of Junk Ensemble's production of Falling Song, which is due to tour internationally.

In his own words:
After graduating from Skidmore, I took a leap of faith and hopped on a flight to London to audition for Transitions Dance Company. Fortunately, I was one of 12 dancers to be accepted to join the company for the following year. Transitions Dance Company is a pre-professional dance company geared towards dancers who are seeking a professional dance environment along with professional dance training. While at Transitions, I worked with 12 different dancers from all over the world, and three choreographers from Berlin, Australia, and London who created pieces for us to perform and tour throughout England and Europe. It was an incredible experience that allowed me to mature as a dancer and build upon the foundation that Skidmore provided me. After the tour, I completed my thesis and received a Masters in Performance. While abroad I traveled to numerous places, performed in many wonderful venues and enjoyed all that London has to offer. I plan on residing here a bit longer, but eventually plan to make my way back to Stateside and reside once again with my fellow Skidmore dancers!

http://www.telegraph.co.uk/
http://londondance.com/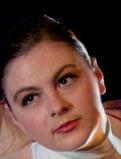 Anna Long
Hometown: North Attleboro, MA
Graduated from Skidmore in 2011 with a degree in Biology and Dance

"Becoming a gaga teacher would not have been possible without the support of the faculty and my peers in the dance department at Skidmore. The exposure I gained to the larger dance community while at Skidmore was instrumental in my development, but more importantly, Skidmore itself was where I developed the courage to follow my passions along with the knowledge and training to support them. The pure joy of creating has led me to the program of my dreams and allowed me to thrive inside it."

Bio:
Anna Long began her training from the tender age of 3 at the New England Dance Academy in her hometown of Attleboro, MA. She also studied ballet through the summer program at Festival Ballet Providence, and at the Spindle City Ballet in Fall River, MA. Throughout her studies at Skidmore, she attended programs with Take Dance, the Lar Lubovitch Dance Company, and the San Francisco Conservatory of Dance, where she discovered Gaga, under Batsheva dancer Bobbi Smith. After graduating from Skidmore, Anna performed in the Hopelandic Dance Theater's production of Into the Fog, directed by Sam Szabo, '11 at the Charleston Playhouse in Boston MA. Anna trained and was certified in gaga with the pilot Gaga Teacher's Training program in Tel Aviv Israel from 2011-2012. She currently lives and teaches gaga in New York City.

In her own words:
The pilot gaga teachers training program was a yearlong immersion in Gaga, the movement language of Ohad Naharin and the daily training of the Batsheva Dance company. Twenty-four dancers from Canada to South Korea, all from different dance backgrounds and experience came to Tel Aviv, Israel to train at the Suzanne Dellal Center for dance, home of Batsheva Dance Company. There, we began a daily regimen of Gaga classes and Batsheva repertoire. Working with Ohad Naharin and both former and current company members we enriched our understanding of the gaga language and ingrained it within our bodies. What ensued for me was a transformational experience, as a dancer, as a human being, and as an artist. Throughout this process, it was truly amazing to witness the group discovering what Ohad likes to call our "treasures," meaning the beauty inside the movement qualities that connect to each person's different passion to move, free from our pre-conceived notions of what dance and form is "supposed" to look like. In the span of eleven months, twenty-four strangers morphed into experienced teachers, after taking what felt like hundreds of each other's classes, and I feel blessed to be counted among them. And if all this gaga talk is beginning to sound like nonsense, it's because it does largely sound like nonsense until you experience it for yourself, so check out Gaga near you (gagapeople.com) to see for yourself, and to unlock your own treasures.