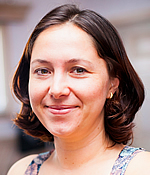 Nurcan Atalan Helicke
Assistant Professor Environmental Studies Program
Contact Information:
Office: Harder 193
Phone: x8372 (off campus: 518-580-8372)
E-mail: natalanh@skidmore.edu
EDUCATION
Ph.D. Ohio State University, Geography
M. A., Bilkent University, International Relations
B. A., Middle East Technical University, International Relations
COURSES TAUGHT AT SKIDMORE
ES100 Environmental Concerns in Perspective
ES252 Political Ecology (service learning course)
ES352 The Politics of Food
ES352 Global Environmental Governance
ES352 Environment and Development in the Middle East (a NW course)
RESEARCH INTERESTS
Conservation of agricultural biodiversity
Pedagogies and sustainability
Development
Food movements
PUBLICATIONS
Atalan-Helicke, N. "The Halal Paradox: Negotiating identity, religious values and genetically-engineered food in Turkey" Agriculture and Human Values. Accepted.
Atalan-Helicke, N. "Learning and Promoting Urban Sustainability: Environmental Service Learning in an Undergraduate Environmental Studies Curriculum Environmental Studies and Sciences" Journal of Environmental Studies and Sciences. Accepted.
Atalan-Helicke, N. and B. Mansfield 2012."Seed Governance at the Intersection of Multiple Global and Nation-State Priorities: Modernizing Seeds in Turkey" Global Environmental Politics. 12 (4): 125–146.
Atalan-Helicke, N. Book review. 2012 "Food Policy for Developing Countries: The Role of Government in Global, National, and Local Food Systems", by Per Pinstrup-Andersen and Derrill D. Watson II. Ithaca, NY: Cornell University Press. 2011 400 pp. International Journal of Comparative Sociology 53 (5-6): 480-482.
Atalan-Helicke, N. 2012. "Conserving Diversity at the Dinner Table: Plants, Food Security and Gene Banks" Origins: Current Events in Historical Perspective. Volume 5 Issue 4 (January 2012). an online monthly history journal. http://ehistory.osu.edu/osu/origins/article.cfm?articleid=64
Atalan, N. 2007. "Transboundary Waters" In Encyclopedia of Environment and Society. P. Robbins, ed. Thousand Oaks, CA: Sage (pp.1764-1766).
Harris, L. M. and N. Atalan. 2004. "Developing Women's Spaces: Evaluation of the Importance of Sex Segregated Spaces for Gender and Development Goals in Southeastern Turkey". Kadin / Woman 2000, 3(2): 17 – 46.
COLLABORATIVE RESEARCH/ STUDENT PROJECTS
Gerry Marten, Kip Curtis and Nurcan Atalan-Helicke, Food sytem resilience in the United States: A Conceptual Framework and Contribution of Environmental Studies and Sciences (ESS), presentation at the Yale Food Systems Symposium, October 19, 2013.
Anne Ernst and Nurcan Atalan-Helicke: organized a paper session on study abroad experiences of ESS students, and presented a paper "Global Citizenship: Conserving Biodiversity, Promoting Sustainability from Argentina to Vietnam: A Qualitative Analysis of Study Abroad Experiences" at the annual meeting of Association of Environmental Studies and Sciences. Pittsburgh, PA. June 19, 2013.
Nurcan Atalan Helicke, Jordan Chang*, Amy Durland (Sustainable Saratoga), Joshua Inaba*, Tera Johnson* "Service Learning as a Creative Pedagogy: Political Ecology and Urban Forests", poster presented at the Urban Forests and Political Ecology: Celebrating Transdisciplinary international conference. Toronto, Canada. April 18-20, 2013.
Sarah Arndt* "Building a Real Food System: The Challenges and Successes on the College Campus" (a project guided in collaboration with Monica Raveret-Richter received the undergraduate paper award of the Agriculture, Food, and Human Values Society in 2012)
* denotes student authors