Student Projects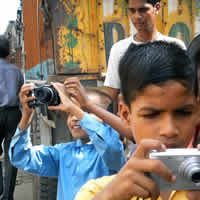 In 2012, David Schlenker was awarded a SEE-Beyond Award to work in South Dehli over the summer. This is what he says about his experience:
"My name is David Schlenker, and I am a member of the Skidmore Class of 2013. As a SEE- Beyond recipient, I worked as the Head Primary English Teacher at Project Why's Okhla Center in New Delhi, India. Project Why has four centers around South Delhi, and provides supplementary education for local students from the slums. I created lesson plans keeping in mind the ability of my students, using innovative and fun classes to engage the students in a subject they have long struggled with, Additionally, I increased the organization's presence on social media networks as well as the web using creative, attractive methods of photography, video and messaging to increase financial support and awareness of the organization's work.
As an English Teacher, I constructed a photography project, based on Zana Briski's lecture at Skidmore last fall on her nonprofit, Kids with Cameras, to teach conversational English to my students. For every class, I chose a new theme (ranging from water to plastic to food to people we respect, etc.) allowing students to practice speaking English while exploring different components of their communities they thought needed special attention. After my experience in India, I understand the importance of mentorship coupled with foundational education support, and how old ways of teaching can no longer be used to solve our current global and local issues."