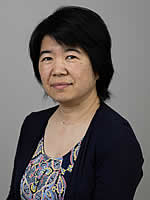 Aiwu Zhao
Contact Information & Background
Director, International Affairs Program
Associate Professor
Department of Management & Business
azhao@skidmore.edu
Phone: 518-580-5105
Office: PMH 212

Vitae
Curriculum Vitae
Education
Ph.D., major in finance, minor in statistics, Kent State University
M.A., financial economics, Kent State University
M.A., media management, Kent State University
B.S., economics, Tsinghua University
Courses
MB 309 Banking and Financial Services Management
MB 338 Foundations of Finance

MB 339 Investments
Teaching and Research Interests
Aiwu's primary teaching interests are corporate finance, investments, and global financial institutions. In addition to finance courses, Aiwu teaches first-year-experience seminar on topics related capitalism and globalization. She also works closely with students on various research projects ranging from corporate governance, emerging markets, to capital market efficiency. Besides teaching college students, Aiwu also had experiences in training new hires for top financial firms on Wall Street.

Aiwu's research interests concentrate on corporate finance, investments, and international finance. She tackles research topics in corporate finance with a focus on agency cost and real options theories, a challenging field that is related to risk dynamics and strategic decisions, both are underdeveloped territories yet with potential to bring breakthrough to corporate finance studies. She also investigates market efficiency of several capital markets, such as that of U.S., Vietnam, and China.

Publications
Holder, M., & Zhao, A., (2015) "Value Exploration and Materialization in Diversification Strategies", Review of Quantitative Finance and Accounting, Volume 45, Issue 1, pp 175-213.


Zhao, A., & Yu, B. (2014) "Heterogeneity between 'Vote-with-Hand' and 'Vote-with-Feet' Shareholders", Academy of Accounting and Financial Studies Journal, Volume 18 (No. 3), pp. 29-44.


Los, C., & Zhao, A. (2014) "Fractional Integration and Dividend Yield Predictability", Journal of Applied Financial Research 2014 (Vol. 1), pp. 37-54.


Zhao, A., Cheng, S., & Kang, Z. (2013). "Long-term Dependencies of Neglected and Popular Stocks", Applied Financial Economics, Volume 23, Issue 12, pp. 1005-1015.


Zhao, A., & Paget-Brown, M. (2013). "Idiosyncratic Risk and Performance of Hedge Funds" Journal of Investing, Vol. 22, No. 2: pp. 120-127.


Kang, Z., Maysami, R., & Zhao, A., (2011), "Investigation on Two Alternative Model-free Realized Volatility Estimators", Journal of Finance and Accountancy 8 (December), pp. 1-13.


Zhao, A., & Brehm, A., (2011), "Cumulative Voting and the Conflicts between Board and Minority Shareholders", Managerial Finance 37 (No. 5), pp.465-473.


Zhao, A., & Ma, J., (2006), "Do Chinese Investors Appreciate Market Power or Competitive Capacity?" Business Research Yearbook (Vol. XIII), pp.195-201.