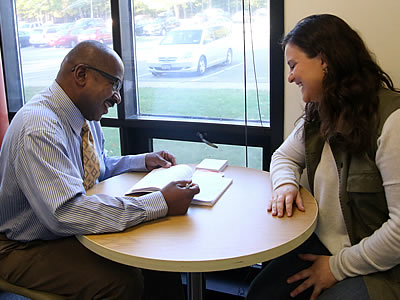 What You Need to Know
Welcome to studying Management and Business (MB) at Skidmore! In this academic department, you'll study the functional areas of MB (management, marketing, accounting, finance, and strategy) in context so you can become well-rounded leaders in an increasingly complex world. Some key things every MB student at Skidmore should know are…
MB Degree Audits – Students should follow your own progress towards your college degree by accessing your Degree Audit on the Student System. This information "audits" what courses you've taken, what major/college requirements you've already taken or are currently taken (in progress – IP), and what you still need to take care of before you graduate. The Degree Audit is something you should pay attention to whenever you meet with your advisor and think about course registration.


Going abroad – Did you know about 60% of Skidmore students study abroad, and MB is one of a handful of academic departments sending the most students to study overseas? What a great way to enrich your academic career! Students should explore study abroad programs and options with the Off-Campus Study and Exchange (OCSE) office. That office will also help you access a system in which your courses taken abroad can be considered for Skidmore credit. Go see them on the 2nd floor of Starbuck or

http://www.skidmore.edu/ocse/

. And be sure to meet with your advisor to plan your course sequencing well in advance.


Summer courses – Consider taking courses at Skidmore in the summer. Or, if you want to enroll in an off-campus program with hopes of earning transfer credit, know that you must get approval BEFORE taking the course. Both the institution and the course content must be approved for transfer credit – this approval comes from Skidmore's Registrar's Office and MBD's Associate Chair who both must approve the course content for transfer. All approvals require the

use of the forms accessible here

. Always feel free to communicate with your advisor if you have questions.


Jobs, internships, and career planning – MB students are strongly encouraged to work with

Skidmore's Career Development Center

early and often in their academic career. The experts in that office can help you with your resume, with searching for internships/jobs, with prepping for interviews, with exploring career options, and so much more. Go see them on the 2nd floor of Starbuck.
Registration Info for MB Majors
The MB major was restructured in the last couple of years, so the changing requirements for the major are being rolled out over time. See Management and Business Majors page for a detailed explanation. This means each class year (2017, 2018, and on) has different major requirements. Pay attention to these different requirements and to what applies to you. For example, MB 240 is a new requirement for all MB majors for students who entered Skidmore in fall 2013 and beyond (Class of 2017 and on). Also, in the interest of enriching the global literacy of our students, MB majors entering Skidmore in fall 2014 and beyond (Class of 2018 and on) must take two world language/literature courses (WLL); the MB faculty requires that these students complete at least one of these WLL courses BEFORE they go abroad.
Note that the Management and Business Department strongly recommends MB majors not study abroad until their junior year. If you plan to study abroad in the Fall of your junior year, you must have successfully completed MB 234, one WLL course, and EC 237 or MS 104 or SO 226 (one required statistics course) before you leave. If you plan to study abroad in the Spring of your junior year, you must have successfully completed MB 234, MB 235, one WLL course, and EC 237 or MS 104 or SO 226 (one required statistics course) before going abroad. Students can opt to take their second required WLL course for the MB major either before you go abroad, while abroad, or after you return to campus.

The following courses may not be counted as satisfying one of the elective requirements of the major: MB 190 or ID 190, MB 240, MB 299, MB 360, MB 399.
Registration Info for MB Minors
To minor in business, students are required to complete MB 107, MB 214, MB 224, MB 234, and two additional courses in business, at least one at the 300 level. The following courses may not be used to satisfy any of these requirements: MB 190, MB 240, MB 299, MB 360 (effective Fall 2014), and MB 399. Minor requirements are posted here.
Need help?
Here's who you should go to for help with particular issues. Please plan ahead and make use of faculty office hours (office hours are usually drop-in…no appointment needed). On the other hand, if you need an appointment with faculty outside of office hours, it helps to provide a day or two of notice.
Dr. Christine Page (Associate Chair): Go to Professor Page for any off-campus/study abroad questions, study abroad approvals, transfer credit approvals, internship approvals, independent study approvals, finding an advisor in the MB dept, and signatures on major/minor declaration forms. Any other issues should be addressed with your advisor or the MB Department Chair.
Office: PMH 265
Email: cpage@skidmore.edu

Dr. Tim Harper (Associate Chair): Go to Professor Harper for any/all other issues not listed under Professor Page.
Office: PMH 210
Email: tharper@skidmore.edu

Terri Kindl (Administrative Support Staff): If you can't find Professor Harper or Professor Page, see Terri. She's usually the person "in the know" about where we are or can direct you to who you need to talk to.