John B. Moore Documentary Studies Collaborative
Spring 2015 Classes
DS 251 Principles of Documentary Studies
Jordana Dym
MW 2:30-3:50 , 3 credits
This 200-level course will be the gateway to the Documentary Studies Collaborative. This course introduces local, national and global documentary traditions, through readings, screenings, classroom discussion, and engagement with practitioners. Students will engage with theoretical and practical issues related to documentary work, including critical analysis of existing work and of the distinct ethical and aesthetic concerns associated with developing and telling stories that matter. The course emphasizes how the narrative, analytical, and structural frames of audio, visual and written media shape the work, its audience and impact. Rather than focusing on the production of a documentary in any one form, students get a hands-on experience of various media, and an overview of technical aspects, to help them prepare for extended work in one or more documentary media.
McAdam in the field
DS 251A 003 and 004 Audio Doc 1 and 2
Eileen McAdam
W, 12:20-2:10, 1 credit each. Take one or both!
JANUARY 21- MARCH 4
DS 251A 003 Audio Doc 1: Producing Radio Doc
In 7 weeks, students will learn how to produce a radio program, podcast or audio documentary from start to finish. Using professional equipment and software, this hands-on class will cover the basics of interviewing, recording and editing. Interviews will be conducted in the Cube, a mobile sound recording studio.
2nd Section of audio Doc 1 added: DS 251A005, W, 2:30-4:20, January 21-March 4
MARCH 11- APRIL 29
DS 251A 004 Audio Doc 2: Storytelling for Radio
In 7 weeks, students will focus on how to write for radio and craft a story using ambient sound, music and
narration. Using professional equipment and software, this hands-on class will cover the basics of story for sound, recording and editing. Interviews will be conducted in the Cube, a mobile sound recording studio.
DS 251A 002 /LS Documenting Latin America
Viviana Rangil
W, 5-7, 1 Credit, 7.5 weeks: January 23-March 13
Political activism through film is not a new phenomenon in Latin America, but in the past two decades documentary films in particular have prompted conversations about new modes of self-expression, the blurred divisions between facts and fiction, and the official discourses on history and human rights. These are the questions that will guide us as we examine various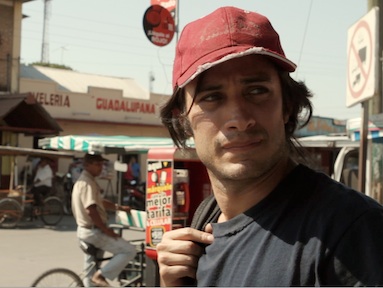 Who is Dayani Cristal? (DS 251A 002)
documentaries and the specific historical and geographical contexts in which they were produced. Students will curate a half-dozen films into a film festival, researching context and directors, creating a narrative that links the films, ordering the documentary screenings, and presenting them during the festival.
DS 351 B/ AH 351 Exhibiting South Asia
Saleema Waraich
Th 5:10-7, 2 credits
An opportunity to explore a range of thematic, theoretical, political, and curatorial issues related to the display of South Asian art in museums. In addition to learning through reading, discussion, and writing, students will work closely with an exhibition at the Tang enough credits)Museum, Realms of Earth and Sky: Indian Painting from the Fifteenth to the Nineteenth Century. The class will interact with visiting curators, scholars, and contemporary artists. Students also will design their own exhibitions, exploring alternate themes and curatorial choices in the form of 3-D models, virtual display spaces, or catalogs.
DS 251A 001: Interviewing Musicians
Lei Bryant
M 11:10-12:05, 1 credit
This workshop will explore skills and methods for interviewing musicians. Students will learn basic techniques and approaches used to conduct ethnographic interviews of musicians following established methods from the field of ethnomusicology. Workshop topics will include project design, establishing connections, developing rapport, designing interview questions, recording equipment, transcription, data analysis, following up, and project presentation. Students will be guided through a semester-long project of their own design to apply their learning.
Senior Center Memory Project
DS 381 002 Skidmore Saratoga Memory Practicum: Senior Center 60th
Crystal Moore, Jordana Dym, Tu, 3:40-5:30, 2 credits
In collaboration with the Saratoga Adult and Senior Center, students will assist staff and seniors in researching and documenting the Center's growth and history. The primary project is to develop documentary programming for the Center's 60th anniversary celebration in November 2015. Students involved in this Memory Project will work with multiple documentary forms, including oral history and video, as we plan for a gala event.
Skidmore Saratoga Memory Practicum:
DS 381 001 Jordana Dym, TBA, Mapping Saratoga Springs, by permission of instructor, 1 credit.