John B. Moore Documentary Studies Collaborative
DIY Storytelling
November 3-4

Bill Daniel
Film, Photography, Exhibition & Performance
MDOCS is proud to present artist, photographer, documentary and Guggenheim Fellow (2008) Bill Daniel on November 3-4. This multi-disciplinary activist and self-described hobo filmmaker and phototramp offers reporting from the margins in a film screening and pop-up exhibit, and lessons on how to build your own vision and opportunities with a workshop on DIY Touring & Exhibition Strategies for Visual and Media Artists.
Film Director/ Multi-media Artist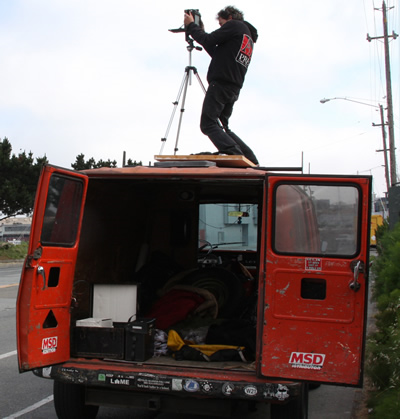 Bill Daniel by Nikki Greene
Texas-born, San Francisco exiled, and confirmed tramp, Bill Daniel continues to experiment with survivalism and bricolage in his attempts to record and report on the various social margins he finds himself in. Currently based on the Texas gulf coast, Daniel divides his time between Texas and touring.
Daniel's work has received awards from Creative Capital, Film Arts Foundation, The Pioneer Fund, Texas Filmmaker Production Fund, the R & B Feder Charitable Foundation, and The Western States Media Alliance. He was a Wattis Foundation artist-in-residence at the Yerba Buena Center for the Arts, where his installation "Souls Harbor" was exhibited in Dec. In 1999 he was in-residence at The Headlands Center for the Arts where he produced several multi-projection 16mm film installations, including "Trespassing Sign" in collaboration with the late Margaret Kilgallen. In 2001 his hobo campfire installation "The Girl on the Train in the Moon" was included in "Widely Unknown" at Deitch Projects in New York. A veteran of the touring circuit, Daniel has programmed, booked and exhibited several mobile art shows. In 1997-98 he curated a weekly screening series, Funhouse Cinema, in Austin, that also weekly screened in Houston and San Antonio. Daniel is also recognized for his work as cinematographer and editor for filmmaker Craig Baldwin. Other endeavors include zines--contributing photography to The Western Roundup, a punk fanzine in 1981-82 designed by Michael Nott, and publishing/editing Detour, a situationist journal, in 1986. He is also the creator of an experimental sports league, The Texas Gas-Powered Leaf Blower Hockey Association.
Bill Daniel was awarded a John Simon Guggenheim Fellowship in 2008. He has exhibited film, photography and installation work at The Museum of Modern Art, New York; Sweets Lounge, Biloxi, MS; The New Museum, New York; Wayward Council, Gainesville, FL; Yerba Buena Center for the Arts, San Francisco; 24/7 House, Columbus, OH; Museum of Contemporary Art, Los Angeles; Beehive Collective, Machias, ME; Walker Arts Center, Minneapolis; Sky High Skateboards, Milwaukee, WI; IFFR, Rotterdam; OKC Infoshop, Oklahoma City; Redcat, Los Angeles; Moose Lodge #1735, Austin, TX; Deitch Projects, New York; Railroad Blues, Alpine, TX; Sluggos, Pensacola, FL; The Smell, Los Angeles; Plan B, New Orleans, and several hundred others.
You can see more of his work at his website, billdaniel.net.
THE FILM
Who is Bozo Texino?
Tuesday, November 3rd, 7pm, Davis Auditorium
Free & Open to the Public
Who is Bozo Texino? chronicles the search for the source of a ubiquitous and mythic rail graffiti— a simple sketch of a character with an infinity-shaped hat and the scrawled moniker, "Bozo Texino"— a drawing seen on railcars for over 80 years. Daniel's gritty black and white film uncovers a secret society and it's underground universe of hobo and railworker graffiti, and includes interviews with legendary boxcar artists Colossus of Roads, Coaltrain, Herby, and The Rambler.

Shooting over a 16-year period, Daniel rode freights across the West carrying a Super-8 sound camera and a 16mm Bolex. During his quest he discovered the roots of a folkloric tradition that has gone mostly unnoticed for a century. Taking inspiration from Beat artists Robert Frank and Jack Kerouac, the film functions as both a sub-cultural documentary and a stylized fable on wanderlust and outsider identity. "I was drawn to the subject by the universal graffiti impulse and the classic, corny notion of freight train blues escape." – BDWho is Bozo Texino? is a film on the 100-year-old tradition of hobo and railworker graffiti. The project is the result of a 20-year study of "monikers " and is fabricated from hours of 16mm and super 8 film, most of it shot on freight trips across the western US. The film includes interviews with some of the railroad's greatest graffiti legends: Colossus of Roads, The Rambler, Herby (RIP) and the granddaddy of them all, Bozo Texino. The film also catches some of the socioeconomic history of hobo subculture from its roots after the Civil War to the present day. Included are interviews with tramps that Daniel encountered in his travels. The range of the interviews, and the film's style deal with both the clichés and the harsh realities of tramp life. In researching hobo culture Daniel found the written histories fraught with myth, and was initially frustrated by the apparent lack of verifiable truth to much of the lore."

FILM TRAILER

DIY Touring & Exhibition Strategies for Visual and Media Artists
Wednesday, November 4th 5:30 – 7:00PM, Falstaff's
Open to Skidmore Faculty, Staff and Students
To sign up: li113@skidmore.edu

Artist Bill Daniel has been touring with bands, film shows, installations and pop-up photo shows for 30 years. In this discussion/workshop, he draws a parallel between DIY music networks and the potential for artists in other disciplines to reach non-traditional art audiences in cities and towns across the US. The logistics of booking and producing road shows will be discussed, as well as designing and developing visual and media-based events that can travel and set up easily. DIY attributes if self-reliance, mutual support and working out side of the corporate-supported art ecology are important points covered. The workshop will take place in the context of a walk-around lectuere/discussion with Daniel's current touring project, Tri-X-Noise, a mobile pop-up photography exhibit that is currently touring the US.

Who should take the workshop, and why? Faculty, staff, and students interested in exploring alternative, DIY exhibition strategies for visual and media art.
THE EXHIBIT & PERFORMANCE
TRI-X NOISE POP-UP EXHIBIT
with 'Zine Exhibition (curated by Nat Cabrera, '17) and Musical Performancesby:
Vampire Belt (Chris Corsano and Bill Nace)
Noah Prebish and friends
Adam Tinkle with student collaborators

Wednesday, November 4, 7-10 pm, Falstaff's
Free and open to the public

Hobo filmmaker/phototramp Bill Daniel is back on the road with a pop-up photo show comprised of 30 years of 35mm photographs beginning with the early 80s punk scene in Texas, featuring all of your favorite old school punk bands. Daniel has continued to document various sub cultures using the same camera/lens/flash, and Kodak Tri-X film for over 30 years. This exhibit, all non-digital darkroom prints, charts a path starting with punk shows in Texas, and crawls through various subcultures from the 90s graffiti scene in San Francisco, freight hopping scenarios, art openings in Los Angeles, house shows in Louisiana, generator shows on the Monongahela River, etc... all seen through Daniel's unique, spelunker flash-lit vision.
These shows are all one-night pop-up site-specific events, with a free-standing "gallery" -- a free-standing wall that stands in the middle of a space, with photos on both sides. I bring the lighting, and a sound system. It sets up in all kinds of places--- music venues, warehouses, and occasionally galleries.
Learn more about the visit: