John B. Moore Documentary Studies Collaborative
Sound for Documentary : The Art & Science of Sound Storytelling
October 21-23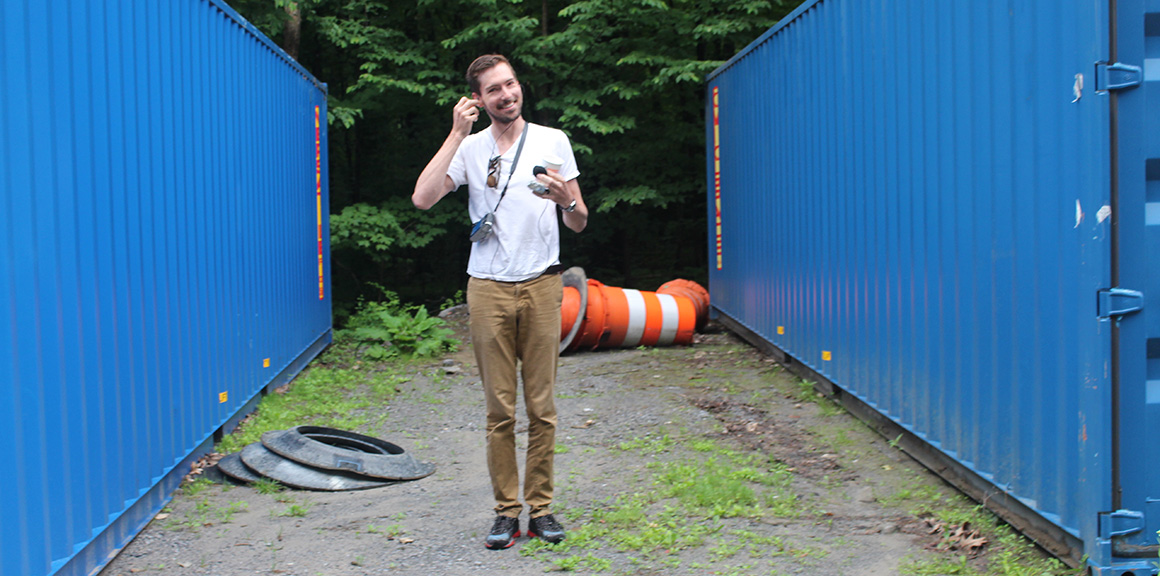 Even empty containers have music inside. (Soundwalk, June 2015)
MDOCS is thrilled to welcome back Skidmore alum and sound guru Jesse Flower-Ambroch for a mini-residency, October 21-24. Jesse will meet with students in Intro to Audio Documentary, visit a Religion class and host an evening of listening. And sound fans, get ready: we wrap up with a Foley workshop (sound effects and storytelling) on Friday afternoon. Sign up now!
Wednesday, October 21, 4 pm, LI 113
Doc Date, A career in sound.
Meet Jesse and learn about how his interest in tech, sound and music led him to a career in producing and mastering sound in the music industry. Snacks provided.

Sound Meditation with GONG
Thursday, October 22, 7pm, Wilson Chapel
Sound Meditation with GONG
Sound has the ability to effect our consciousness in dramatic ways, yet we rarely get the chance to stop and listen. Join Jesse Flower-Ambroch as he leads you through a unique meditation centering around sound. Participants will be guided using breathing and body awareness techniques, vocalization and an exquisite array of transportive instruments from gongs to chimes, bells and beyond. Learn how to use the exercise of listening to deepen awareness and focus and achieve deep levels of relaxation.

Please wear comfortable, unrestrictive clothing and bring a yoga mat as well as an eye mask or light scarf to cover the eyes.
Friday, October 23
2-5 pm, LI 113
The Art of Sound Effect Creation
(Sound for Documentary Film)
An introduction to the work of Jesse Flower-Ambroch and the art of sound effects for documentary (and narrative) film. Jesse will start by talking a little bit about his work history and showing a few examples of my work, emhpasizing the range of jobs that one can do in the sound department of a film and how a film traditionally gets from shooting, editing and through post-production. Bonus: thoughts on the history of sound in film and how that relates to the current reality.
In the second half of the class, participants will work with a scene introduced and provided by Jesse. Using this raw scene as an example he will discuss how a film arrives and how it is organized in a session. He will break audio into categories including dialog, music, sound design, foley, BGs, etc) and explain how each category works and what it provides to a film. He will take the class through the basics of spotting, dialog editing, laying fx and mixing.
Then the fun: students will be invited to make design decisions as well as act as Foley artists for the scene. Jesse will include thoughts about how their design affects the mood and plotline of the film. By the end of class we will have a fully worked out scene, with time for q&a.

Interested? Sign up via e-mail at li113 (@) skidmore.edu.
About Jesse Flower Ambroch

Jesse Flower-Ambroch is a sound designer, mixer, and sound meditation leader. He is dedicated to the exploration of sound through unique, collaborative projects in entertainment, interactive media, the arts and sciences. He received an Emmy nomination for mixing "Knick's Poetry Slam" for the MSG network, and most recently and an MPSE Golden Reel nomination for his work on the documentary "Jodorowsky's Dune". As a sound meditation leader he has led many groups large and small and is continuously dedicated to the exploration and research of sound on human consciousness. He is a resident at Dungeon Beach, a sound and color facility in the heart of Williamsburg, Brooklyn. For more: jfasound.com