John B. Moore Documentary Studies Collaborative
Portrait & Biography
Fall 2016 Doc Dates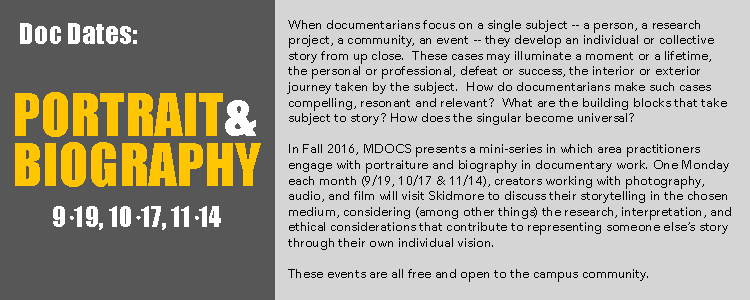 Series: Mondays 7pm
September 19, 2016 - Wilson Chapel
Erika Schielke, Podcast Portraits of Environmental Fieldwork in the Adirondacks
Moose data collection -
E.Schielke
Science can help explain the world around us and develop solutions to our most daunting problems. Documentary work often profiles leading scientists and important topics to bring that explanation to the general public. During this Doc Date, biologist and Skidmore faculty member Erika Schielke offers a portrait of the fieldwork that goes into scientific research in selections from a podcast series-in-progress, Science Shotrs. on regional environmental topics. Similar to NPR storytellers whose features combine narration, interviews with experts, and natural sound, Schielke draws on research from her course, Ecology of the Adirondacks, an outgrowth of her work on regional environmental challenges to connect to scientists working on moose life, snake populations, and the impact of road salt on local water sources.
Erika interviewing Conservation Canines -
photo cred. Conservation Canines

Biologist Erika Schielke has a passion for communicating science to the general public. As an aquatic ecologist
who engaged in impromptu lakeside conversations about field research, she developed an interest in public outreach that led to an American Academy for the Advancement of Science Mass Media Fellowship in 2009, where she a summer as a science reporter at KUNC in Greeley, Colorado, covering topics from genetic testing to wildlife conservationErika received her A.B. in Molecular Biology from Princeton University, and her Ph.D. in Ecology and Evolutionary Biology from Yale University. She is currently an Instructor in the Biology Department at Skidmore College, where she primarily teaches Introductory Biology labs and a non-majors course on the ecology of the Adirondack Park.In 2009 as an American Academy for the Advancement of Science Mass Media Fellow, she spent a summer as a science reporter at KUNC in Greeley, Colorado, covering topics from genetic testing to wildlife conservation. From 2009 – 2010 she produced The Adirondack Science Report at WGFR, a monthly radio feature highlighting regional science stories.
Presentation moderated by Lucas Willard, WAMC
---
October 17, 2016 - Emerson Auditorium
Daesha Devón Harris, Through a native lens: Portraiture, social documentary and narrative in Saratoga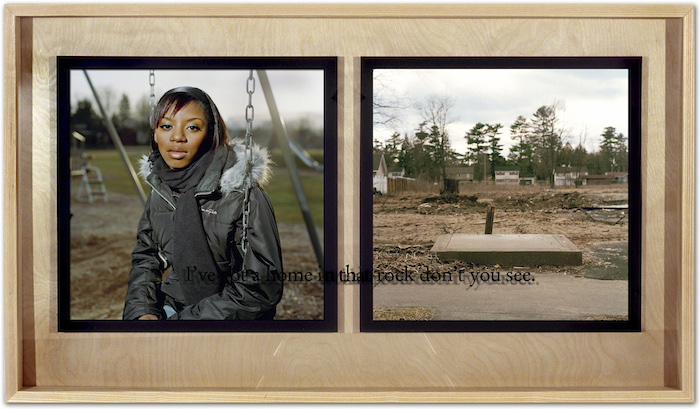 Daesha Devón Harris, a Saratoga Springs native and documentary photographer, creates powerful multimedia pieces that speak to social issues in a creative and compelling way. The photos depict subjects not as victims, nstead showing them in a light of determination that illuminates Daesha's relentless optimism. Harris discusses her practice, which includes individual and collective portraits of African-American and other often-unrecognized communities in Saratoga Springs, and use of archival and historical research and images.

Harris' earliest mentor was her Great Uncle Joseph Daniels, a self taught artist and accomplished painter from whom she received painting instruction as s young child. She holds a BFA in Studio Art from the College of Saint Rose where she studied under the late Karene Faul- iconic artist and educator. Daesha earned her MFA in Visual Art from The University at Buffalo and has won several NYS artist grants. She is an award winning artist who has been featured in numerous exhibitions across New York State as well in Philadelphia, PA, Louisville, CO, and beyond. She plays an active role in her community as a youth advocate and cultural history preservationist. Her MFA show, and yet must be...my Promise Land, and 2011 show at the National Museum of Dance, I've Got a Home: Inside a Community of Color, draw attention to African-American youths and affected by gentrification. (text adapted from the Underground Railroad History project)

Presentation moderated by photographer Robert ParkeHarrison, Department of Art, Skidmore College.
---
November 14, 2016 - Emerson Auditorium
Adam Hall, Offset (film): A life blurred and re-envisioned

Join filmmaker Adam Hall for a special screening of his feature documentary film, Offset: Seeing Beauty Through a Brain Injury (2015), a portrait of a photographer who reimagined his practice. Weaving life story and observation, Hall will discuss biography and portraiture in documentary filmmaking in a Q&A following the film.
Synopsis
After a catastrophic brain injury, renowned fashion photographer Brian Nice is confined to his childhood home. But when his health insurance no longer covers physical therapy sessions, Nice embarks on a cross-country road trip that tests his physical and emotional limits. Taking his camera with him, he photographs the American landscape, capturing the way he now sees the world.
Director Adam Hall will be at this event for a Q&A after the screening.
Presentation moderated by Nicky Tavares, Mellon Fellow, MDOCS and Visualization Forum
Hall and Nice
Watch the trailer here and learn more about the film at offsetfilm.tumblr.com.
---