Archival Storytelling: The Depot Theatre of Westport, NY
April 26, 2017
The Spring 2017 Skidmore-Saratoga Memory Project course, Archival Storytelling, tackled a small theatre company archive with the guidance of community partner David Howson, a board member of the organization and director of Skidmore's Arts Administration program.
Every Monday and Wednesday for this semester, a Biology major, a Psychology major, an Anthropology, a Sociology, and a History major all gathered together in a room together to focus on one project that, despite their varied fields of interest, kept them coming back for more. DS302C: Archival Storytelling is a class structured around a room of boxes that, to the untrained eye may seem like junk, but we now know can transform from unsorted paper into an archive. Since the beginning of the semester, we have combed through all of the materials of over a dozen boxes, categorizing and sorting them.
Now you must be wondering, "where did these boxes come from?" Well luckily for you, we have an answer to that too; but we'll have to bring you back to summer 1979 in Westport, NY, on the shores of Lake Champlain.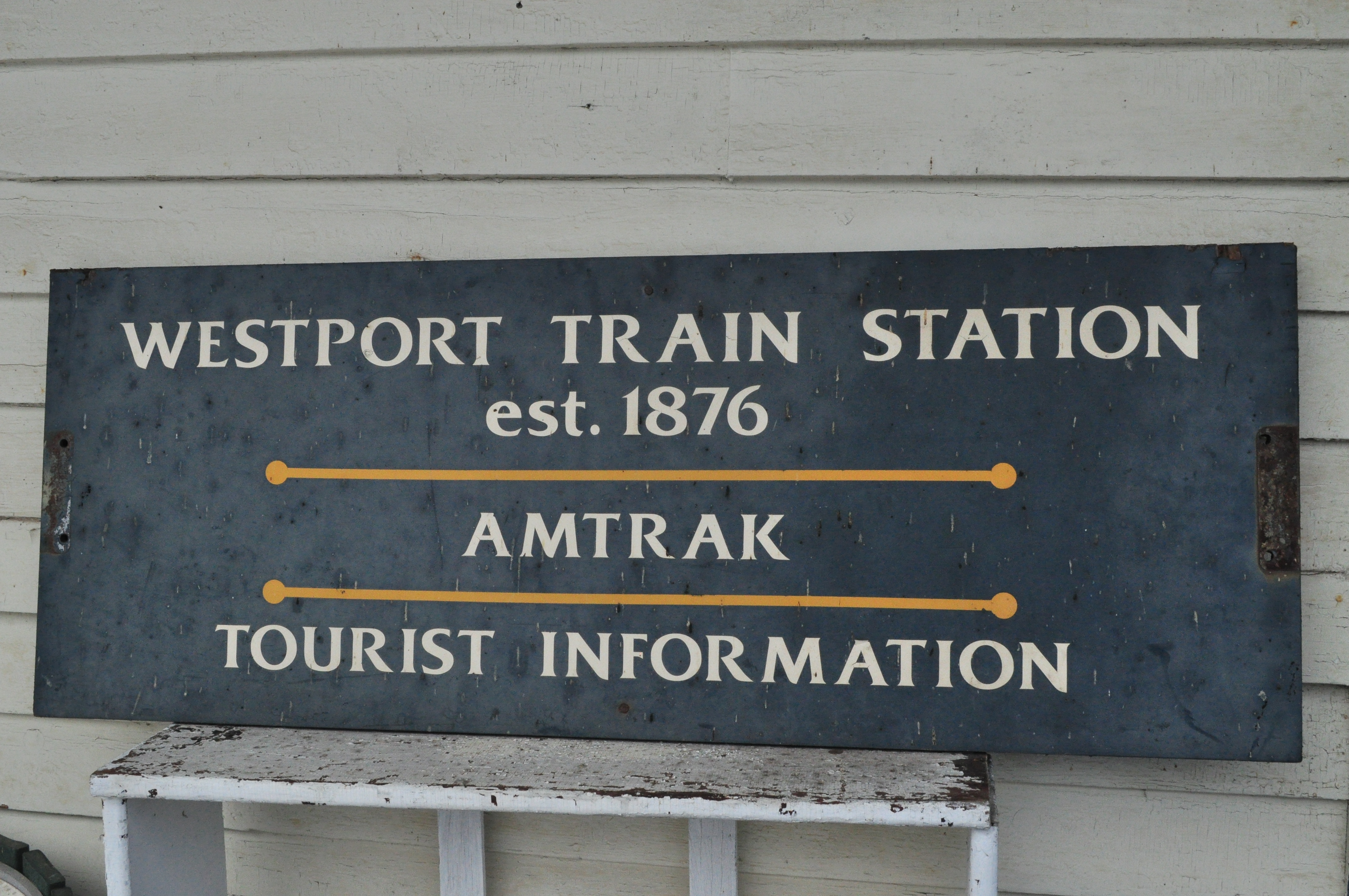 Westport Train Station, Sign
"One train goes up, one train comes down" – a slightly sarcastic phrase we heard describes the traffic that Westport's Amtrak station experiences on a day-to-day basis. As one passes by Westport on train that goes from Manhattan to Montreal and vice-versa, no one would ever think that the small, wooden station was anything more than just that; but, in the summer months, an undertaking is undergone in their freight room that makes this train station worthy of an entire college course.
In the summer months in Westport, NY, this lonely train station doubles as the Depot Theatre. In its 136-seat venue, actors that range from Broadway to Law and Order come to perform plays for the duration of the theatre's season. For nearly 40 years the Depot Theatre has been a locale for community members to come together and enjoy musicals and plays in a community theater environment, but at professional quality. Though the shows feature professional actors, directors and designers, the community is heavily involved in each production. Year-round residents of Westport help with almost every aspect, from sound design to managing the concessions table. So now that the theater is quickly approaching its 40th anniversary, it seems only right that it be celebrated for the four decades of live entertainment that it has brought to its community. And that's where we came in.
From floor to ceiling – stacked in attics, garages, and unused office spaces – boxes comprising of all the papers, playbills, financial reports, headshots, and tickets that had ever passed through the theater were untidily piled away and forgotten. After a hour-and-a-half journey from Westport to Skidmore College, this disheveled hoarding of materials became the responsibility of five intrepid students, who began their own journey to create a coherent archive of a truly remarkable Theatre. Unboxing was the first step – one which would have been more pleasantly completed outside where the fresh air could have masked the musty smell of papers hidden away in the dark and the damp for decades. Alas, completing this task outdoors would be against almost every archival protocol we had learned to-date-- and it was also winter.
Up until and through the time that we were working with these boxes we were tirelessly learning proper methods and techniques required to complete such a sensitive task, with support from Wendy Anthony, Jane Kjaer, and Rachel Rieck of Scribner Library's Special Collections. When dealing with older materials – especially when they are meant to be preserved – there are certain principles and practices to be followed: no pens (for ink is permanent and damaging), no acidic storage equipment (for acid can burn), no liquids or foods near the materials (for we may be clumsy and likely to spill). With such knowledge under our belt, we were able to continue treating these materials with the respect they deserved.
Once categorized and sorted, the collection showed some semblance of coherence. We had a box for tickets, one for playbills, several for financials, and even a box just for photos. After learning some standard methods from class, we incorporated them into our project. Each box was titled and coupled with an archival finding aid, written and complied by us. Then Professor Dym (History) brought in a scanner and our journey of digitization departed. Not aiming to make everything available online due to the scale of the archive, we, instead, started to sample and digitize the most historically meaningful objects from the boxes. Then, the digitized materials, along with our short nonfiction writing pieces, will culminate in a blog-like presentation.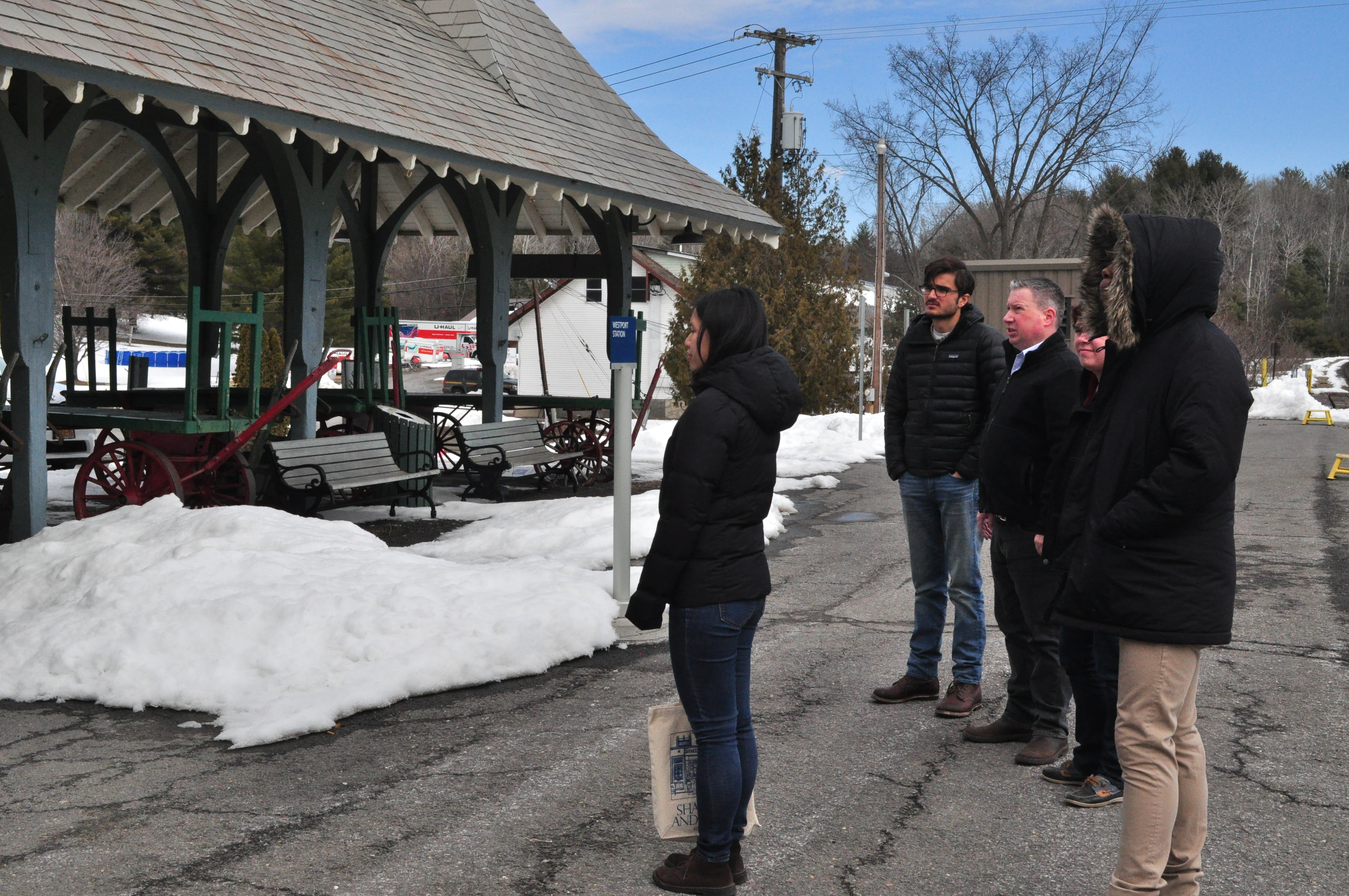 Class visit to the Depot Theatre, Westport, NY
Furthermore, as a class we were fortunate enough to travel one cloudy March Sunday morning to the Depot Theatre. Alhough there were no productions for it was out of season, the building was still as majestic as it looked in the photos we had found in the archive. In our time up in Westport we had the pleasure of taking a tour of the train station that the theater is housed in, eating lunch with some of the residents who have been involved since the beginning, and even walking around the room used for prop storage and the massive house which was donated to provide the actors a home away from home while rehearsing and performing in Westport.
Throughout this semester, we have been able to learn what it really means to create and utilize an archive in a way that they never would have been given with their majors, and were able to genuinely contribute to one like no class has ever offered.
Next stop? Westport NY.

Harry Sultan, '17, Psychology

Evian Pan, '17, Anthropology
Entrance to the Depot Theatre

Photo of the Depot Theatre box office. 1988
(Courtesy of Depot Theatre Archive)

Cover and back cover of the playbill for the 1987 production

A Midsummer Night's Dream (Courtesy of Depot Theatre Archive)