Director's Note: October 2017
October 24, 2017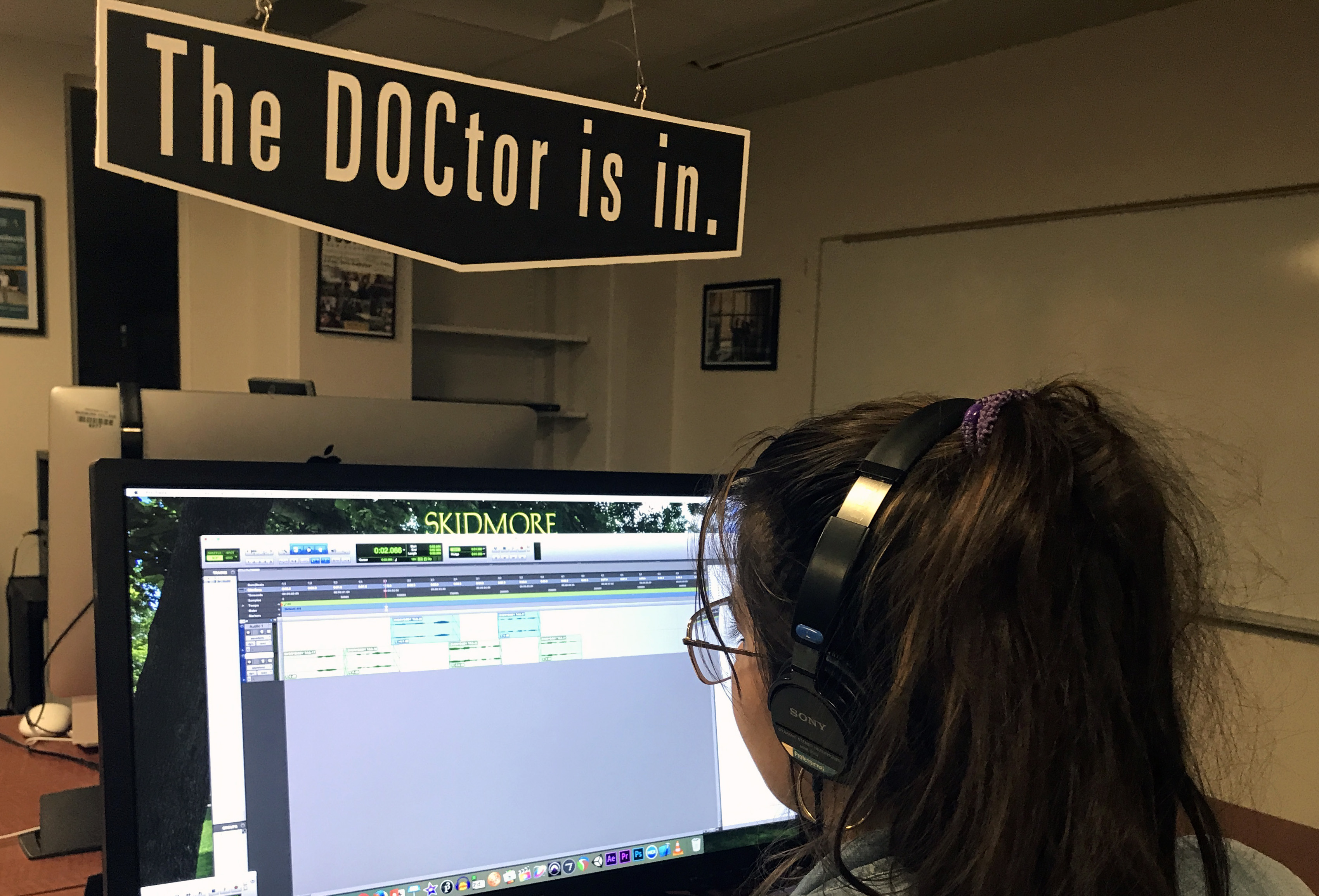 The DOCtor is In! In the first half of the fall 2017 semester, not only did classes get underway and projects get started. Two annual fall events -- the Ethics Bowl and Networking Night -- attracted a full house. Storytellers' Institute 2015 photographer and student Ele Ramírez, '18, shared his own students' photographs from the summer workshop he ran in his Oaxaca hometown in the exhibit Ventana a Mi Comunidad (Window on my Community). And Emily Rizzo, '18, headed off campus to interview sculptor Patrick Morelli about his projects celebrating Dr. Martin Luther King.
Professional documentarians -- including filmmakers from Meerkat Media, podcasters Sylvia Ryerson and Barry Lam, and producer Lesley Norman, '79-- have showcased work, talked about their careers. made connections in the annual Networking Night, and experienced the culmination of Skidmore's collaboration with the States of Incarceration project in exhibit, Mass Story Lab, a poetry slam and more. We'll have more to say in our next newsletter about the States of Incarceration exhibit and programming, a collaboration between Skidmore College and the Humanities Action Lab, which brought policy makers, the formerly incarcerated, documentarians, and the Skidmore and Saratoga communities together to dig into an issue that has impact locally and internationally.
| | | |
| --- | --- | --- |
| | | |
| Ele Martinez Exhibit - Case Gallery | Sarah Friedland (l) and Cecilia Aldarondo (r) with Meerkat Media | Students and community members making connections |
At mid-semester, MDOCS staff, faculty and students are leading and learning from workshops happening in DS, history, sociology, Spanish and first year experience courses. Students are delving into the history of WSPN, Skidmore College's radio station (91.1), editing from the film archives of Meerkat Media, and applications are starting to come in for Storytellers' 2018, Surveil/Surveilled! And our MDOCS office staff (pictured in the newsletter banner) are hard at work keeping things running smoothly.
As for next semester, a great range of spring 2018 courses will be offered in Documentary Studies (DS) and beyond -- including experimental and exploratory classes in Media and Film Studies, English, Interdisciplinary Studies.


| | | | |
| --- | --- | --- | --- |
| | | | |
| Welcome to DocLab | DocLab Workshop for in Sociology | Ethics Bowl -- full house | Fall at Skidmore College |
We hope to see you in DocLab, at the MDOCS December 14 Student Showcase, to see what emerges from this semester's works in progress, and out in the community.
Yours from the doc side,
Jordana Dym
Director