06/23/2010
NYS Summer Writers Institute enters the home stretch
The New York State Summer Writers Institute at Skidmore College has entered its third week.


Following a 20-year tradition, the Institute offers a rich schedule of free readings and discussions by participating and guest writers, many of whom have received critical acclaim and top awards over the course of their careers. Highlights of the series thus far can be found on the Salmagundi blog.


A special event set for July 21 featuresGeoffrey O'Brien and Jim Miller in a conversation titled "What We Write About When We Write 'Creative' Non-Fiction." Topics expected to be covered include reality, genre bending, appropriation, fiction, fact, and non-fiction. O'Brien is the author of The Fall of the House of Walworth and Miller wrote Democracy in the Streets.


Following is the complete schedule of events remaining in the series. All begin at 8 p.m. in Davis Auditorium of Palamountain Hall (except where noted). Admission to all events is free.

-July 12: Poetry and fiction reading by Richard Howard (Pulitzer Prize-winning poet) and Danzy Senna (Caucasia).

-July 13: Fiction and poetry reading by Ann Beattie (Love Always, Walks With Men) and Honor Moore (Red Shoes, The Bishop's Daughter).

-July 14: Fiction and poetry reading by Russell Banks (The Darling) and Chase Twichell (Dog Language).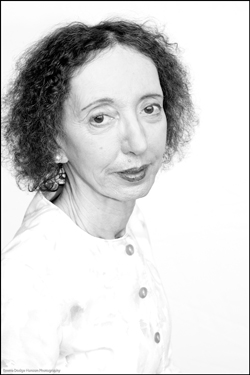 Joyce Carol Oates

-July 15: Fiction reading by Joyce Carol Oates (National Book Award-winner, them, We Were the Mulvaneys),Gannett Auditorium, Palamountain Hall.


-July 16: Fiction and poetry reading byAmy Hempel (The Dog of the Marriage)and Tom Healy (What the Left Hand Knows).

-July 19: Fiction and poetry reading byMary Gaitskill (Veronica)and Henri Cole (Middle Earth).

-July 20: Fiction and poetry reading by Rick Moody (Demonology) and Peg Boyers (Honey with Tobacco, Hard Bread).

-July 21: Geoffrey O'Brien and Jim Miller, "What We Write About When We Write 'Creative' Non-Fiction," a conversation about reality, genre bending, appropriation, fiction, "fact," and non-fiction. O'Brien is the author of The Fall of the House of Walworth and Miller wrote Democracy Is in the Streets.

-July 22: Fiction and poetry reading by Jayne Anne Phillips (Termite & Lark, Fast Lane) and Mary Kinzie (Summers of Vietnam).

-July 23: Fiction and poetry reading by Howard Norman (The Bird Artist) and Lloyd Schwartz (Pulitzer Prize-winning critic, Cairo Traffic).

For the latest schedule updates, please click here to view the campus calendar.

The New York State Summer Writers Institute at Skidmore is sponsored in part by the New York State Writers Institute, University at Albany, State University of New York, under the auspices Skidmore's Office of the Dean of Special Programs.

(All photos by Emma Dodge Hanson)