President Glotzbach updates campus regarding the Oct. 1, 2014, morning lockdown.
President Glotzbach sends email to campus community with an update regarding today's early-morning lockdown. More
Here be monsters
Oct. 4, 2013


Is a man-eating tiger a monster? Is genetically modified corn? How about McDonald's or Walmart? Where's the line between monster and miracle? This semester, Skidmore students are grappling with these monster ideas for academic credit.
The one-credit add-on to a wide range of honors-designated courses began with last year's "Apocalypse," coordinated by historian Erica Bastress-Dukehart and mathematician Mark Hofmann, who were hosting a faculty-interest group about science literacy. They devised four interdisciplinary, team-taught minicourses as add-ons for 16 regular honors courses. Bastress-Dukehart taught in the "Plagues and Peoples" section, about pandemics; another section was "Death From the Skies," addressing scenarios from a meteor collision to lightning strikes. Even in that first year, students' projects—many of them shared with the whole campus during Academic Festival—were so interesting that faculty were keen to repeat the science-themed add-ons this year.
As a self-determined major (in environmental justice), Kelsey Hull '14 is "drawn to the connections between the subjects and conflicts we study." A student in "The Politics of Food," she also joined the "Monsters" section on GMOs, whose faculty includes biology professor Josh Ness, a codirector of this year's project. As Ness explains, each "Monsters" section of about a dozen students is taught by the four professors from its parent courses—for example, "Constructed Humans" (Frankenstein, cyborgs) mixes students from a design course, the Italian literature course "True Blood," introductory physics, and computer programming, while "Natural vs. Supernatural" probes the idea of monster vs. marvel and draws from courses in Greek mythology, evolutionary bio, Spanish American lit, and religion theory. Students cap the experience with a final project; they can choose their topics and media, but all must incorporate quantitative reasoning. In fact, an end-of-October residency by Hayley Gillespie, an ecologist and artist who founded the Art Science Gallery in Austin, Texas, will help students plan their projects' analytics. (The residency and other aspects of the program are funded by Odile Lombard and Marc Mourre, parents of Gaëlle '11, to help Skidmore provide all students with strong quantitative analysis skills.)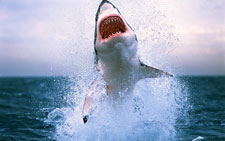 Chris Kopec codirects "Monsters" with Ness and teaches in its "Man-eaters" section, which ponders the status of humans as both predator and prey, asking, for example, how our world views, psyches, and social orders might change if we extirpated all species who could prey on us. A business professor specializing in law, Kopec is offering thoughts about "corporate predation" and market competition. A biologist is discussing the myths and realities of man-eating big cats, another is explaining the ecology of predation, and an English professor is presenting fictional man-eaters from early literature. Kopec says the prospect of team-teaching with three very different colleagues was daunting, but "it's been great! It's so interesting to learn from the other faculty when it's their turn to lead class." She adds with a grin, "Some of us get bored easily, so we love the different format."
Bastress-Dukehart sees the enterprise as "a truly wonderful collaboration among faculty. I view this project as the epitome of what we can accomplish together." Ness adds, "It's not just the faculty crossing disciplines. Even in the parent courses, the students aren't necessarily majors, so the student body in all the 'Monsters' classes is very interdisciplinary." For Kelsey Hull, the GMOs class is "a refreshingly unconventional addition to my course load." She says, "I find it enriching and challenging to engage with unfamiliar people, disciplines, and perspectives. Getting all those benefits out of a one-hour-a-week course is pretty great."