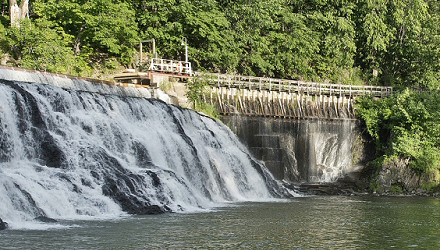 Hydropower dam at Chittenden Falls, Kinderhook Creek, Columbia County
Dam Fine Idea
October 15, 2014
A first-of-its-kind agreement will enable Skidmore to generate 18 percent of its electrical demand from a refurbished hydropower facility on Kinderhook Creek in Columbia County.

In 2012, a confluence of bad news and good news generated a particularly creative thought in the minds of Mike Hall and, just across town, Omay Elphick '93. The bad news was that many small hydroelectric dams in New York State were growing old, needing repairs, and earning insufficient incomes from depressed electricity prices. The good news was the state legislature's supporting of renewable energy by allowing "remote net metering," whereby renewable energy can be generated in one location and credited to its producer in another location. A renewables advocate and developer, Elphick says the legislation was an "aha moment" for him. And Hall, Skidmore's longtime former budget director and now its specialist for energy projects, says, "I immediately jumped on the idea of a small hydro project for Skidmore."


Budget and energy expert Mike Hall
spearheaded both the Chittenden Falls
project and the College's new solar
array.
Hall partnered with Elphick as director of power marketing at Gravity Renewables, a firm with small hydro plants and development interests across the country, and they soon settled on a promising dam at Chittenden Falls on Kinderhook Creek, about 60 miles south of campus.

The agreement established between Skidmore and Gravity renewables represents the first hydroelectric project in the country to make use of "remote net metering"—a policy mechanism that, with National Grid as the intermediary, allows Skidmore to use power generated at Chittenden Falls, even though it is generated 60 miles from the campus. Up to 4.1 million kilowatt-hours of renewable energy will be generated annually at Chittenden Falls, reducing Skidmore's carbon footprint by an estimated 3,000 tons per year and providing predictable low-cost power over the 20-year operating agreement.

Last week, Skidmore celebrated the completion of a photovoltaic solar array that will annually generate 2.6 million kilowatt hours of electricity, enough to meet 12 percent of Skidmore's needs. Combined with the Chittenden Falls facility, that brings to 30 percent the total amount of Skidmore's electrical demand that will be met by renewable power.

"Both projects show how we can develop new environmentally responsible and cost-effective energy sources through new partnerships and creative thinking," said Philip A. Glotzbach, Skidmore president. "We are delighted to be joined with Gravity Renewables in this pathbreaking rebirth of electrical generation at Chittenden Falls."

Glotzbach credited Hall for spearheading Skidmore's participation in the project.

"All Skidmore owns is the meter box," notes Hall. "Without any up-front investment and without building any infrastructure ourselves, we're locking in cost-savings and a clean, reliable and predictable source of power for decades to come."

The subject of an article written by John McPhee and published the New Yorker in 1981, the Chittenden Falls dam was built in1810 to run a paper mill and then refitted to supply electricity to the power grid in 1979. The agreement calls for the facility to be refurbished, with renovations including an on-site classroom that will serve as a learning resource for students and faculty.

"Skidmore College is establishing itself as renewable energy leader," said Ted Rose, CEO of Gravity Renewables. "This project's impact goes beyond the clean energy benefits. Skidmore is supporting one of upstate New York's historic economic drivers-each small hydro facility employs local operators, pays taxes and supports the local economy."

Governor Cuomo and the New York State Legislature's commitment to locally produced renewable energy, as well as National Grid's support, helped make the operating agreement possible. New York's Net Metering Policy, which allows customers to apply renewable energy credits to other accounts they own, allows Skidmore to sign the 20-year agreement for the power generated at Chittenden Falls. The agreement protects Skidmore against future price spikes or rate increases by locking in reliable, predictable low-cost energy at a fixed rate.

Hall is gratified that environmental studies faculty are keen to use the facility for course work, and Elphick says, "I love the academic potential—to study issues from electricity generation to economic development, from policy and tax law to environmental impacts."