Zankel celebration to continue with performance by jazz greats
Oct. 19, 2015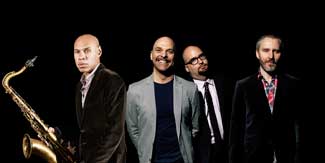 The Bad Plus Joshua Redman
The Arthur Zankel Music Center at Skidmore is marking its fifth year by welcoming several artists who performed during the venue's inaugural season.
Saxophonist Joshua Redman returns this fall with piano-bass-drums trio The Bad Plus. The group will perform at 8 p.m. Friday, Oct. 23.
Admission is $35 general admission, $10 Skidmore faculty and staff, free for Skidmore students.
Five years ago at Skidmore Redman, the 1991 winner of the Thelonious Monk International Jazz Saxophone Competition, spent time with Skidmore students in a two-day residency and wowed a sold-out audience in the Helen Filene Ladd Concert Hall. He is enjoying an impressive career, having released a combined total of 31 albums as a bandleader and sideman.
The Bad Plus, (which also performed at the Zankel Center during its first year) is a jazz trio that has earned widespread notice for its unique blend of genres as well as entertaining live performances. As a quartet, The Bad Plus Joshua Redman has received widespread critical acclaim for their self-titled debut album released in May.
For tickets to the Oct. 23 Bad Plus Joshua Redman performance, please visit the Arthur Zankel Music Center's web site.