Comedy for creative expression and competition
February 9, 2018
Google "college comedy," and Skidmore's National College Comedy Festival tops the search list. Known as ComFest for short, the student-produced annual comedy show features popular professional comedians and premier improv and sketch groups from colleges around the country.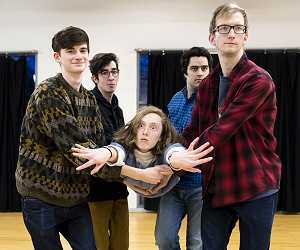 Jadon Sokoll-Ward '19, Matt Clyne '20, Kallan Dana '19, Alec
Sill '20 and Doug Patrick '18 of the Sketchies practice a routine.
Founded in 1989 by Skidmore's own David Miner '91 (producer of television hits such as Parks and Recreation, Unbreakable Kimmy Schmidt, and Master of None), ComFest was one of the first such gatherings of college and professional comedy talent. Thanks to co-producers/talent hunters Doug Patrick '18 and Andi Kabiri '18, Skidmore is hosting its 29th annual ComFest this year Feb. 9–10.

What is it that makes ComFest so unique? Over the years, the event has played host to some of the brightest college comedy talent in the country, alongside established and up-and-coming professional acts.

A New York Times profile said of the event, "ComFest has helped cultivate a legion of comedy creators and actors whose names populate the credits of television shows like The Office and Community and films like Our Idiot Brother … for many participants, the weekend is a turning point, a heady confirmation that, yes, this is what they want to do with their lives. What's more, they might actually have a shot at it."

The most recent example? Theater major Michael Zegen '01, who just nabbed the Golden Globe for Best Television Series Musical or Comedy along with other members of the cast of The Marvelous Mrs. Maisel. In the show, Zegen plays a hopeful comic, but in real life he's been honing his skills since his time at Skidmore where he co-founded The Sketchies and performed numerous times at ComFest.

But, future comedic stardom isn't always the goal. This year's co-producers, Patrick and Kabiri, have their own reasons for supporting the vibrant tradition.

An English major from Ohio, Patrick plans to teach at a K–4 charter school in Connecticut after Skidmore. He says he took on the role of co-producing ComFest for the experience of "talking with people like agents in the comedy world and having a chance to shape the arc and vibe of the show."

Kabiri, an Education and Spanish double major from northern California, hopes to teach English next year in Spain as a first step toward a career in multicultural education. She's also been doing improv since high school and says her motivation to co-produce ComFest stems from a desire to "keep the ComFest tradition alive." She also says, "Being on the stage is also a big part of it, just knowing that we are on the same stage as David Miner." Kabiri now leads Skidmore's Ad-Liberal Artists, the group Miner helped found.

29th annual ComFest, Feb. 9–10, 2018

Coming to campus this year are professional headliners Yedoye Travis, Rhea Butcher, Mark Vigeant and Sadie Hawkins Day.

Home-stage advantage among the college teams will go to Skidmore's very own improv groups: The Ad-Liberal Artists and Awkward Kids Talking and sketch groups Skidomedy and The Sketchies.

The weekend will also feature other talented college acts, including:
The Whistling Shrimp, Cornell University
The Skits, Cornell University
The Institute Sketch Comedy, Tufts University
Slow Children at Play, Boston University
Dangerbox, New York University
45 Kings, Loyola University Chicago
Hammerkatz, New York University
Underground Improv Project, Muhlenberg College

Schedule
Friday student show (7 p.m.)
The Whistling Shrimp
The Institute Sketch Comedy
Awkward Kids Talking
Slow Children at Play
Underground Improv Project
The Sketchies
Friday professional show (10 p.m.)
Yedoye Travis
Rhea Butcher
Saturday student show (7 p.m.)
Hammerkatz
45 Kings
Skidomedy
Dangerbox
The Skits
The Ad-Liberal Artists
Saturday professional show (10 p.m.)
Let's Make a Website with Mark Vigeant
Sadie Hawkins Day


Tags: Admissions, Campus Life, Student Clubs, College Comedy Festival, Comfest, Ad-Liberal Artists, Awkward Kids Talking, Skidomedy, the Sketchies, Andi Kabiri '18, Chris Isaacson '19, A'ntonia Benson '18, Thomas Mandile '21, Jadon Sokoll-Ward '19, Matt Clyne '20, Kallan Dana '19 Alec Sill '20, Doug Patrick '18, David Miner '91