Off-Campus Study & Exchanges

Skidmore in China: Beijing and Shanghai
Orientation and Post-Program Seminar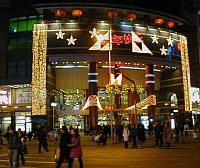 All students in the four Skidmore in China academic tracks will begin their program with a week-long orientation held in Beijing. This seminar-style orientation will introduce students to China, its history and culture, and its contemporary realities and challenges. These seminars provide a common foundation for all students regardless of their academic track and serve to supplement the Understanding China course. After the first week, students studying in Shanghai will travel to their host city to being their program.
At the end of the program, all Skidmore in China students will come together in Shanghai to participate in a post-program seminar that serves as an opportunity to complete the Understanding China course and synthesize the knowledge and experiences students have gathered throughout the semester.
Activities, Excursions and Extended Field Trip
Students will participate in various visits to places of cultural, regional and political interests related to their coursework. In addition, all students will participate in a 9-day mobile learning field trip related directly to students' coursework. The mobile learning field trip promotes engagement with local experts and field study sites and is enhanced with homestay experiences. In the past, students have traveled to Yunan, Sichuan, and Inner Mongolia. The program also organizes weekly cultural activities throughout the semester, including cooking classes, theater performances, concerts, athletic events, and film screenings.