Off-Campus Study & Exchanges

Welcome to Shanghai!
This is a great time for American students to study Chinese business, commerce, and globalization in this great city of China. As China's business center, Shanghai offers you a unique opportunity to eyewitness and experience the dynamics of this fastest growing country in the world. The program features opportunities for students to gain hands-on experience in the country without necessarily having the language background. This program can accommodate all language levels!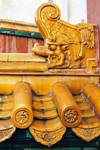 Skidmore in China - Shanghai offers two interdisciplinary programs in Business Studies (in collaboration with IES and the Shanghai University of Finance & Economics - SUFE) and 21st Century China (in collaboration with IES and Fudan University). Besides taking courses in Chinese language, business, economics and history, students can participate in field trips and have the option of completing a for-credit internship. Field trips and excursions may include visiting Taipei in Taiwan and opportunities for other program-sponsored excursions in and around the city abound. Come to Shanghai to see and experience China! We are waiting for you!