Off-Campus Study & Exchanges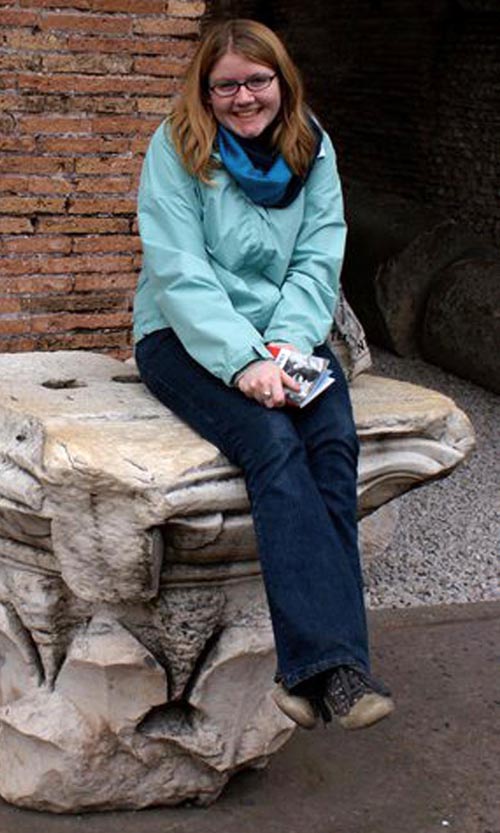 Name: Karen Donovan
Program: API Florence
Location: Florence, Italy
Semester: Spring 2011
Major: Studio Art
How did you choose your program?
I knew I wanted to go to Florence, so I looked through the pamphlets for the three Florence programs Skidmore offers and chose the one I thought had opportunities I could never find on campus.
What was the most memorable experience of your semester off campus?
My concentration on campus in the Art department is Jewellery and Metals. My jewellery class in Florence was called "Relief Works in Metal" and was taught by Daniele Bagnato, former designer for Cartier. He spoke absolutely no English. We did have a translator but she was in and out so I ended up learning most of the material just through hand motions, and recognising certain Italian phrases which he used a lot. "No Brucha" (don't burn) will be part of my vocabulary for the rest of my life. Also all of the girls in my class were from another country, so not only did I learn the Italian word for many tools I know so well in English, but I also learned the Swedish, Danish and Japanese for each.
Based on your own experience, what are some of the benefits of spending a semester off campus?
Each time I've been abroad I learn more about the world. During my summer experience at Central Saint Martin's in London 2010, I worked mainly with older jewellers learning new skills to bring to their businesses. Meeting people worldwide who are doing something I'm looking to do in the future shows me that if I wanted tI could go anywhere to do anything I want to do with my life.
What advice can you offer for Skidmore students who are considering or planning to study abroad?
Do it. Study Abroad. It is an experience you shouldn't miss. Wherever you go you will have a memorable experience. Take every opportunity, don't be shy. Respect your host culture, you are there to learn.