Off-Campus Study & Exchanges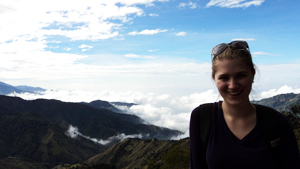 Name: Tessa Leverone
Program: Duke/OTS: Tropical Biology
Location: Costa Rica
Semester: Spring 2011
Major: Environmental Studies
Minor: Anthropology
How did you choose your program?
I chose my program because I wanted to be completely immersed in tropical biology - I wanted to learn about the rainforest IN the rainforest not from a book. I also wanted a rigorous academic experience and after talking with my advisor we decided the Duke/OTS program was the right academic program for me.
What was the most memorable experience of your semester off campus?
I had so many wonderful experiences so it is hard to choose but one jumped to mind. Every morning my group would have class in the field. So, for example, if we learned about forest fragments we went to go look at forest fragments. While at beautiful Monteverde we were discussing forest gap dynamics, more specifically, what challenges a new sapling faces as it tries to grow into a tree. Our professor had us split up so we had our own spot on the forest floor, lie down on our backs and be in silence for 30 minutes. There I was, a girl from the New York City suburbs, on the ground in a tropical rainforest, staring up at the sky through cracks in the forest canopy. For that 30 minutes all I knew was my own breathing blending in to the forest sounds around me.
Based on your own experience, what are some of the benefits of spending a semester off campus?
Studying abroad is valuable for many reasons. For me, it offered an opportunity to study biology beyond the testbook page and the lab. My experience has greatly influenced how I think as a scientist and my confidence to plan and carry out research projects here at Skidmore.
What advice would you offer for Skidmore students who are considering or planning to study abroad?
Do the program that's right for you. If you pick a program based on its popularity or based on a preconceived notion of what a study abroad experience is supposed to be like then you won't live the experience to its fullest. Really reflect on what YOU want out of it and then go from there.