Skidmore's Founder, Lucy Skidmore Scribner
Lucy Skidmore was born on July 4, 1853. Her mother died soon after Lucy's birth. Raised by her paternal aunt, Lucy moved to the home of her father and stepmother in her early teens. She was also a devoted Presbyterian who believed in the importance of service to the community, teaching in her leisure time at a mission school connected with her church. She married John Blair Scribner, who had taken over the publishing company started by his father five years before. The couple settled in New York, and Lucy's life seemed set to follow the conventional pattern of young women of her class: making a home for her husband, raising her children, and devoting her remaining energies to good works and high culture.
But tragedies awaited the youthful bride: Her two children died in infancy, and in 1879, her husband died suddenly of pneumonia. Lucy moved back to the home of her father and stepmother, and three years later she lost her father as well. Lucy studied piano, attended concerts and traveled with her stepmother. She brought meaning to her life through charity work, reading to the blind, teaching sewing to poor girls at the mission school, and she even organized a children's club for the little girls of Jackson, N.H., where she spent several summers. After her stepmother's death in 1894 she continued to visit members of her extended family, including an aunt and uncle in Saratoga Springs, where in 1897 she purchased a summer home on North Broadway.
At the turn of the century she decided to settle permanently in Saratoga Springs, joining the Second Presbyterian church and looking for appropriate charitable work. Inspired by stories of a Brooklyn settlement house which was the beneficiary of work by several of her friends, Lucy approached four women of her church and asked them to join her in establishing the Young Women's Industrial Club to "help little girls and young women to become self-supporting and to provide a social center for them." The five church ladies met on January 23, 1903, and opened the club, in the old church parsonage on Spring Street, in June of that year.
Unusual for that era, the club's bylaws specified that it would be open to all girls and women of good character, regardless of race or religion. Boys and men were allowed to participate in most club classes and activities, and once the YWIC had evolved into the Skidmore School of Arts in the 'teens, there were even a few male graduates of the programs in business and music.
—Mary C. Lynn

The Presidents of Skidmore College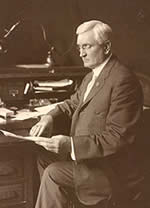 With the help of Columbia University President Nicholas Murray Butler, Lucy Skidmore Scribner recruited Charles Henry Keyes, a well-known educator from Teachers College, as Skidmore's first president. His vision and energy proved as effective as Mrs. Scribner had hoped, giving the school the momentum it needed. In 1922 Dr. Keyes fulfilled his avowed ambition of having the school chartered as Skidmore College, a four-year degree-granting institution.
In addition to developing a liberal arts curriculum that became the basis for Skidmore's present curriculum, Dr. Keyes pioneered the formation of a baccalaureate nursing program and began the more active shaping of a campus. By the time of his death in 1925, Dr. Keyes had played a key role in acquiring several of the Victorian mansions overlooking Congress Park, which began to give the college a more precise physical identity.
Henry T. Moore, Skidmore's second president, arrived in 1925 from the chairmanship of the Dartmouth College psychology department, ready to take on the challenge of developing the young college both academically and physically. His thirty-two-year presidency brought Skidmore College to a position of leadership in women's education.

Under his tenure, academic programs were developed and refined, and an excellent faculty recruited. A library, infirmary, residence halls, and dining halls were built, and further property acquisitions allowed for enrollment growth, as old homes became student dormitories, and carriage houses became classrooms, studios, and laboratories.

Even more significant than his administrative and financial abilities was his influence on a generation of Skidmore students whom he inspired to intellectual and creative achievement. The young college had grown to an enrollment of more than 1,100 by his retirement in 1957.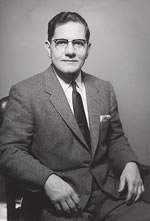 Val H. Wilson, formerly of Colorado Women's College, became Skidmore's third president that year, bringing with him buoyant enthusiasm, boundless energy, and an informal style that further personalized the Skidmore community. He concentrated on strengthening the faculty and academic programs, initiated inroads in the creation of interdepartmental offerings, and encouraged more and more students to enter graduate school.
Under Dr. Wilson, Skidmore's growth strained its campus at the seams. Enrollment had risen to 1,300, and many of the turn-of-the-century buildings were growing obsolete, requiring increased maintenance and renovation. The adequacy of the physical plant also was threatened by the loss of fifty acres of athletic fields to a new superhighway as Interstate 87 worked its way northward.
It was at this critical time in Skidmore's history that a generous gift brought about a courageous decision by the Skidmore College Board of Trustees. Board member J. Erik Jonsson and his wife, Margaret, offered an alternative to the difficulties of maintaining and restoring the campus. The Jonssons donated sufficient funds to purchase a 650-acre tract on the outskirts of the city—a tract Mrs. Scribner had sought fifty years earlier—and challenged the board to begin the construction of a completely new campus for Skidmore. In a historic move many now believe was the only hope for the college's continued health and survival, the board voted October 28, 1961, to purchase the land and begin the construction of what is now known as the Jonsson Campus.
By the time his tenure was cut short by his sudden death in 1964, Dr. Wilson saw construction begin on the Lucy Scribner Library and on the first residential and dining complex.


Joseph C. Palamountain Jr., Skidmore's fourth president, took office in 1965. A political scientist with a doctorate from Harvard, Dr. Palamountain came to Skidmore from Wesleyan University, where he was provost. He guided Skidmore through a period of dynamic growth and change. Under his leadership, the development of the college's new physical plant progressed rapidly. Currently, the Jonsson Campus has a total of forty-nine buildings.
Dr. Palamountain's twenty-two-year presidency was characterized by impressive growth in the academic and financial areas of the college. Skidmore experienced the doubling of the student body and major increases in applications, the near doubling of the faculty, the transition from a women's college to a coeducational institution, and the creation of the first external degree program in New York State (University Without Walls). During his presidency there were two innovative curriculum changes and the chartering of a Phi Beta Kappa chapter. The financial health of Skidmore was bolstered by growth in the endowment and in the college's net worth, due in part to the launching of the $25-million Celebration Campaign in 1985.
David H. Porter, the college's fifth president, came to Skidmore in 1987 from Carleton College, where he taught classics and music. Early in his presidency, Dr. Porter established the Commission on the '90s to help chart Skidmore's course to the twenty-first century. The commission recommended new institutional priorities, with an emphasis on enhancing the academic tone on campus, ensuring long-term financial stability, and promoting greater diversity within the campus community and curriculum.
During the Porter presidency, Skidmore launched an Honors Forum and a program of scholarships in science and mathematics. The campus landscape changed dramatically as Skidmore renovated and expanded Scribner Library, constructed an outdoor athletic complex, upgraded computer and telecommunications capabilities, built an addition to the Sports and Recreation Center, and expanded Dana Science Center. In addition, Dr. Porter helped lead the largest fund-raising effort in Skidmore's history, the Skidmore Journey: A Campaign for Our Second Century, launched in 1993. The five-year campaign raised $86.5 million, enabling the college to substantially increase its endowment and providing funds for construction of the Tang Teaching Museum and Art Gallery.
In 1999, Jamienne S. Studley became Skidmore's sixth president and the first woman to hold that office. A graduate of Barnard College and Harvard Law School, she was previously associate dean of Yale Law School and general counsel of the U.S. Department of Education. President Studley led a strategic planning process that established the college's direction for the coming decade. The plan outlined three major goals: enhancing academic quality and faculty-student interaction; attracting and challenging an increasingly talented, motivated, and diverse student body; and strengthening the sense of community and citizenship across the campus.
During the Studley presidency, the college adopted a new core curriculum and expanded opportunities for international study. President Studley shepherded the renovation and expansion of Case Campus Center, the establishment of the Intercultural Center, and the construction of the Frances Young Tang Teaching Museum.
---

There has been a continuity of purpose underlying the change and growth at Skidmore. The college has consistently espoused the goal of liberal education as the best means of preparing for a life of continuing personal growth and of responsible and significant service to the community. Skidmore's programs, both those in the traditional liberal arts and those of a professional nature, represent liberal education in their common pursuit of academic excellence and their concern with sensibilities, values, and qualities that distinguish educated persons.