Alumni News
2006 Updates
1/06 Marissa Krukowski ('01) writes, "As it is my fifth year reunion this year I have been thinking a lot about Skidmore. So I decided to write and see how you were doing and to give you an update on my life. As you may or may not remember, after graduating I moved to New York City and started working for Cravath, Swaine and Moore. I decided to pursue a career in law and moved to New Orleans to attend Tulane Law School. Law School wasn't quite what I expected and after a year I took a leave of absence. I began to see what my life would be like if I ended up as an attorney and it wasn't the prettiest picture. However, I stuck around New Orleans for almost another full year trying to figure out whether I wanted to go back to law School or not. In the mean time I worked for another law firm. I actually worked for the Cochran Firm New Orleans, for one of Johnny Cochran's national partners. It was a good experience and made me reconsider returning to law school. However, I wanted to move back North. So finally I decided to leave New Orleans and move back to New York. My move date was supposed to be the day Katrina hit. But luckily for me my roommate in New York (who I met in New Orleans) wanted us to move our stuff early August. I continued working through August and actually ended up leaving New Orleans the Saturday before Katrina hit due to the evacuation. So now I am back in New York City. I am working for another law firm, Kramer Levin Naftalis and Frankel, as a senior paralegal. I am so happy to be back here! I haven't decided what to do as far as school goes yet. I am actually going to take the GREs sometime in the summer. Depending on those results, I think I want to go back to my original love and try and get a PhD in psychology either clinical or cognition/perception. So I guess I have kind of come full circle."
---
1/06 Marta Krajniak ('04) is working in NYC at the Therapy and Learning Center. She runs into Kevin DeSimone, with whom she has discussions about perception (of all topics!). :-)
---
2/06 Rachel Marsh ('97) completed her Ph.D. in experimental psychology at CUNY in 2003 and now works at Columbia University in the Brain Imaging Lab/Division of Child Psychiatry. She is quite happy with her position and hopes to remain in the lab for a while.
---
3/06 Kim Maresca ('05) continues to pursue her acting dreams. After graduating, Kim tells us that she "interned at the Westport Country Playhouse for four months (and got to rub elbows with the likes of Joanne Woodward, Paul Newman, Christopher Plummer...lots of fun people)" She has also been interning at Abrams Artist Agency (a top talent agency in the city) and Suzelle Enterprises (a top personal manager in the city). Kim will soon be appearing in a community theater production of "Pirates of Penzance."
---
3/06 Scott Jacoby ('93) stopped by for a visit. He's doing well and working away on his music career at his own company (www.scojacmusic.com) in NYC.
---
3/06 Eric Rosenfield ('03) writes that he's still in Kansas City and will be there for a while, because he's applying to the MBA program at KU and his fiancee (Megan) will continue in her American Studies Ph.D. program there.
---
3/06 Krista Keeler ('05) stopped by to say hello. She's doing well in the Boston area, where she routinely runs into Skidmore alums. Krista is currently working at McLain Hospital.
---
3/06 Lisa Korenman Krasner ('97) gave birth to a daughter (Maren Paige) on 3/19. The future Skidmore student is beautiful!
---
3/06 Hartley Bramhall ('05) writes that she's enjoying her new position working in the adolescent unit of Silver Hill Hospital in New Canaan, CT.
---
3/06 Mary Bates ('02) writes "I will be attending Brown University's psychology program in the fall. I'll be working with Andrea and James Simmons, who do behavior/communication work with frogs and bats, respectively."
---
4/06 This fall Elizabeth Mitchell ('01) begins a graduate program in neuropsychology at Rosalind Franklin University in North Chicago. With her new faculty advisor, she will be investigating age-related cognitive decline as well as cognitive decline following head injuries. Best wishes to Liz!
---
4/06 Damion Grasso ('00) has just learned that he's this year's recipient of the Zigler-National Head Start Association Research Scholarship. The award will surely help Damion as he pursues his Ph.D. at U. Delaware.
---
4/06 Chris Twombly ('05) writes, "I have recently gone through an interview process for practicum placements and received two offers. Next fall I will be starting my therapy practicum at Inner Harbour Hospital working with children and Adolescents who have a wide range of disorders. The disorders range from depression, conduct disorder, oppositional defiant disorder, eating disorders, substance abuse, to sexual and physical abuse. I am looking forward to starting my endevours as a therapist and cannot wait to get to know the children I will be working with. In the summer I will be applying to the Psy. D. program."
---
4/06 This fall Kevin Wozniak ('05) will be attending American University's Ph. D. program in Justice, Law, and Society. He's currently living in Stamford and working for the American Institute for Foreign Study, so he'll soon be making the move to DC. We were able to visit with Kevin in the fall because he returned to campus to speak to those attending the Sciences Open House program.
---
4/06 Sara Boilen ('02) writes "I'm living in NW Montana, and have been for awhile, working as a 'dorm parent' for ten developmentally delayed teenage girls at one of the best therapeutic boarding schools in the country (Montana Academy). I'm studying for the GREs in psych (got the other ones over with) and am on my way to pursuing a doctorate (in the hopefully not-so-far future). I've been working with the adolescent population since graduation (mainly in psychology minus a brief stint as a baker!) and love it... I'm hoping to pursue research in the field of attachment, especially related to adoption."
---
4/06 Cassidy Gutner ('04) writes that she has been accepted to Boston University's clinical program where she will be a member of Michael Otto's Translational Research lab. Cassidy writes that she "will also have some training through CARD (Center for Anxiety and Related Disorders). I am going to be funded through a NIDA grant dealing with substance dependence and drug counseling. As a result I will be working in a Methadone clinic for the first two years in exchange for my stipend. The first year will consist mostly of assessments and the second year will involve therapy within the clinic. I will also have a few cases with anxiety and mood disorders. In the following years I may have the opportunity to teach in exchange for my stipend. I am also going to be able to work on some research involving pharmacology. Needless to say I will definitely get the trauma and physiopsych education that I was hoping for! Another added bonus is that one of the postdoc's from the National Center now works at BU in this lab (and happens to be a good friend of Jenn's), so I will get to continue to work with her!"
---
4/06 Kristen Lommele ('04) writes "I'm currently living in Arequipa, Peru, where I'm teaching elementary school. Things are going very well with the kids, and I really enjoy working with them, but at the same time I'm looking forward to moving back to Boston in a few months :) "
---
4/06 Stephanie Ehrman ('98) married Mark Beitel (who is also a clinical psychologist with a degree from Fordham University).
---
5/06 Stephanie Dennington ('04) is working as a first-grade teacher in Northborough, MA. While her kids were at music, she wrote, "Everything is going really well for me. I love my job and it has gotten a lot easier as the year goes on. We have another month left and lots to do in that time. I love my colleagues and we collaborate really well together which is nice because when I 'steal' their ideas I share some with them too and it really works out nicely for the teacher and the kids." She and Jake have also gotten engaged.
---
6/06 Caitlin Shepherd ('06) is working as a Domestic Violence Counselor at the Schenectady YWCA.
---
8/06 Kevin Wozniak ('05) is settling in to an apartment in DC, getting ready to start his graduate program at American University, where he'll be working with Robert Durant (who specializes in environmental poicy). Kevin has just learned that he's been awarded a Jacob K. Javits federal fellowship.
---
8/06 Maggie Busser ('98) writes, "For the past three years I have owned my own business – a holistic living magazine that we distribute for free around NE Ohio (Cleveland area). We focus on wellness, environmentalism, personal growth and the regional community." You can check out her web site at http://www.BalancedLivingMag.com .
---
9/06 Noa Glick ('04) is continuing in the Psy.D. program at Nova Southeastern. She writes, "I am still working at the Renfrew Center, an inpatient center for eating disorders. I was simply transferred from the Renfrew in Philadelphia to Florida, so it worked out very well for me. I am seriously considering specializing in eating disorders which I hope will let me combine my psychology and women's studies backgrounds."
---
9/06 Curry Walker ('00) has been all over the map since graduation (Boston, New York, San Francisco), but most recently has been in Guatemala. She and her husband (Pedro) currently live in San Francisco. Curry is planning to pursue a degree in nursing.
---
9/06 Maggie Sullivan Roberts ('95) is back in town! Her work took her to various parts of the country, but we're happy to report that she's now back in Saratoga Springs. She's working for Thomson Learning Corporation in Clifton Park, where she works in human relations.
---
9/06 Christi Tritton ('05) writes that she's still in NYC working in Private Equity. She was recently on campus (on her way to an engagement party in VT) and was surprised by the changes on campus. She also writes,"NYC is good, I am taking a class right now about Production at the New School...it is really interesting. I interned in the Production and Development department at Nickelodeon, and I wanted to learn more about it! It is funny, because I feel like it relates to psychology, especially in developing new shows, and trying to figure out what people will enjoy, and why!"
---
9/06 Diane Ventura ('06) is a Mental Health Worker at Arbour-HRI Hospital.
---
9/06 Lindsay Dell ('04) writes that she's just accepted a position as a case manager for Community Partners in Rochester, NH. Lindsay writes, "I will be working with adults suffering from a major mental illness who are living at home. There are no residential mental health facilities whatsoever in Strafford county, NH, so all of the people who would be placed in group homes, etc., are living on their own. It will be my job to help them manage their day to day lives." She's also moved into an apartment in Dover, NH.
---
9/06 Molly Maxfield ('99) writes, "I'm still seeing a few clients, but really focusing on research this year. I am also teaching my first class - very different from the TA thing. I have about 75 students for Social Psych. They are continually worried about what will be on the test - I know I'm not the first person to run into this, but it's a little frustrating. But for the size of the class, I have definitely been impressed with how much they participate and ask questions.
I was in Saratoga briefly in March, and couldn't believe all the changes - there has been so much development since I was there. The campus too - I walked around with a friend from college and we felt a little lost in Case Center. On the plus side, we went to a great Thai restaurant, which was definitely lacking while I was there.
I hope to be coming back east for my internship year. As much as I love living here and being so close to the mountains, I am beginning to miss family and friends. I have a new nephew, and he changes too much between my visits, so I want to be a little closer to home. It looks like I won't apply for intership this year though - too many exciting research projects to tackle!"
---
9/06 Aaron Stone ('04) has been working in New Haven CT and in New York City since graduation. He's now heading off for a little R&R (i.e., skiing) in Colorado before heading back to school.
---
10/06 Damion Grasso ('00) writes, "I'm doing well... Jen and Eddie are as well. Jen started an MSW program at Widener part time and Eddie should be finished up with high school in the spring and then starting a Tech school in automotive.
My personal research projects thus far have focused on neural correlates of parent-child relationship quality in humans... stemming from rat and primate models that suggest that the dopaminergic reward circuitry may be ethologically important in terms of promoting a parent's appetitive motivation to care for its young and an infant's 'attachment' to its mother. I am exploring two event-related potential components related to motivation and reward in both birth/foster/adoptive mothers and in children. I am also interested in how the parent-child relationship and the activation of the general motivational/reward system and suppression of the fear/avoidant system - demonstrated when a mother is proximal to her infant - influences a child's fear response... so I am most recently looking at how presenting pictures of a child's caregiver, familiar adults and unfamiliar adults affects the magnitude of the child's acoustic startle reflex... working off of Lang and Bradley's motivational priming hypothesis - that motivationally significant stimuli can attenuate the startle response. Ultimately, I want to see how this is related to symptoms of posttraumatic stress in traumatized children and begin to understand the mechanisms behind why the existence of a stable and supportive parent is one of the only factors that has been shown to protect against the development of posttraumatic stress following trauma... even in the face of significant risk factors... and also why the participation of a parent in a treatment for PTSD predicts a much greater reduction in symptoms... and I want to tie this into child welfare policy and practice and interventions for maltreated children. I'll have a poster about it at SRCD.
I'm also working with the state of Delaware and researchers from the National Child Traumatic Stress Network on an effectiveness and dissemination study of Trauma-Focused CBT for PTSD developed by Judy Cohen and Esther Deblinger (who went to Stony Brook..don't know when). In the end we hope to know more about barriers to implementing this treatment in the 'real world' and perhaps come up with new ideas for the treatment. One of the things we're doing is looking at the process of change (using latent growth modeling) in terms of symptomatology during and after treatment. Adele Hayes at UD (who also went to Stony Brook) is collaborating with me on that... and of course I'm collecting data on the caregivers and will be looking at how they influence treatment outcomes and chance processes.
I'm seeing three adolescent clients adjudicated and placed in detention. I'm also running a group...which is a challenge with these kids.
And one of the cool things I'm doing this semester is taking a course on structural equation modeling using Lisrel. It is very fun... and visually engaging!
Non-academic related stuff includes continuing to explore Philly and the Brandywine valley... as well as Lancaster and the surrounding cities... admiring art, theatre, and outdoor recreation like canoeing and hiking."
---
10/06 Steve Schoenfeld ('04) writes, "I am approaching the end of my committed tenure here at Massachusetts General Hospital [where Steve's a Clinical Research Coordinator]. I will have been here for two years in January. Since I have been here I have worked on a number of different projects from a trial investigating the potential for abuse of a number of ADHD medications to coordinating a few different industry sponsored trials investigating the efficacy and safety of Concerta (double-blind and open-label). While working on these projects I have done a number of things I never expected to be doing in this type of job out of college such as spinning blood and separating plasma, administering and learning to interpret EKG's, and being responsible for ordering a class 2 substance through the DEA. Overall it has been a very rewarding experience by gaining experience working with the IRB, working with a clinical population while conducting research and being involved in writing papers for publication, two of which I have been on (both are still in the review process at their respective journals, but hopefully they will actually be published soon-ish)."
---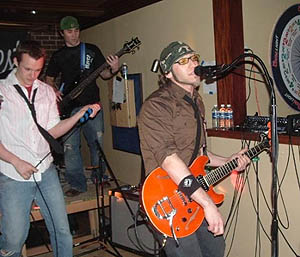 11/06 Eric Lewy ('04) and Carrie are currently living in NYC, where he works in the field of social work with young children (up to 3 years of age) and their families. He has recently been promoted to supervise the entire staff of Service Coordinators and appointed as part of the Leadership Team to help the agency grow. He's also making music with some of his best friends in a band (MayOrWest) that is playing a lot of gigs around the NYC area and Boston. You can learn more about the band at www.myspace.com/mayorwestmusic. They're about to go back to the studio to record their second album.
---
11/06 Eric Prensky ('97) writes, "I just started a new position as Visiting Assistant Professor at University of Illinois Medical Center at Chicago. I also got married over the summer, to Ariel Teitelbaum (her twin sister is '98 Skidmore alum). Here is the website that describes what I am doing at UIMCC:
http://ccm.psych.uic.edu/People/Investigators/prensky.aspx
I like that it is a variety of health psychology work and involves clinical work, teaching, and research."
---
11/06 Students in the audience heard from a panel of nine psychology alumni who talked about their experiences after leaving Skidmore.
Members of the panel were Kristie Weibust '05, Kevin Wozniak '05, Kate Fichthorn '04, Leah Langsam '06, Nika Makhmali '05, Dan Slippen '97, Jeremy Borer '01, Sarah Landy '97, and Eileen Klein '02. Coincidentally in town to give a talk at Skidmore on the day before, Scott Jacoby '93 (SCOJAC Music Productions) was in the audience. While here Scott also touched base with Chris Gregory '94, who lives in town and operates his own business (C. G. Stone).
---
11/06 Jamie Belli ('02) writes, "I've found the business world a great fit for my skills. I'm working at Mellon Financial, and while I tell people I'm in investment banking (it sounds sexy), it's not the case at all. I have adapted to the 9-5 world quite well, and partake in all the cliches from "power lunches" to international business teleconferences to network-building social events. I've risen through the ranks and have found myself as a member of management complete with my own crop of college-grads to do my bidding (they refer to me as "the man", in a strictly derogatory sense). I try and bring my own take on life, personal interaction, and civil disobedience to the workplace every day...in an attempt to turn the world of the cubicle a bit more personal. But, I've made some good friends there, and have enjoyed my 18 months on the job. In my spare time I've taken up brewing my own beer, and found that it is in fact my true calling. There's nothing like cracking open an ice cold beer, pouring it into a glass, and sitting down to watch the game on Sunday, knowing that you molded the nectar out of a few gallons of water, some grains, a dash of hops, and yeast. I've already started fantasizing about the brew pub I'll open right back there in good old Saratoga. Ah, dreams....what life is all about."
---
12/06 Pritha Mani ('04) writes, "I am now working at an NGO in Delhi called Learning Matters. I teach children with learning difficulties. On weekends I volunteer at a local orphanage for girls. Recently I got invited to interview for a CEO position for one of the leading children's NGOs in Bombay called Mejol. I am enjoying my time in Delhi and hope to return to the USA sometime soon for a visit...It's funny how small the world is - I had an interview with a woman a couple of months ago and she happened to be an old Skidmore Alum!! We spent the entire interview reminiscing about Skidmore."
---
12/06 Amy Heald ('95) is in her fourth year as a guidance counselor at Bellows Free Academy in St. Albans, VT. She got married in October to a chef from New Orleans!
---
12/06 Marta Krajniak ('04) is "still working at the Therapy and Learning Center in Brooklyn with kids with developmental disabilities." She's also planning to start the graduate school process for Fall 2007.