Senate
As the primary legislative body in the Student Government Association, the Student Senate creates and recommends policies that relate to student life on campus, charters new clubs and organizations, authorizes the allocation of the Student Activity fee to clubs and other various student-run organizations, and appoints students to committees run by faculty and administrators. Senate meets every Tuesday from 8:00PM to 11:00PM in Ladd 307. Please feel free to drop by!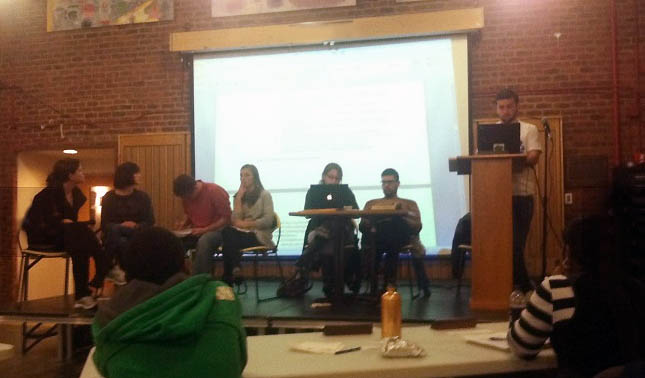 Senate Chair: SGA President Matt Walsh '13
Senate Parlimentarian: Jake Dolgenos '14
Senate Secretary: Sofia San Marco '15


Senators
There are currently 32 senators.
Jovany Andujar '13, VP for Diversity Affairs
Talia Arnow '13, Senator-at-Large
Soraya Attia '15, Sophomore Class President
Alex Barber '13, Sustainability Senator
Ben Bechand '14, VP for Academic Affairs
Emilee Bell '13, Senior Class President
Addison Bennett '16, First-Year Senator
Eric Beriguete '15, Senator-at-Large
Tami Cohen '13, Senator-at-Large
Glenibel Cruz '15, Senator-at-Large
Hannah DeGraaf '15, Penfield Hall President
Brittany Dingler '15, Honor Code Commissioner
Donald Duff '13, VP for Financial Affairs
Evan Friedler '13, Senator-at-Large
Doug Hamilton '13, Senator-at-Large
Sam Harris '15, VP for Club Affairs
Maddie Kanazawa '15, Jonsson Tower President & WTS Coordinator
Carol Jia Lu Li '15, Senator-at-Large
Andrew Lowy '15, Howe-Rounds President
Jonathan Lynn '16, Senator-at-Large
Tshediso Matake '15, Senator-at-Large
Emily Paull '13, Senator-at-Large
Ben Polsky '15, Senator-at-Large
Ryan Rubbico '15, Wiecking Hall President
Lauren Scauzzo '15, Wait Hall President
Amanda Seres '14, VP for Communications & Outreach
Emily Singer '16, First-Year Senator
Ryan Sklenka '15, Senator-at-Large
Jess Sonnenfeld '14, VP for Residential Affairs
Emma Starr '16, First-Year Senator
Prince Tsabedze '16, First-Year Class President
Laura Venner '14, Junior Class President