Senate
As the primary legislative body in the Student Government Association, the Student Senate creates and recommends policies that relate to student life on campus, charters new clubs and organizations, authorizes the allocation of the Student Activity fee to clubs and other various student-run organizations, and appoints students to committees run by faculty and administrators. Senate meets every Tuesday from 8:00PM to 11:00PM in Ladd 307. Please feel free to drop by!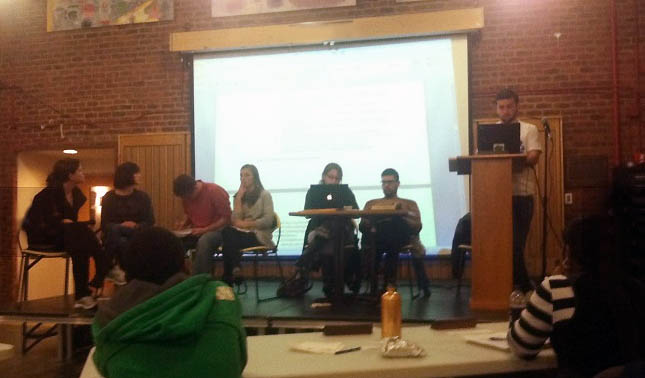 Senate Chair: SGA President Sam Harris '15

Senate Parlimentarian: Jake Dolgenos '14
Senate Secretary: Amanda Seres '15


Senators
There are currently 33 senators.
Abude Alasaad '17, Freshman Class President
Ben Bechand '14, VP for Academic Affairs
Addison Bennett '16, VP for Club Affairs
Eric Beriguete '15, Senator-at-Large
Miles Calzini '16, Senator
Breyton Croom '17, Senator-at-Large
Hannah DeGraaf '15, VP for Student Life
Britt Dorfman '14, VP for Diversity Affairs
Nicholas Friedman '17, Senator-at-Large
Orr Genish '17, Senator-at-Large & WTS Coordinator
Brendis Gonzalez '16, Senator-at-Large
Xavier Hatten '14, Senior Class President

Allison Hein '15, Senator-at-Large
Lyssa Jackson '16, Senator-at-Large

Madeleine Kanazawa '15, VP for Communications & Outreach
Thabang Maphothoane '17, Senator-at-Large
Luca Mobilia '17, Senator-at-Large
Nile Nair '15, Junior Class President
Dorothy Parsons '17, First-Year-Senator
Margaret Patterson '15, Senator-at-Large
Megan Schachter '17, Senator-at-Large
Emily Singer '16, Senator-at-Large
Emma Starr '16, Senator-at-Large
Zachary Stiller '17, Senator-at-Large
John Stoner, Sustainability Senator
Jessica Strasser '14, Senator-at-Large
Charles Tetelman '16, VP for Academic Affairs
Ibrahima Thiam '16, Senator-at-Large
Prince Tsabedze '16, Sophomore Class President
Kevin Wang '17, Senator-at-Large
LaMarte Williams '14, Senator-at-Large