Skidmore College Emoji App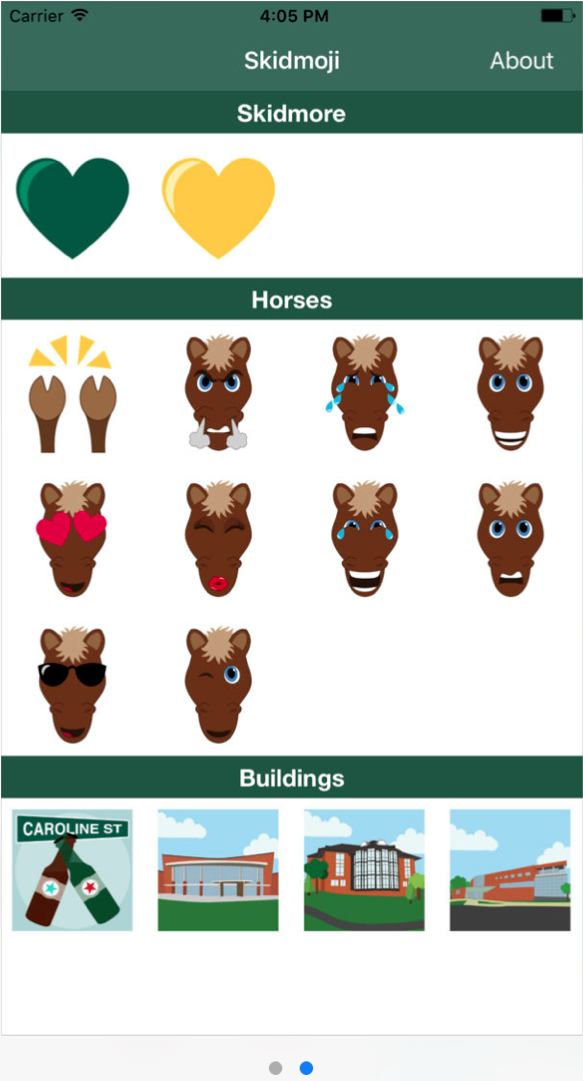 The inaugural Skidmore College Emoji Keyboard (Skidmoji) makes it easy to express yourself in emoji shorthand for your favorite Skidmore events, campus spaces, and creative thoughts and feelings — fun for the entire Skidmore community! Send the latest Skidmoji from your phone's own messaging system and all your favorite apps where image pasting is supported. Combine them to create fun conversations with Skidmore student, friends, and family to celebrate those moments you cherish.
Please note: we are still in the devleopment pahse of Skidmoji and welcome feedback for the next iteration. Please use the form below to submit your feedback. Skidmoji is only avilable for iOS at this time.
Install
Download and install Skidmoji to your iOS device. Follow the simple instructions in the About section of the app. Share with friends and watch for new emoji and animations to be added soon.
Features:
It's free, and easy to download and install.
Works wherever image-pasting is supported.
Share 10+ Skidmore emoji with friends around the world.
Updates and additions to come.
System integrated keyboard.
Please use this form to submit feedback on the Skidmoji app: