Social Work Connects to the Community
Social Work Major's Field Placements - Seniors 2014
Becky Anthony

Waterford-Halfmoon Elementary School has been an exciting field placement and the best learning experience of my college career. Working with elementary school students presents new challenges every day and has taught me how to think on my feet and adapt to daily changes. From working at a public school, I have been given a first-hand look at diversity, oppression, and marginalization in our society, and I have learned some of the many ways in which micro and macro practice overlap in social work.
Emma Bridges

Working at Waterford-Halfmoon with K-6 students is a wonderful experience! I work with students with intellectual, behavioral, and emotional disabilities, as well as with students experiencing divorcing parents, grief, and challenging home lives. My work includes providing one-on-one sessions with students, leading groups, planning interventions, and building relationships. It's a supportive environment for students, staff, and interns!
Nick Chan

The Adult and Senior Center of Saratoga is a 50 and older community center that provides programming, structure, and a supportive environment to help individuals retain independence and control over their lives. I work as an advocate, which means that I am available for emotional support, advocacy, referral to services, and computer assistance. My primary focus is grant-writing and working on events and programming. I am working on starting a group with my classmate Zuli that will provide a place for seniors to discuss losing independence, and feelings of grief.
Yabielis Guerrero

My field placement is at WSWHE BOCES (Board of Cooperative Educational Services). BOCES is a school for middle and high school students who need an alternative or customized education. As a social work intern, I assist in individual counseling and facilitated group sessions with students. My responsibilities also include helping the homeless student liaison, updating annual reviews for students' individualized education plans (IEPs), and improving students' social development along with other academic or emotional skills.
Erica Johnson

My senior field placement is at St. Peter's Addiction Recovery Center (SPARC) in Cohoes, an outpatient center where we provide therapeutic, medical, and psychiatric services to clients to help them overcome their substance abuse. I work as part of a multidisciplinary team that is made up of other counselors and medical health professionals. I conduct intake evaluations, facilitate group and individual sessions, and create master treatment plans.
Remi Levinson

I am placed at Gordon Creek Elementary School in Ballston Spa which has about 500 students. I work with the school social worker and am responsible for facilitating a number of group and individual counseling sessions. The counseling sessions range from teaching students life and social skills to coping and emotional skills. I assist with crisis management and intervention and provide community resources to students' families as well.
Julia Pichardo

I interned at St. Peter's Addiction Recovery Center (SPARC) in Saratoga Springs. During my internship I co-facilitated groups, wrote group notes, and helped to plan group sessions. I conducted intakes, completed assessments, and sat in on different county drug courts. I also attended weekly treatment team meetings and presented client cases, and routinely worked with other counselors on behalf of the clients we serve.
Becky Polley

I am completing my field placement at the Baywood Center, an outpatient substance abuse program in Queensbury, NY. They offer individual and group counseling to people struggling with alcohol and substance abuse addictions. I work with a small team and my responsibilities include: client intake and assessment, development of individualized treatment plans, group counseling, individual counseling, curriculum development, and communicating with parole, probation, and drug courts. Each day at Baywood is very busy and always full of surprises!
Ashley Reynolds

I am placed at BOCES in Saratoga Springs, an alternative school setting for middle- and high-school students. BOCES students benefit from a more individualized educational experience which mainstream schools are often unable to provide. As an intern, I am responsible for establishing and maintaining rapport with students. I provide individual and group counseling to the students. I collect data and use the results, together with staff members' testimonies, to write functional behavioral assessments and behavioral intervention plans for the students.

Zuliany Rosario

I am completing my senior social work placement at the Senior Citizen Center of Saratoga Springs. As an advocate, my role is to connect seniors to resources including housing options, heating assistance, health care, and companionship. I am responsible for assessing the individual's needs to provide emotional support and make referrals when necessary.
Christina Samuels

My field placement is at Shelters of Saratoga (SOS). SOS is the only homeless shelter in Saratoga County. Their mission is to provide food and shelter to the homeless population, and guide them on their road to recovery. SOS houses 33 people (6 females, 27 males). We provide house guests with case management services, housing and job searches, resume writing, and referrals to other organizations. SOS also does youth/adult outreach and recently started a youth drop-in center. SOS creates a safe, warm, and inclusive environment for their house-guests.
Kelsey Russell

My senior field placement is at the Baywood Treatment Center in Queensbury. It is an out-patient substance abuse facility that provides both groups and individual treatment. During my time here, I have completed evaluations sessions, facilitated groups, wrote group notes, developed treatment plans, met with clients for individual sessions, and participated in staff meetings. I have learned so much about addiction and the process of recovery.
Amanda Seres

As a legislative and policy intern at Family Planning Advocates of New York State, I work with the organization's Vice President for Government Relations, Director of Political Operations, and Policy Analyst to advocate for policies that protect and expand New York women's access to reproductive health care services. On any given day, I may attend meetings to lobby legislators, edit memos of support for bills that we want the legislature to pass, develop electoral strategies for our political action committee, or conduct research on policies. Working for the passage of the Women's Equality Act and the Boss Bill this legislative session, I coordinate with all nine of New York State's Planned Parenthood affiliates, as well as women's rights coalitions around the state.
Elaine Woo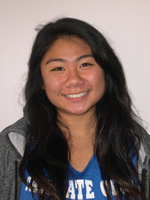 I am placed at St. Peter's Addiction Recovery Center in Saratoga Springs. The clinic employs the disease model of addiction coupled with a 12-step approach to help clients develop the skills to maintain sobriety. My responsibilities include assisting with client intakes and assessments, helping lead group sessions, completing proper client documentation, contributing to treatment meetings and learning as much as I can about drug addiction and related topics. I never thought of entering this field of social work, but I can definitely see myself doing this in the future.
Tyshauna White

My senior field placement is at The Charlton School, a day and residential treatment center for female adolescents with social, developmental and/or emotional needs. As a youth care worker, I spend evenings assisting residents in their cottage life. We help provide structure to the students' daily routines, work with residents to build healthy relationships, empower residents to make positive choices, and support them in their daily lives.
Bugg Moore

I recently earned my Good Canine Citizenship Certificate and am now studying new tricks like how to ride a skateboard. My goal is visit nursing homes and entertain the residents, but I have an impulse control problem that I need to address before I can do that work. I hope one day be a therapy dog.