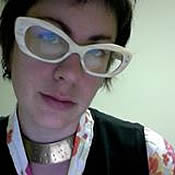 Carolyn Chernoff
Visiting Assistant Professor of Sociology

Office: Tisch Learning Center 223
Tel: (518) 580-5427
Email: cchernof@skidmore.edu
EDUCATION
Ph.D., Sociology and Education/Culture/Society (joint degree), University of Pennsylvania, 2013

MSEd., Education/Culture/Society, University of Pennsylvania, 2003

BA, Religion, Amherst College, 1999
STATEMENT
I am interested in cities, arts, and social change, particularly on the level of social interaction and the production of "community". I investigate the role of culture in reproducing and transforming social inequality, and research conflict around diversity and difference. As a long-time cultural worker and activist, I have worked with many women's cultural organizations on issues of violence prevention, self-expression, and arts and culture. I have taught courses in education and in sociology at Penn, Moore College of Art and Design, and Ursinus College. Outside of higher education, I am a longtime community-based educator, having worked with K-12 students and adults in museum settings, nonprofits, and a variety of arts organizations, including The Girls' DJ Collective, of which I am co-founder.
RESEARCH AND TEACHING INTERESTS
Sociology of culture, urban sociology, sociology of education, ethnographic and qualitative methods, social theory, conflict, race/class/gender, film and media.
COURSES AT SKIDMORE

High School Onscreen (SO 251, Fall 2013)

Cultures of Resistance (SO 251, Fall 2013)

Youth Culture In and Out of School (SO 351, Fall 2013)

Social Issues (SO 201, Spring 2014)

Cultures of Cities (SO 251, Spring 2014)

Sociology in Public (SO 351, Spring 2014)

The Sociology of Miley Cyrus: Race, Class, Gender, and Media (Summer 2014)
PUBLICATIONS
Spelling It Out: Difference and Diversity in Public Conversation. Michigan Sociological Review, 27: TBD. (In press, Winter 2013)

"Conflict Theory in Education" in James Ainsworth & Geoffrey J. Golson, eds., Sociology of Education. Sage Publications. (2013)

"Waldorf Education" in James Ainsworth & Geoffrey J. Golson, eds., Sociology of Education. Sage Publications. (2013)

Objectifying Measures: The Dominance of High-Stakes Testing and the Politics of Schooling – By Amanda Walker Johnson. Anthropology & Education Quarterly, 41: 212–213. (2010)

On Culture, Art, and Experience. Perspectives on Urban Education,

Fall 2009, (6) 2

, pp. 77-78.

Citizenship Under Fire. By Sigal Ben-Porath. Perspectives on Urban Education, May 2006, (4) 2.

The Chicago Peace Museum. ICOM News: The Journal of the International Council of Museums (53) (1): 1, 3. (2000)
AWARDS AND FELLOWSHIPS
Arnold Award for Outstanding Contribution by a Doctoral Student, University of Pennsylvania, Graduate School of Education (2013)

Graduate Fellow for Teaching Excellence, University of Pennsylvania, Center for Teaching and Learning. (2012-2013)

Graduate Fellowship, University of Pennsylvania, Graduate School of Education. (2007-2012)

Dean's Scholar, University of Pennsylvania, Graduate School of Education. (2004-2007)

Summer Fellow, Fels Foundation, Philadelphia, PA. (2005)
AFFILIATIONS