Reservations for Overnight Accommodations or Events are not currently being accepted.
Surrey-Williamson Inn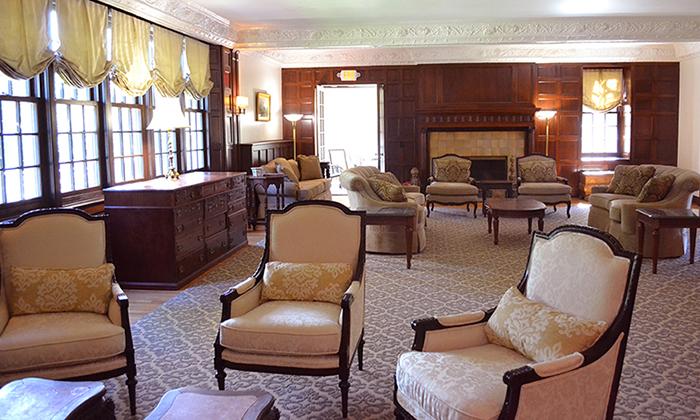 The Surrey Williamson Inn has been closed since August 2014 so the College could complete needed structural and life safety upgrades and renovations.
The Surrey is planned to reopen in the Fall of 2016.
The Surrey Williamson Inn is listed on the National Register as part of the North Broadway Historic District. Originally named the Broadview Lodge, this English Tudor-style house, built between 1916 and 1918, was later known as the Surrey Inn, and for three years in the 1940s it was the Brown School for Boys.
Broadview, built as a private home, has 21 rooms (12 with full baths), a glassed-in breakfast porch, and a wide double staircase off the entranceway. The original site plan included the private home, garage and chauffeur's apartment, superintendent's cottage, and farm building.
The former garage and chauffeur's apartment, later known as the Surrey Cottage, are today the College's Eissner Admissions Center.The superintendent's Cottage, known as Overlook Cottage, today is the College's Alumni Welcome Center and is renamed Colton House.
---
For additional information - please contact:
Dawn Aria
, the Surrey Innkeeper, at 518.580.8270 or 580.5497