Water Resources Initiative
Visual Landscape and Land Use Project
The Saratoga Lake watershed has undergone many transitions over the past 150 years driven by agriculture, industry, recreation, tourism, and urban development.
We aimed to capture the resulting landscape changes using historical photographs and rephotographed modern day views. By collecting historical images, determining their locations, and returning to the same sites, we took close to exact contemporary views, creating a clear "then and now" perspective. This work complements a series of aerial photographs taken of the watershed in the 1940s, 1960s, and 1980s.
This collection of photographs was created by Skidmore student Nicholas Liu-Sontag with the help of Karen Kellogg and Alex Chaucer. The original photographs were gathered from local museums and historical societies. Historical records and local residents helped determine the original location of each photograph. After this step each photograph was rephotographed as close as possible to the original.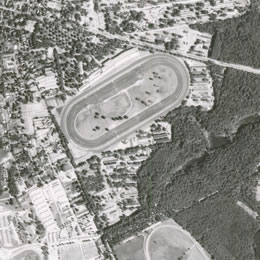 This collection of aerial photographs was compiled and georeferenced in the summer of 2009 by Skidmore student Joe Eisenberg. The collection includes over 1200 photographs. The original photographs were provided by the Saratoga County Soil and Water Conservation District.
Special thanks to our collaborators within the Saratoga community:
Saratoga County Soil and Water Conservation District