The Skidmore College Orchestra
The Skidmore Orchestra, performing before a capacity crowd.
Some Recent and Past Photos:
(here are some photos from 2006)
Seniors (standing above) recognized for four years of great music making!
Professor Holland congratulates graduating seniors (standing above)
Filene Scholar and Skidmore Senior Artemis Roehrig (looking up) tuning up with her Albany Symphony professional colleagues
Skidmore's Winter Holiday Concert, December 1997
Skidmore student, Filene Scholar* and Concerto Competition winner Marc Sulkin (class of 1995) performs the Tchaikowsky Violin Concerto with the Skidmore College Orchestra.
Here you see some of the members of our orchestra in 1997 including students David Joyall ('97) and Carrey Foreman ('97) (trumpets), Mathew Budd ('98) (horn) and Caroline Brustman ('97)(clarinet)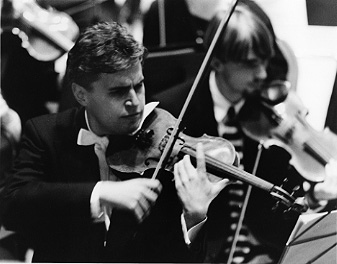 Pictured here is a performance of the Skidmore Orchestra with Czech Violin Virtuoso Frantisek Novotny. Maestro Novotny made his North American debut in this appearance with the Skidmore Orchestra.