Q&A with Ben Canter '21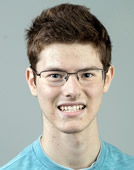 Hometown: Larchmont, New York
High school: Mamaroneck High School
Major: Health and Human Physiological Sciences
Activities: Vice President of Skwizards (Harry Potter appreciation club), Natural Sciences rep for Skidmore's Student Government Association (SGA), Skidmore Hillel member
Why did you apply ED?
I chose to apply early decision to Skidmore for many different reasons, but it was really a combination of the intimate relationships that students can form with faculty here and the sense of community I felt when I visited. Before applying, I sat in on a health and human physiology class. I loved how engaged the students were and how they corresponded on a first-name basis with the professor. Skidmore is an accepting and encouraging community, where people would rather focus on improving themselves as opposed to competing with others. This supportive atmosphere, fostered by students and professors alike, is the main reason I chose to apply to Skidmore early decision.

Best parts of your college experience?
I love being a member of Skidmore Hillel. The Jewish life here on campus is really great. There are Shabbat services and Shabbat dinners every week, and it's a really nice community of friendly and supportive people. Hillel here is an all-inclusive club, so even if you aren't Jewish you can still come and learn about Judaism or just hang out!

Most surprising moments?
I am always surprised at how torn I am about leaving at the end of each semester. It's always a relief knowing that finals are over, and that I get to go home and see my family. But when it hits me that the semester is ending it also means being apart from my friends. I get pretty nostalgic.

Advice on applying ED?
I think it's important to remember that when deciding where to apply, you are not only looking for your future school, but also for your future home. If you're reading this you'll probably spend the majority of the next four years of your life living at college, and even if you commute or live off campus, you still deserve to have the campus feel like home. That's a big reason I chose Skidmore; it was the little things like the food being tasty and how when it was cold and snowy everyone still seemed to be smiling.

Something most people don't know about you?
In high school, I became a certified Zumba instructor.

Post-Skidmore plans or dreams?
After Skidmore, I hope to go on to graduate school to pursue a degree in occupational therapy.