Q&A with Zoe Pagliaro '20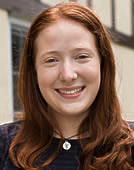 Hometown: South Kingstown, Rhode Island
High school: South Kingstown High School
Major: Environmental Science
Activities: Chair of the Sustainability Commission, VP of Compassion for All, Skidmore rep for PETA, dining hall communications manager, North Woods steward, Admissions ambassador, peer academic coach (Environmental Studies and Sciences), and peer mentor for Scribner seminar, "What to Eat?"
Why did you apply ED?
I wanted to go to a liberal arts school and study environmental science, and Skidmore's ES program is hard to beat. During the application process, I talked with professors about classes, the major and internships, which sold me on the academics. This also increased my interest in the school since it was great how willing professors are to talk to prospective students. I also love Saratoga Springs and how interconnected the town and Skidmore are. Even though I wanted a small campus I also wanted to have access to, and be a part, of a larger community. Skidmore's sustainability initiatives also drew me in.

Lastly, I really liked the Skidmore students and felt I would fit in well. When I visited the school and talked with current students it was clear that they love being here and are excited about learning. Students seemed to be pursuing so many different interests. Their involvement in cocurriculars, particularly ones making the campus a better place, was incredible.

Best parts of your college experience?
Working for the Sustainability Office stands out for me. Since my first year, I have been working there in various different roles. I have started my own initiatives and worked with some amazing students, faculty and staff to help make Skidmore more sustainable. It has been such an incredible and fun opportunity to make such a big difference at Skidmore as a student.

Most surprising moments?
I am surprised by how well I have done in my classes. In transitioning from high school to college I was most concerned about the rigor of the academics. It has been a lot of hard work, but it has been surprising and rewarding to see how successful I have been these past two years.

Advice on applying ED?
If you know Skidmore is the place for you I would highly recommend that you apply ED. Even if you have doubts about whether you will get in, it is always worth a try; and applying ED shows the college that you are really interested and serious about Skidmore. Also, if you don't get accepted ED, don't give up! I was not accepted as an ED applicant, but I really wanted to go to Skidmore, so I visited the school again, made more connections with faculty and students and kept in contact with Admissions to continue to show my interest which led to my acceptance through regular decision.

Something most people don't know about you?
I am passionate about dance. I have focused primarily on environmental science and sustainability initiatives at Skidmore, which I am also passionate about, but I also came here for the great dance program as well!

Post-Skidmore plans or dreams?
I plan on going to graduate school for environmental science with a focus on sustainable agriculture and food systems. After that, I hope to do something where I can advocate for and help establish more sustainable food systems that will help our planet, people and animals.