Q&A with Ian Gregory-Davis '17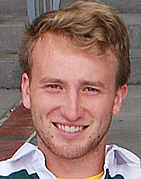 Hometown: Meriden, New Hampshire
High school: Kimball Union Academy
Skidmore major and activities: majors in both exercise science and Spanish. Head admissions ambassador, First-Year Experience Program peer mentor, member of Vocal Chamber Ensemble and Skidmore Chorus, resident assistant sophomore year and intramural volleyball and tennis player.
Why did you apply ED to Skidmore?
I come from a small town, so I wanted something bigger, but I also wanted a campus feel. I love Saratoga Springs, and it's great that it's in easy walking distance from campus. It's rare for a small liberal arts college to be in such a great town. When I visited Skidmore, everyone looked happy to be here and seemed passionate about what they were doing. I talked to a number of alums before applying as well, and they all told me that they had an amazing experience at Skidmore.
I applied Early Decision because I knew that Skidmore was a place I would enjoy calling home for the next four years. I also thought I would have a better chance of getting accepted if I applied ED. Getting in took the pressure off; it was the best Christmas present I could have asked for.
Best parts of your college experience?
This past winter, the Skidmore men's basketball team played Clarkson in the Liberty League championship game in front of a packed house. When Skidmore won, everyone flooded the court, which was amazing because it showed the passion and pride that we have for our school. Another cool experience was when Grammy-winner Adam Abeshouse came to record the Vocal Chamber Ensemble in Skidmore's Zankel Music Center.
Most surprising moments?
In my first week, I figured I'd be hanging out mostly with first-year students, but I had just joined the vocal ensemble, which included some awesome seniors, one of whom invited me to play volleyball at a court near some upper-class apartments. What I learned is that it truly doesn't matter what class you are in, because at Skidmore you can really hang out with anyone.
Advice on applying ED?
If there is any part of you thinking about applying ED, go for it. I know it's scary because it's a binding contract, but knowing where you are going to college early in your senior year of high school is absolutely worth it. A little under half of each Skidmore class enrolls ED. Skidmore takes ED applicants seriously.
Something most people don't know about you?
Spent spring semester junior year abroad in Madrid, Spain.
Post-Skidmore plans or dreams?
Work in an admissions office at a private school or college, as well as teaching nutrition and physical fitness to kids.