Q&A with Nkosingiphile Mabaso '19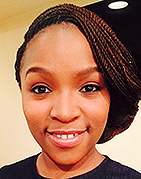 Hometown: Thokoza, South Africa (eastern part of Johannesburg)
High school: Oprah Winfrey Leadership Academy for Girls
Major/minor: prospective majors: computer science and sociology
Activities: secretary, African Heritage Awareness Club; member, UJIMA and International Student Union
Why did you apply ED?
Skidmore is a very warm community. I was looking for a college where I would get to know people well, make friends, and feel like part of a community. Being from a really warm boarding school, I wanted to make sure that I would be learning at a place that felt like home (considering that I am many miles away from home). I applied Early Decision because South African school semesters and American school semesters differ. I needed to know if I was accepted by December, or I'd have had to accept an offer from a South African university. I was so sure about wanting Skidmore as my one and only choice that I was happy applying ED. I was thrilled when I found out that I was accepted. That day still goes down as one of the best days of my life so far.
Best parts of your college experience?
Meeting other international students, making friends, and starting to feel like I have a family at Skidmore. I have really good and supportive friends that make being away from home fairly easy.
Most surprising moments?
I am surprised at how much I have enjoyed each course I have taken. Not all the professors taught in a style I was originally comfortable with, but they all loved what they taught so much that it was contagious. The dedication and passion of the professors inspires me to do my best, and I am inspired to learn to love the work.
Something most people don't know about you?
I am actually an introvert. Many of my friends always argue with me about this (which is always fun and funny) because they know me as this bubbly and social person. And I am that person. But that is mostly inspired by the fact that I really love people and I love making friends. At the end of the day, though, I rejuvenate by being alone and reflecting. I do love people, but I am at my happiest when I have some time to spend alone.
Post-Skidmore plans or dreams:
I am interested in doing so many things: computer programming, ethnographic research, music, writing, and working with people. What I know for sure is this: whatever I do, it needs to be focused on helping people and making a difference in their lives and the world at large. I am hoping that there's a career out there that can allow me to engage all my interests and passions. But if there isn't one, I guess I'll have to create it. Creative thought, does indeed, matter!