Q&A with Parisa Kabiri Moghaddam '20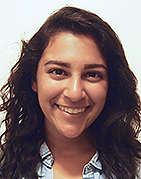 Hometown: San Mateo, Calif.
High school: Aragon High School
Major/minor: Psychology/Education Studies
Activities: President of AKT, an improv comedy group; producer of the 31st National College Comedy Festival; peer health educator; tour guide in Admissions, usher at Zankel, and office supervisor for Dining Services
Why did you apply ED?
My older sister also goes Skidmore, and when my mom and I came to campus to drop her off for her first year, it was what you could call love at first sight. I remember being envious of her and saying to my mom, "I wish I could go here!" I visited my sister a couple of times over the next two years, and that feeling never went away. I found myself always comparing other colleges with Skidmore. The class discussions, the beautiful campus, the kind and welcoming people, the bubbly town down the street—all of it was perfect.
At one of my high school college workshops in the beginning of my senior year I heard about the advantages of applying Early Decision, and a light bulb went off in my head; it was a no-brainer. I am so incredibly happy I did. Not only did I find out that I was going to attend my dream school, but I also sidestepped the standard three to four months of stress and anguish that all my friends had to go through waiting to hear back from colleges.
Best parts of your college experience?
It's difficult to narrow them down! But I would say, going abroad for a semester to London, getting engaged in comedy, learning about academic interests I never knew I had and the amazing people I have met here.
Most surprising moments?
When I first arrived to Skidmore, I was pleasantly surprised by how natural it felt to be in a college environment. After an entire life of being in school from 8 a.m. to 3 p.m., five days a week, with seven back-to-back classes, I thought it would feel foreign to have just four or five classes all spread out, not to mention living in a place so far away from family, home and familiarity. Coming from California, I have now found a second home at Skidmore on the East Coast, and I am going to find it hard to pull myself away at the end of senior year.
Advice on applying ED?
Visit the school! You can do all of the research in the world and imagine that a college is the perfect one for you, then visit the campus and be completely disappointed because it just doesn't feel quite right. The opposite can also be true. I think that if you are considering applying ED, it is important to be confident in your decision because it's a commitment to the next four years of your life, some say arguably the best ones. Speaking for myself, applying Early Decision was one of the best decisions I've made, but I think that is likely because I was positive that I wanted to be here at Skidmore.
Something most people don't know about you?
I was born in Paris, France, and I am half Persian, one-fourth Chinese, and one-fourth European.
Post-Skidmore plans or dreams?
I hope to be a licensed therapist or an applied clinical psychologist. I am not yet sure of what secondary education opportunities I am going to pursue. I just know that I want to help people!