Q&A with Parisa Kabiri Moghaddam '20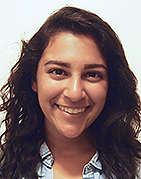 Hometown: San Mateo, Calif.
High school: Aragon High School
Major/minor: prospective major: psychology
Activities: member Active Minds Club and Random Acts of Crafts Club; planning to participate on an improv comedy team and take on roles as student admissions ambassador and peer health educator
Why did you apply ED?
My older sister also goes Skidmore, and when my mom and I came to campus to drop her off for her first year, it was what you could call love at first sight. I remember being envious of her and saying to my mom, "I wish I could go here!" I visited my sister a couple of times over the next two years, and that feeling never went away. I found myself always comparing other colleges with Skidmore. The class discussions, the beautiful campus, the kind and welcoming people, the bubbly town down the street—all of it was perfect.
At one of my high school college workshops in the beginning of my senior year I heard about the advantages of applying Early Decision, and a light bulb went off in my head; it was a no-brainer. I am so incredibly happy I did. Not only did I find out that I was going to attend my dream school, but I also sidestepped the standard three to four months of stress and anguish that all my friends had to go through waiting to hear back from colleges.
Best parts of your college experience?
So far, it's the day I arrived on campus for pre-orientation in August. Though I'd visited Skidmore before, this time I was arriving at my school, not my older sister's. It was an indescribable feeling. I felt like I was home.
Most surprising moments?
I've been pleasantly surprised by how natural it feels to be in a college environment. After an entire educational life of being in school from 8 a.m. to 3 p.m., five days a week, with seven back-to-back classes, I thought it would feel foreign to have only four classes all spread out. Not to mention living in a place so far away from family, home, and familiarity. I haven't really had a moment where I've had to step back and think, "Whoa, I'm actually in college," which is how I thought I would be feeling 24/7 in the adjustment period after moving in.
Advice on applying ED?
Visit the school! You can do all of the research in the world and imagine that a college is the perfect one for you, then visit the campus and be completely disappointed because it just doesn't feel quite right. I think it is important to be confident in your decision because it's a commitment to the next four years of your life, some say arguably the best ones. Speaking for myself, applying Early Decision was one of the best decisions I've made, but I think that is likely because I was positive that I wanted to be here.
Something most people don't know about you?
I was born in Paris, France, and I am half Persian, one-fourth Chinese, and one-fourth European.
Post-Skidmore plans or dreams?
I really enjoy listening to people's stories and offering the best advice I can, so I see myself working in the field of counseling, whether on a school campus or as a private therapist.