Q&A with Zoe Resnick '18
'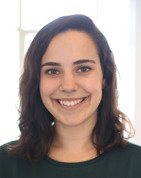 Princeton, N.J.
Princeton High School
Major: American studies
Minors: Spanish, media and film studies
Why did you decide to transfer to Skidmore?
Coming from another small liberal arts school, I was looking for a place where I didn't feel isolated. I mostly applied to bigger city schools, with just one small liberal arts school—Skidmore. After going on a second tour and contacting current students, I felt like it was the perfect match: a small-campus feel and a fun town just 10 minutes away. I was drawn to the student body and its passion and determination in academics and cocurricular life. And the social life seemed fun, too. It turned out that my instincts were right! It was exactly what I wanted in a school.
What does Skidmore offer you that your previous college did not?
With the wide variety of clubs, I was able by my second week to meet people and feel a part of the community. And because Skidmore doesn't have Greek life, more students participate in clubs and other activities; the social scene is determined by your involvement on campus, which makes for a happy and passionate community. Saratoga Springs also offers a great escape. I love being able to take a bus to town and do my homework at local coffee shops, go out to dinner, or shop with friends. In no way do I feel isolated. I can hike, go to Target, walk around town, and so much more!
What advice do you have for others considering transferring to Skidmore?
One of the most important factors in my decision process was talking to current students. It is a great way to get a feel for the campus and community. It's also important to go on a tour and visit the school. When you visit Skidmore, you get a great idea of the environment and the feel of the campus community.
Are you glad you transferred?
Transferring was the best decision I've made thus far. It is worth taking a second chance in order to enjoy college. College is such an important and exciting time in your life, and it's amazing to be at a place where I know I'll grow and thrive.
What's the best part of Skidmore so far?
I love meeting so many different kinds of people every day. It's a very welcoming and accepting environment where people are friendly and excited to get to know you. It's a special place, and Skidmore has challenged me and encouraged me to try new things and make the most of my college career.
What are your future hopes/plans?
Being an American studies major with minors in media and film studies and in Spanish, I hope to explore the media industry, marketing in particular, after I graduate. An internship at A+E Networks helped me in understanding my interests within the industry, and I'm excited to keep taking amazing courses and to grow as a student!