Campus Visits and COVID-19
Skidmore College is closely monitoring the COVID-19 outbreak. We have temporarily suspended all admissions campus visit events, including interviews, information sessions, campus tours, and open house programs. We appreciate your understanding in these difficult circumstances and encourage you to take advantage of the many informational resources available on the Skidmore website.
Scheduling a Visit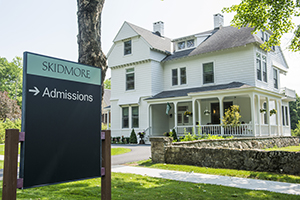 Admissions is located in Eissner Admissions Center on North Broadway, just past the Skidmore main entrance, on the right.
Hours:
Monday: 8:30 a.m.–4:30 p.m.
Tuesday: 8:30 a.m.–4:30 p.m.
Wednesday: 8:30 a.m.–4:30 p.m.
Thursday: 8:30 a.m.–4:30 p.m.
Friday: 8:30 a.m.–4:30 p.m.
Saturday: 8:30 a.m.-12:00 p.m.
Sunday: Closed.
Directions: If using Google Maps navigation, enter Skidmore College Admissions in the search bar.
Campus visits: Book online in advance for a regular visit and consider one of our upcoming open houses:
Interviews & info sessions: All interviews and group information sessions require an appointment. Our schedule is subject to change. Please make a reservation at the link below:
See campus map in new tab