Project on Restorative Justice at Skidmore College
The Project on Restorative Justice at Skidmore College conducts research, teaching, training, and technical assistance for restorative justice projects in higher education as well as K-12 schools, communities, and the criminal justice system.
---
Restorative justice focuses on the harm caused by misconduct,or crime, enabling those affected to identify responses that best meet their needs.
The Project on RJ provides…
Facilitator trainings on restorative practices
Educational resources and presentations on best practices in restorative justice
Consultation and facilitation to institutions seeking a restorative response to harmful incidents
Networking groups/learning communities
Research on innovative practice and evaluation of restorative programs
Events
TRAINING
Campus Restorative Justice Across Student Affairs
June 26-28, 2019
ACPA in Washington D.C.
TRAINING
Campus Restorative Justice Across Student Affairs for Catholic Campuses
July 29-31, 2019
Loyola University Maryland
PRE-CONFERENCE WORKSHOP
Campus Restorative Justice
July 16, 2019
Association of Student Affairs for Catholic Colleges and Universities
University of Dayton
TRAINING
Campus Restorative Justice Across Student Affairs
October 16-18, 2019
University of San Diego
Information & Registration Coming Soon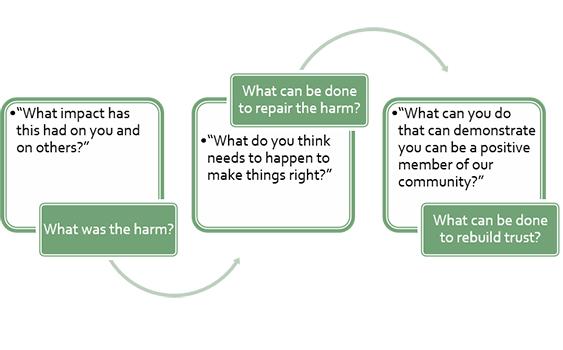 Facebook
Order our RJ Question Cards
$10 plus shipping for 100 cards
Send request to rjproject@skidmore.edu

---
Networking: Sign up for one of our Google Groups
Campus RJ (General interest in RJ in higher education)
Campus PRISM (RJ and Title IX)
RJ and Bias
RJNCC (RJ Network of Catholic Campuses)
Rx for RJ (RJ for Education in Health Professions)
Capital Region K-12 (RJ for schools in the New York Capital Region)