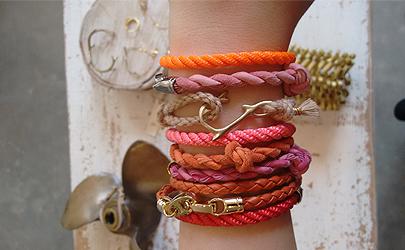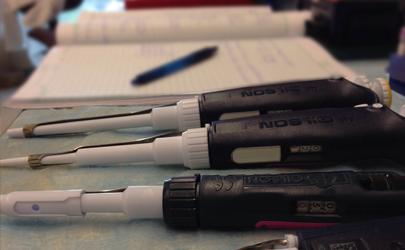 Skidmore Summer Funded Internship Awards Presentations 2016
Arts Administration/Arts/Education
Anika Hunter '19
double major: dance and Spanish
ArtLab J, Detroit, Michigan

Through my arts administration internship, I learned marketing, social media, and event planning skills at a local dance company in Detroit.
Catherine Headrick '17
major: art; minor: business
Sailormade, LLC. & Regan Communications, Boston, Massachusetts

At Sailormade, I worked as an accessory-design intern and assisted with the day-to-day activities in a small accessory company. At Regan, I worked as a PR intern and assisted with press releases and media lists for clients such as Simon Malls and New Balance.

Highlight: Working on something different every day. As Sailormade is a small company, I was able to help and learn about a variety of functions of a small retail business.

Takeaway: I learned that to do this job—to be an entrepreneur—you have to know a little bit about everything, and everything means all business functions: product design and research, marketing, distribution, and more.

Jamie Scherzer '17
major: studio art; minor: business
Melle Finelli Studios and the Institute of Contemporary Art, Boston, Massachusetts

I worked as an apprentice in the studio of South End artist Melle Finelli and also learned a lot about the business aspect of owning a small business. At the ICA I worked as an intern in the education department and helped plan and run programs to connect local children with art.

Highlight: Getting a glimpse into my future after college, realizing that I can function as a proper human being in the real world and see that life is full of fun new adventures after college.

Advice: Apply really anywhere that there is an opening; even if you think you are a long shot, be persistent and get used to rejection.

Josephine Wong '18
major: studio art; minor: education
Mok's Oil Painting School, Hong Kong

I learned about the diverse roles required to run an arts business. I designed leaflets and posters, organized portfolios and class schedules, ensured events ran smoothly, filed payments, prepared art materials, and so much more.

Highlight: Being pushed to complete tasks I didn't know I was capable of, which gave me confidence in my artistic abilities.

Takeaway: By working at a small arts school, I was able to take on multiple roles, which might not be the case had I interned at a larger company. I've gained practical knowledge of the business world and cultivated my design skills through practical applications, all of which can be translated to future work opportunities.

Advice: Don't be afraid to contact anyone you have an interest in learning from. Most people are flattered by the inquiry and impressed that you're proactive.

Madeleine Welsch '17
major: studio art
(concentration in communication design and drawing)
Artist in residence, Cultural Center at Eagle Hill (summer S.T.A.R. artist in residence), Hardwick, Massachusetts

At this stage in my career as an emerging illustrator, a residency was the perfect way to connect techniques and practices I've developed at Skidmore to the professional world.

Takeaway: As a S.T.A.R. collaborating artist, I learned how to create self-initiated work, how to run a personal studio, how to interact with students, and how to create engaging lesson plans. Not only was I able to completely focus on my studio, but I was able to purchase high-quality materials needed to create the level of work I want to be making.

Advice: This summer was engaging and transformational, and I highly recommend a residency to any art major looking to develop their own body of work before their senior year.

Olivia Skowronski '18
double major: psychology/education
EHS, East Harlem, NYC

I worked with kids from low economic backgrounds and taught them humanities, media studies, sports, and arts and crafts.

Sanjana Gothi '17
double major: studio art/art history
Philadelphia Museum of Art, Philadelphia, Pennsylvania

Takeaway: I've learned a lot about realities post-graduation from many formers interns of the museum and also current employees. As art history is not a field expected to pay well, most museum workers are fueled by their passion, and it becomes a space where like-minded people create together. The extreme (and terrifying) scarcity of jobs means that people who've been lucky enough to get jobs are determined to stay and work to merit their positions.

The PMA is the most friendly institution I have ever been welcomed into—they extensively conduct surveys on the level of employee satisfaction, actively determine to raise these levels, and address even the minor issues. They believe that it would be hypocritical to pose as a welcoming (rather than elitist) space for visitors if it is not a welcoming space for employees.

I'd say that the things I've learned are more specific to the PMA and the museum field—but most of all I've come away with a sense of belonging—and of working at an institution where my talents and passion converge.

The internship helped me realize exactly what I want to do career-wise.

Environmental Studies/Science
Chris Malvicini '17
double major: biology and environmental studies
Marine Science Institute; Bolinao, Pangasinan, Philippines

I conducted and designed individual research with field, laboratory, analysis, and writing components. I worked with graduate students, professors, and staff on a community coral and clam restocking and transfer project.

As soon as I arrived at the Marine Science Institute (MSI) I dove straight into research in Dr. Patrick Cabaitan's lab on giant clam disease and the clam's interactions with territorial farmer fish species. Half of a typical week for me was spent SCUBA-diving or free-diving off the coast of Salaki Island, where the university's Bolinao Marine Laboratory houses more than 30,000 giant clams (largest nursery in the world). The other half of my week was spent brainstorming methods and producing hypotheses with other researchers, as well as processing our preliminary findings. Additionally, I assisted in conducting community trainings in giant clam restocking and sexual propagation of corals.

Highlight: I dove about four times a week in one of the most biodiverse bodies of water in the world. In addition to my research project, I learned about and assisted other graduate students in the field and lab.

Surprise: I was not expecting the work to require speaking at least 75 percent Tagalog on a daily basis, so I am doing my best to brush up on my Tagalog.

Takeaway: Though most days it was exhausting, I learned a great deal about field research and developed questions and hypotheses as a researcher in the developing world. I learned to maintain flexibility and adapt my plan while in the field. Finally, I learned to be a better cross-cultural learner and leader in field techniques and in providing instruction to lab assistants and boatmen in the field.

Isabel Blumenthal '19
double major: environmental studies and Spanish
Dickinson College Farm, Boiling Springs, Pennsylvania

I learned an extraordinary amount about farming. The foods we eat are so deeply rooted in natural processes helped by hard-working human hands. From the compost, to the irrigation system, to the biodiesel gas, and more, I have realized just how possible it is for humans to coexist and cooperate with the environment. There are ways to both better our lives and better the environment in which we live.

Highlight: Strengthening my personal connection to the land on which I walk and the food of which I eat. From digging the hole, to planting the seed, to watering and weeding the plant, and finally to harvesting the crop, I witnessed entire life cycles occur within nature. I am now so appreciative of what our land has to offer and how important it is that we treat the land with stewardship.

Takeaway: My future most definitely will pertain to sustainable practices, and I hope it will be on a global scale. Being a double major in environmental studies and Spanish, and a minor in international affairs, I plan to implement sustainable mindsets around the globe, from the farms to foreign policy.

Advice: Take advantage of the opportunities given to you! Experience the beautiful world in which we live!

Jack Curry '18
major: environmental studies
Newfoundland, Labrador, and Quebec, Canada

This fantastic six-week internship allowed me to be immersed in a beautiful country with incredible people and wildlife. During this time, I engaged in government research on endangered bird species, educated youth on various environmental topics, and helped to clean local beaches and ecosystems.

Highlight: Doing shore-bird surveys off of the northern coast of Newfoundland and being in the middle of humpback whale feeding grounds. Fifteen or so massive whales were breaching and swimming below our boat, so close that you could feel the spray from their blowholes on your face. Another highlight was seeing the interest and concern young children showed in global warming during our educational workshops on the environment.

Takeaway: My internship in Canada provided me with invaluable fieldwork experience and a newfound love for wildlife and the environment. I now know that I would like to pursue a career in wildlife protection, and this experience has provided me with a solid foundation upon which to build.

Advice: I would recommend that if you are interested in an internship and do not meet certain qualifications, or feel that you might not get the position, apply regardless. I did not meet certain requirements for this internship but ended up getting it and had an incredible experience. If you are someone interested in a career focused on the environment, I would absolutely recommend interning with the Quebec-Labrador Foundation.

Olivia Golden '18
major: environmental studies/art
Worked at two urban gardens: Radix Ecological Sustainability Center in Albany, N.Y., and Roots and Wisdom in Schenectady, N.Y.

I was able to acquire more experience in motivating people, got a new perspective on food systems in the U.S., and learned about various sustainable agriculture practices.

Patricia McGuire '17
double major: environmental studies and economics
Quebec-Labrador Foundation, Montreal, Quebec, Canada

I worked to write and edit articles for QLFs website, as well as develop documents for the organization's upcoming international conference. I learned valuable communications skills and gained insight into the workings of an environmental NGO.

Rafaela Iturralde '18
major: environmental studies/international affairs
Fundar Galapagos; Puerto Ayora, Galapagos, Ecuador

My internship in the Galapagos Islands was an eye-opening experience to the reality of a place that everyone thinks to be one of the best-preserved enclaves in the world. I worked on alternative agricultural practices while conducting parallel, independent sustainable development research.

Sciences/Public Health/Psychology
Deborah Kim '18
major: chemistry
Wildlife Rehabilitation Center of Minnesota, Minneapolis, Minnesota

My internship at the Wildlife Rehabilitation Center of Minnesota was definitely an eye-opening experience in which I worked hands-on with wildlife patients. It was a valuable time for me to learn the skills needed to handle and treat more than 100 different species, as well as explore different professions in working with animals.

Highlight: Releasing our patients back into the wild. It was such a rewarding experience to see my hard work and long hours come together directly to save an animal's life. I specifically remember a juvenile American robin that came with a broken wing and a broken leg. Because I admitted him into our nursery, I was the first intern to give him his medication and fluids. I remember thinking he wasn't going to make it because he appeared to be so weak, but within days he made significant improvement when he began to recover. Within weeks, I moved him into a bigger cage with other robins and I couldn't even tell he was the patient I had admitted a couple week prior. When I finally released this robin and saw him flying away, I felt like all of my efforts were worth it.

Takeaway: This summer internship experience has made me determined to pursue a career that works to bring any kind of positive change or one that is just as fulfilling and rewarding when helping those in need. I've integrated this aspect into my future as a Chemistry major, because I am now much more interested in exploring applicative research that solves real-world problems.

Advice: If you're not sure about going into a certain professional field or would like to gain direct insight into this profession or experience, a summer experience is one of the best ways to advance your thinking. You're given the opportunity to really foster and build your interpersonal communication skills when working with other people on your team, which is a really important skill for a student to have. Whether you enjoyed the internship or not, the opportunity itself is one of the best learning experiences you can have, especially since you will learn at least one important thing about yourself or what you want to pursue in the future. Start looking for internships early and don't be afraid to try out something new, whether it's a new experience or a new place. Your internship is what you make of it, so make it count!

Dikyi Wangmo '18
double major: exercise science and public health; minor: mathematics
International Rescue Committee (IRC), NYC

I served as a peer mentor in a program called the Refugee Summer Youth Academy. I had the opportunity to contribute to this vulnerable community of newly arrived refugees, immigrants, war victims, and asylum seekers ranging in age from 5 to 50. I witnessed my students demonstrate courage and passion for learning a new language, while also adapting to American culture and customs.

Highlights: Getting to witness firsthand the passion and courage of many students who value risk-taking and autonomy over perfectionism. The students had a great desire to adapt to American culture, learning a new language, and making diverse friends with a nonjudgmental mindset (many of the students have been in the United States for less than one year). The gratitude and empathy between staff members and students was powerful. In addition, there were many bold and humble students who became the backbones for their peers and family members, whether through social or emotional support. It was mesmerizing.

Takeways: My experience with the International Rescue Committee taught me never to take education, health care, or people for granted. The importance of making sure a person's basic rights and privileges are not stripped away due to social, economic, or racial/ethnic status. In addition, the experience has been an a wakeup call for me to make a difference to help people get their basic human rights: access to health care, education, government food stamps, and safer/healthier neighborhoods to live.

Advice: Always be an open-minded and generous person since we are all a unique human beings with different life experiences. In addition, keep networking and take chances on opportunities. Last but not the least, as a human begins, share and cultivate your experience with the bigger community.

Julia Howe '18
major: Neuroscience
Planting Hope, San Ramón, Matagalpa, Nicaragua; San Luis, Monteverde, Costa Rica; and Playa Junquillal, Guanacaste, Costa Rica

In Nicaragua I worked with young students at a summer camp teaching science and fun science experiments, since most of the kids had no exposure to science. At La Belle Tica in Monteverde, Costa Rica, I volunteered on a family-owned organic coffee farm helping to de-shell, sort, roast, and bag harvested beans. With Verdiazul in Playa Junquillal, Costa Rica, I helped with turtle conservation. We did beach cleanups, planted trees, maintained and protected a hatchery, and released hatched baby turtles into the sea.

Highlight: Working with the turtle conservation organization Verdiazul. It was really amazing to be able to see immediately the positive affect of helping to get baby turtles into the ocean, along with planting trees and cleaning up the beach. Working to make their habitat healthier felt important to me. I also learned a lot.

Takeaway: I'm still not sure what my future career will look like or what I want to do after Skidmore, but this experience opened my eyes to some of the possibilities out there and left me intrigued about maybe getting into something related to environmental conservation.

Advice: It's important to do something that gets you out of your comfort zone and to do something you've never really thought of doing before, just to see what you like and what you're good at. It's important to stretch yourself and get out of the same old routine.

Meaghan Wood '17
major: exercise science/dance; minor: chemistry
Pre-health intern, Adirondack Foot Clinic, Malone, N.Y.

I was awarded a summer funded internship to be a pre-health intern with Adirondack Foot Clinic, a private podiatric practice founded by Dr. Paul Tran in Malone, N.Y. He created this position for me to further allow me to experience the field of podiatric medicine. I gained valuable experience in patient-care interaction, experienced mixing anesthetics, assisted in creating custom orthotics, and further understood the work of maintaining a private practice. The most valuable aspect of this experience was the mentorship that Dr. Tran was able to offer me in terms of the next steps of my education and career.

Takeaway: The town of Malone, N.Y., is located far upstate and is a rural and economically disadvantaged area. Before this internship opportunity, I was not aware of the great demand for podiatric doctors in rural areas. This internship helped me to gain valuable advice and guidance from Dr. Tran, which will help me as I apply to podiatric medical schools and consider where I may need to live to help populations that need podiatric medical treatment (such as rural areas with large geriatric an Type 2 diabetes populations).

Advice: Be less afraid of financial limitations holding you back from seeking exposure that will cultivate interest in your future. Personally, I have had limited time to gain exposure in unpaid pre-med opportunities such as shadowing, due to holding multiple jobs each summer and helping on my parents' dairy farm. You should think creatively to find ways to develop your passions and future interests, while ensuring that money can be earned during summers if that is necessary.

Additionally, future students looking for a summer-funded internship opportunity must make connections as early as possible. I was able to shadow Dr. Tran in the past during winter breaks. Since I had already built a relationship with Dr. Tran, he was eager to create this internship experience. He was also more inclined to grant me this position because I hold a certified Emergency Medical Technician license, which confirms that I understand HIPPA and have had prior experience with patient care.

Paul Deutchman '17
major: psychology; minor: anthropology
Yale University, New Haven, Connecticut

At Yale I worked as a social psychology research assistant for a grad student in the Automaticity in Cognition, Motivation, and Evaluation lab. I helped in all parts of the research process, including literature reviews and study design, recruiting and running participants, cleaning and analyzing data, and writing up results for publication.

Highlight: Gaining valuable experience in all aspects of psychology research, from study design and data collection to data analysis and writing up results for publication. My experiences made me a more confident problem-solver and researcher.

Takeaway: My internship was hugely beneficial experience for my senior thesis and in the future, for graduate school. The experience not only thoroughly prepared me for graduate school in psychology but it has made me a considerably more competitive applicant.

Advice: Research internships are hard to get. I didn't get one the first time I tried. Students interested in research internships should stay persistent. Also because most of these internships are unpaid, the Career Development Center is a great resource to be able to find ways to fund your research internship. I wouldn't have been able to afford my internship without the Skidmore Summer Funded Internship Award.

Rebecca Lipstein '17
double major: psychology/pre-health
Edelblum Lab, Rutgers University, Newark, N.J.

I studied Crohn's Disease at the Edelblum Lab at Rutgers University.

Shivam Goyal '17
major: physics/mathematics
University of Wisconsin at Milwaukee

I studied the effect of jet feedback in a turbulent star formation and how it effects the star formation rate.

Taimur Khan '17
major/minor: geoscience/physics
Martin Luther University, Halle (Saale), Germany

This internship involved three different projects in geomorphology and geophysics. A third of my time was spent in the field gathering data in the Bavarian and Austrian Alps. The data was brought back to a lab and further analyzed to be included in formal studies.

Highlight: Getting the (much-needed) experience as a professional scientist. I was able to use what knowledge I have accumulated so far and apply it in real-life situations, which really gave me a new perspective on things.

Takeaway: I was offered the opportunity to go back to work with my colleagues again next summer, and I also made contacts that lead to graduate school programs in my field. Whether I return to Germany or not after graduation, I can certainly say that this experience opened new doors for me.

Advice: We live in a world that is getting increasingly smaller. Don't miss out on the chance to make full use of this privilege. Keep an open mind moving forward and pursue your interests regardless of what they are. You would be surprised by the things people with similar interests are doing out there. So much to learn.

Wallis Slater '18
major: psychology
CHEST: Center for HIV Educational Studies and Training, NYC

At CHEST, my main tasks were to transcribe and code qualitative interviews for topics of interest so that they could be analyzed by researchers. I also wrote a literature review on the role of generativity in the lives of gay men.

Business/Economics
Eli Roehlkepartain '18
major: economics
Search Institute, Minneapolis, Minnesota

I worked with Search Institute's sales and improvement science team to help out with analyzing and assessing the organization's publications sales, as well as working among various departments to help with interdepartmental communication.

Noelle Foden-Vencil '18
double major: biology/studio art
ReelDx, Portland, Oregon

I got to engage in a paid job that was relevant to my future career goals and I got to experience the marketing and business aspects of working with a company. It was a valuable learning experience.

Highlight: The relevance of the experience to my future career goals and the networking contacts that I was able to make through the experience.

Takeaway: This experience has allowed me to gain a clearer understanding of what careers are available to me as someone entering the medical field. Additionally, I have gained valuable contacts and mentors because of the experience.

Advice: Apply for everything, even if you're not sure if your internship applies to the award. If whoever is providing the award doesn't think that your internship is relevant, then they won't give it to you—but let them decide that.

Sunny (Thuy Duong) Tran Thi '18
majors: business/studio art
Resonance Companies (NYC)/Norisol Ferrari, NYC

I was digital marketing intern at Tucker, a fashion startup, as well as a graphic design intern at Norisol Ferrari, a well-established, high-end clothing brand located in New York City.

In term of practical work experience, I learned a lot from the employees. For example, the director of marketing was willing to spend one-on-one time to get me up to speed, help me to understand certain concepts, and explain to me how a social media platform works. She introduced me to Bitly, a link-management platform used in social networking and email. As an intern, this does wonders for my skills, confidence, and productivity. At the beginning, I felt like I was being thrown into the fire just as if I was a newly hired full-time employee. I worked on projects that directly impacted the brand and consumers.

Highlight: I had the opportunity to interact with the people in charge of running the company at the highest level on pretty frequent basis. I was able to ask the CEO and cofounders questions and get an idea of the types of decisions they are making about the direction of the company. This was an invaluable experience.

Takeaway: One of the challenges for startups like Tucker is that brand identity is soft and not fully formed. Without a lot of revenue and with limited capital, social media marketing was a major resource. Social media marketing is often described as an independent marketing strategy. However, social media marketing performs best in conjunction with interrelated strategies like content marketing, SEO, influencer marketing, and personal branding. The director of marketing reminded us of the need to measure and evaluate social media results—likes, comments, responses, and shares, for example.

International Affairs/Development
Blair Warren '17
double major: psychology and art history
GoEco's Women's Empowerment Program in Kathmandu, Nepal, and IVHQ Intern at KIND (Khmer Institute for National Development) in Phnom Penh, Cambodia

I worked in Kathmandu, Nepal, for three weeks through GoEco's Women's Empowerment program teaching English to Nepali women and assisting at an orphanage intended as a children's disabled home. I also worked in Phnom Penh, Cambodia, for five weeks as an intern at an NGO called KIND (Khmer Institute for National Development), writing grant proposals for public health initiatives.

Highlight: My favorite part was getting to know so many incredible people, from the women I taught English to, to the other volunteers who made me feel so welcome.

Takeaway: Working at an NGO in Cambodia on healthcare and nutrition initiatives has deepened my passion for public health. I hope to continue working in this field when I graduate.

Advice: Do not hesitate! Go for it.

Claire Stetten '19
major: computer science; double minor: French and mathematics
International Volunteer HQ; Marrakech, Morocco

My experience teaching French and English to young adults and children in Morocco furthered my French and communication skills. I learned as much from my students, who enjoyed teaching me Derija (Moroccan Arabic), as they did from me.

Highlight: Being a strong female role model for the kids I worked with and inspiring them to continue learning when they weren't in school. Their voluntary choice to come to summer school taught me about strength, ambition, and drive.

Takeaway: In Morocco, I used and furthered my French, something I'd like to continue post-undergrad. In addition to utilizing my French, I would like to become a grade school teacher later in life.

Advice: Don't use a third party to organize your internship/volunteer opportunity abroad; research NGO/philanthropic organizations wherever you would like to go, and contact them directly.

Cinthia Duran '19
intended majors: international affairs/dance
Corporación Pro-Ideas Quito and Machala, Ecuador

I interned with an Ecuadorian NGO that works in the field of sustainable development and social justice, particularly focused on the agricultural sector. I participated in field research on the living wage for banana workers in El Oro, the most prominent region for banana production in Ecuador. This experience empowered me to acquire the tools to be able to be an advocate for the rights of banana workers and an agent of change in my country.

Highlight: Participating in a field research in Pasaje, a small city on the coast of Ecuador, measuring the living wage for banana workers. With the purpose of having a grasp of the living standard that they can afford with the prevailing wages of this sector, we conducted a series of interviews and focus groups with workers, visited their homes, and carried out price surveys at the venues where they shop for food. The information we gathered allowed us to calculate the real cost of a decent living standard and put it in contrast with the actual wages banana workers are receiving, which is far below a living wage.

Takeaway: This experience made me aware of the political and economic structures that perpetuate income inequality in the banana sector and empowered me to acquire the tools needed in order to be an advocate for social justice and labor rights. This experience also motivated me to apply for a three-week course in Mexico City called "Empoderando a Latinoamerica" (Empowering Latin America), which is targeted at young Latin Americans who are motivated to assume an active role in the enforcement of social justice in their countries. Luckily, my summer experience provided me with the tools and knowledge needed for this opportunity and I got accepted as a participant in the course, which starts next January.

Advice: Look for opportunities that give you a chance to apply the knowledge you've acquired in class that is most valuable to you. Try to identify the possible fields in which you see yourself most motivated to work and look for possible internship opportunities within them.

Kali Villarosa '18
major: international affairs, double minor: political science/IGR
Black AIDS Institute Intern, Durban, South Africa

Working for BAI, I was able to expand my knowledge on the continued epidemic of HIV/AIDS and how it intersects with many current issues and political movements. I traveled to Durban, South Africa, for the International HIV/AIDS Conference, where I worked as a journalist covering various panels, interviewing participants, researching, and comparing my experience as a millennial with the youth of other countries. I obtained skills in time management, organizing, and scheduling, but also gained both an international and local understanding of government, public health, and the varying experiences of populations in developed versus developing countries.

Highlight: Being able to travel to another country and immerse myself in a culture that was previously foreign to me. I expanded my knowledge around the HIV/AIDS epidemic and how it affects people both in and out of the U.S.

Takeaway: I was able to travel abroad for my internship and worked as a journalist in a fast-paced setting. I was able to better understand the functionality of nonprofits, but is the field in which I would like to work in the future. I know that I want to work on a global scale, so my internship gave me experience working outside of my comfort zone, as well as understanding and quickly adapting to the cultures and practices of different places.

Advice: It is important to step outside of your comfort zone. We live in a competitive world, but with opportunities like this you will stand out more if you work hard and really push yourself to think creatively about your work. Networking is also extremely important. Don't be afraid to ask questions and introduce yourself to people.