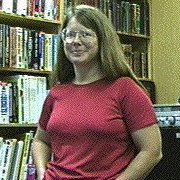 Judith A. Halstead
Professor of Chemistry
Office: Dana 221
Phone: 518-580-5126
Fax: 518-580-5139
Email: halstead@skidmore.edu
At Skidmore since 1987
Home page
Curriulum Vitae
Education
B.A. State University of New York, Binghamton, 1974
Ph.D. Rensselaer Polytechnic Institute, 1979

Research
Professor Halstead is the author or co-author of more than two dozen scientific and pedagogical articles in journals such as Environmental Monitoring and Assessment, Atmospheric Environment, Journal of Physical Chemistry, Journal of Chemical Education, Journal of the Electrochemical Society, Journal of Geoscience Education and Journal of the American Chemical Society. In addition, she is the author of two book chapters on the kinetics of reactions at a solid-gas interface and the co-author of a chapter on avian foraging behavior. Professor Halstead and her Skidmore College undergraduate collaborators study the impact of human development on the water chemistry of lakes and streams in Saratoga County and the Adirondack Park.
Courses Taught
CH 125 (lab)
CH 330/332 Physical Chemistry I (lecture and lab)
CH 331/333 Physical Chemistry II (lecture and lab)
Selected Publications (* indicates undergraduate co-authors)
Halstead, J. A.; Kliman, S.*; Berheide, C. W.; Chaucer, A. and Cock-Esteb, A.* "Urban stream syndrome in a small, lightly developed watershed: A statistical analysis of water chemistry parameters, land use patterns and natural sources", Environmental Monitoring and Assessment, 186(6), 3391-3414, 2014.
Halstead, J. A. "Teaching the Spin Selection Rule: An Inductive Approach" J. Chem. Educ., 90 (1), 70, 2013.
Halstead, J. A. "The Waters Gather: Comments on the Source of the Hudson", in Ian Berry and Tom Lewis ed., Lives of the Hudson, Prestel Publishing, 28-35, New York, 2010.
Frey, S. T., Moomaw, W. R., Halstead, J. A., Robinson, C. W.*, Marsella, K. A. Thomas, J. J. "Home Energy Conservation Exercise" Journal of Geoscience Education, V51, 521, 2003.
Ravert-Richter, M.; Halstead, J. A.; Savastano, K.* "Seed selection by foraging birds" in Exploring Animal Behavior in the Laboratory and Field, ed. B. Ploger and K. Yasukawa, Academic Press, San Diego, 239, 2003.
Halstead, J. A.; Edwards J.*; Soracco, R. J. and Armstrong, R. W. "Potential for Chlorate Interference in Ion Chromatographic Determination of Total Nitrogen in Natural Waters Following Alkaline Persulfate Digestion." Journal of Chromatography A 857, 337, 1999.
Affiliated Programs