What They Said
Excerpts from Commencement speeches

Linda G. Toohey
Chair of the Board of Trustees
On this day we celebrate and honor you: your achievements, your perseverance, your joy of learning, your intelligence, your zest for life and the things we know you will accomplish in the future.
Linda G. Toohey
When you first arrived at Skidmore, I'm sure many of you only had a vague vision of this day, but from that day to this day, we the Skidmore community have been observing your growth, your strength, your aptitude, your creativity and your swelling intelligence. In a very few moments we will be unbelievably proud to call you alumni.
You walk into a world that needs leadership, insight, intelligence. Through your energy and hard work and the education you've allowed yourself to achieve and absorb at Skidmore, we know you are prepared to take on the challenges that are presented to you the moment you leave the campus, for the rest of your life.
Today we honor your transition from student to alumni, and ask that as you continue on life's journey, you'll remember and recognize that some small portion of your success may have come from your interactions in the dorms, in challenging classes, and yes even evening's spent on Caroline Street. All of those experiences are part of your Skidmore education.
Philip A. Glotzbach
President
Philip A. Glotzbach
Before we send you out into the world wrapped in the hopes and dreams of your parents, other family members, and good friends, let me offer just one hope of my own for your future: I hope that, in your time at Skidmore, the comments of your professors, along with your own work in traversing our curriculum, have impressed upon you the power of language. If you were to take just one primary lesson from your liberal education this realization would be a very good one: Words have meaning, and it is simply not possible to overstate their importance in human affairs…
As you chart your paths toward the realization of your own dreams, pay attention to the words you choose to plant along the way – what you say to your friends, to those you love, to your colleagues at work, to total strangers. Words have meaning. Arguments have logical (or illogical) structure, and they depend upon factual claims that can be verified or refuted…
Winston Churchill once remarked that "we build our buildings, and then they build us." I am suggesting that even before our buildings, we construct great structures of words. Though we dwell in them, they can be as invisible to us as the air we breathe. Or we can choose to see them, to understand how profoundly they shape our lives, and take full responsibility for our own role in creating the greater human story.
Neil Shubin
Neil Shubin
Scientist, Author and PBS Host
Professor Shubin described a field expedition to Northern Arizona early in his graduate training in which he shadowed a seasoned veteran named Chuck, who was vastly more successful in finding fossils than he was.
Chuck described his methods, but for the life of me I could not understand him. And, to add insult to injury, he was picking up bones, sometimes with my own boot print. Then, one day I saw it—a brilliant piece of bone that sparkled in the desert light. It was a tooth and the way it glittered was different from every other rock I had seen to that point. As I looked around, I saw more teeth and more bone. Suddenly, I it was as if I was wearing a new pair of glasses; the entire desert floor opened up in front of me to reveal fossil bones everywhere…
What changed? My ability to see. I learned to find fossils by seeing the familiar world around me in a whole new way. And that is what much of education is about: learning to see the world to discover the treasures that lie hidden all around, whether they be artifacts, ideas, aesthetics, or friendships.
I hope that your time at Skidmore has opened up new ways of seeing for you. I hope it has cultivated your ability to see what is important to you, given you the tools to understand the hidden meaning of what you see, and before you get too comfortable, to reveal to you how much you must continually jostle and challenge your established ways of seeing.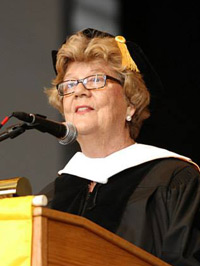 Janet Whitman
Janet Whitman '59
Former Chair of the Board of Trustees
Now here comes your grandmother's thoughts: You have been given an elite liberal arts education, prepared by a faculty who care about you. Remember to stay in touch with your mentors and thank them. They have given you the tools to confidently and creatively find solutions for the horrific challenges that face us all. Make them proud by working for transformative answers with passion and kindness.
Volunteer – say yes when asked to serve – whether it is to raise funds for your favorite non-profit or run for political office. Yes – that is volunteer work. Local governments desperately need talented, honest volunteers who will make the best decisions for their entire communities. Yes – Take your time and participate. It is the most satisfying privilege you can imagine and volunteer service is what makes the country great.
Life is not a straight line. Continue to explore, engage in life-long learning. Attack each challenge with a sense of purpose and a sense of humor. Because of technology, everything is faster today – so say yes quickly when opportunities arise. As Woody Allen said, 90 percent of life is showing up and may I add, for the other 10 percent, put a smile on your face. Of course, Skidmore taught you that creative thought matters. But, she also taught me that education matters, citizenship matters, country matters, service matters, family matters and trust matters. Speak proudly of your Skidmore education and give back! End of grandma's speech.
Xavier Hatten
Xavier Hatten
President of the Senior Class
As I look out at your beautiful shining faces, I see my own reflected back at me. We have collectively played a large part in shaping each other's learning experiences. Whether it's the skills you've displayed on the court, on the field, or in the pool (my best friend is a swimmer), your research and thesis work on hydraulic fracturing, producing and staring in your own web series, or being a fabulously talented seamstress, when you bring 700 plus brilliantly talented people together you are bound to learn a little something about a lot of things. Bigger doesn't always mean better but I think we can all agree that admissions got it right with the class of 2014. You, my dear friends, are teachers as well as students and together we are the liberal arts experience.
Like the dying man once said "it had to end sometime," and I can acknowledge that I am reaching the end of this speech and we are reaching the end of our Skidmore careers as students. Thank you class of 2014 for the past four years and thank you, most of all, for the memories.
Class of 2014 I wish you love: I wish that you love yourselves, I wish you love others, those who cross your path and those whom you will never meet, and lastly I wish that you continue to love learning. For the foundation of the liberal arts education is love. I charge you to continue to learn all you can, lean into discomfort, and challenge yourselves. Become stronger in your responsible citizenship and we can change the world for the better.
Peter McCarthy
Peter McCarthy
Lecturer and Field Coordinator in Social Work
We here at Skidmore are firm believers in creative thought…Creative thought is a wonderful place to begin the process, but unless we follow up our creative thoughts with creative engagement and action we will have missed a great opportunity.
In the Social Work Program we stress the goal of taking an idea from conception and seeing it through to implementation, putting theory into practice if you will. This is in direct support of one of Lucy Scribner's original missions of the college, 'words to action." …It is our actions that allow us to move forward.
One of the most difficult challenges we face is simultaneously one of our most profound learning opportunities: The Active Engagement of Difference. As you move forward on your journey I would encourage you to seek out difference and embrace it. Engage it. Make this a life-long mission. Engaging in difference is simply a willingness to listen, learn and explore someone else's thoughts and ideas. Our ability to listen will allow the discussions to continue and raise our own level of awareness.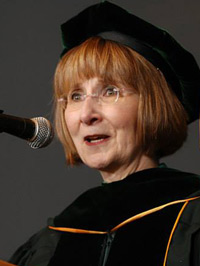 Gail Dudack
Gail Dudack
President of the Alumni Association
Our first Commencement tradition is to recognize alumni who are here today. So I would like to ask all Skidmore alumni to please stand and be recognized.
These are just a few of the more than 35,000 Skidmore alumni who have graduated before you. In just a few minutes, you will cross this stage and begin a new phase of your relationship with the College. You will become a member of the Skidmore College Alumni Association. What does this mean? It means the last four years were merely a first step in your Skidmore experience. The Alumni Association offers you a continuous path to new friendships, new experiences, and a way to get or give career and life help from fellow alumni. It is also an excellent way to have a really good time.
But being connected and being a Skidmore alum is not a spectator sport. As fellow alumni we hope you will give your time and resources, so Skidmore can continue to grow stronger every year. A strong and vibrant Skidmore network adds value to your degree and will assure that Skidmore will continue to attract the best and the brightest, just as it did you.