The College Wordmark on Publications
The Skidmore wordmark is a readily identifiable symbol that provides a common graphic element across a range of publication designs. This logo plays an important role in giving a sense of unity and coherence to the college's publications. The wordmark is designed to be used on posters, brochures, invitations, advertisements, and other printed materials.

The wordmark is frequently used in conjunction with Skidmore's positioning statement, "Creative Thought Matters," though adequate space must be used between the two so they do not appear as a combined logo (leave at least the proportionate height of the wordmark between the two graphic elements.)
DO
Set up your publications mailing panel with the wordmark and address in the order shown. In many cases, it is appropriate to add the college's CTM positioning statement to the mailing panel as shown.

Helpful Hint:

If you are developing a publication with a mailing label, check with the Skidmore Post Office to ensure that the publication and the label meet the requirements of the U.S. Postal Service.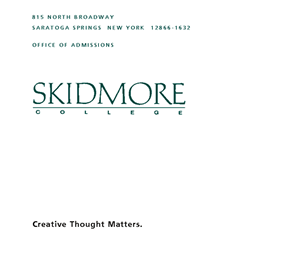 DO

Use the College wordmark and the CTM positioning statement in general advertising. When advertising employment opportunities, work with Human Resources to develop your ads according to the College template.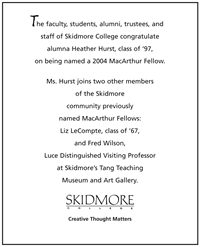 DO

Use the Skidmore wordmark as a general identifier on College publications.