Cool Projects from the Dance Department
Doubling (fall 2014) is a dance and music collaboration by composer David Lang, choreographer Debra Fernandez, and the music group So Percussion. The performance was inspired by the exhibition I Was a Double, which plays off the idea that composers invent rules for their music and performers then realize the work. Visual artists may work this way as well, creating rules that they must follow as they realize their artwork. The co-curators David Lang and Ian Berry asked the artists for a sentence describing their rule making. David Lang composed music for each artwork based on the artists' statements, making his score out of theirs. I Was a Double comes from one of the artist's statements, with the word "double" resonating on multiple levels: pair, duplicate, shadow, doppelganger; the musical term that indicates two instruments playing the same part together; the artists' double roles in inventing and realizing their own rules.
Keeping Company with Cage (2012), an evening length work choreographed and directed by Professor and Chair of Dance Debra J. Fernandez. KCWC was collaboration with former president of Skidmore and well-known contemporary pianist David Porter and with visual artist Margo Mensing. In celebration of John Cage's 100th birthday, nine Skidmore dancers and a guest artist from New York performed in the amazing new Arthur Zankel Music Center to a sold out audience. The performance was repeated as part of ArtsFest 2012, a citywide arts festival that takes place every June in Saratoga Springs.
Swan Lake (2011): Skidmore's dance and music departments collaborated for the first time on a performance that filled the stage and orchestra pit of the Helen Filene Ladd Concert Hall at the Arthur Zankel Music Center with the magic and romance of Tchaikovsky's Swan Lake. Staged and directed by Associate Professor of Dance Denise Warner Limoli, the performance included 30 student dancers and a professional dancer. The collaboration presented the second act of the famous ballet to music played by the Skidmore College Orchestra under the direction of Anthony Holland, associate professor of music.
Swan Song (2010), composed by Richard Danielpour and choreographed by Skidmore Chair of Dance, Debra J. Fernandez, uses the site-specific beauty of the Arthur Zankel Music Center surroundings to depict the pull between the world in front of us and the world just out of reach. Skidmore dancers performed alongside NYCB dancers Abi Stafford and Andrew Scordato as part of Saratoga Dances II, curated by NYCB choreographer Justin Peck.
"Curve Effect" (August 2017). Choreographers and professors Debra J. Fernandez and Jason Ohlberg were invited by The Hyde Collection to create a physical dialogue with their exhibition Ellsworth Kelly: Slow Curve, on view in their Charles R. Wood gallery during the summer of 2017. A new collaboration in two movements, Kelly's dynamic prints are reframed and explored through shifting kinetic viewpoints and distinct choreographic perspectives on the artist's iconic curvilinear work. Performed by Ohlberg, Christin Williams (faculty) and dance major Elise Mumford ('17) this project was made possible with support from The Hyde Collection and Skidmore College Arts Administration Program, Dance Department and Dean of the Faculty and is an example of Skidmore's commitment to the arts and to our community.
Ballets Russes (2013): Skidmore dancers and the Skidmore Orchestra perform three famous ballets from Diaghilev's Ballets Russes, staged by Denise Warner Limoli with Anthony Holland, Conductor. Website: http://new.livestream.com/accounts/2689920/events/1962648
Sleeping Beauty (2015): Skidmore dancers and the Skidmore Orchestra perform this famous ballet, staged by Denise Warner Limoli with Anthony Holland, conductor.
Skidmore Dancers Shine at the Joyce Theater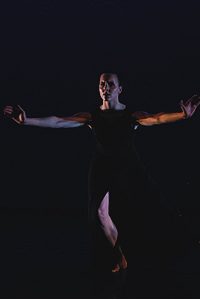 "Steps in the Street" (
Chronicle
, 1936),
Winter Dance Concert 2016
Choreography by Martha Graham
Courtesy of the Martha Graham Center
of Contemporary Dance, Inc.
Photograph: Elise Mumford '17
Photo Credit: Jonathan Stricker '17
We are pleased to announce that in 2016, we once again obtained licensing rights for our students to learn and perform Graham's iconic masterpiece, "Steps in the Street" (Chronicle, 1936) The work was staged for our dancers by Graham guest artist Susan Kikuchi, directed by Senior-Artist-in-Residence, Mary Harney, and presented in our Winter 2016 Dance Concert. We are delighted to announce our upcoming return to The Joyce Theater for another University Partners Showcase on Feb. 18th, 2017. In addition to our Skidmore students, dancers from six other national training programs will participate in the Showcase. These include the Graham Center's second company Graham 2, the University of Iowa, Rutgers University, the University of North Carolina Greensboro, Marymount Manhattan College and All-City Panorama.
In January of 2012, the Dance Department secured the rights to perform Martha Graham's classic work "Steps in the Street" ("Chronicle", 1936), in our spring 2012 concert. Under the directorship of Mary Harney, artist-in-residence, our students were invited to perform the work on Wednesday, March 14, 2012, at the Joyce Theater in NYC. Conceived by Janet Eilber, Artistic Director of the Martha Graham Dance Company, the "University Partners Showcase" was a collaborative performance in concordance with the "Inner Landscape" theme of the Graham Company's 86th New York season. The Skidmore ensemble shared the evening with dancers from the Hartt School (Connecticut), Interlochen Arts Academy (Michigan), New World School of the Arts (Florida), Point Park University (Pennsylvania), University of Arizona, and Graham's second company, Graham II (NYC). The dances on the program included six masterworks by Martha Graham seminal to her revolution in modern dance. It was a life-altering experience for the many fine young dancers involved, and Skidmore was both delighted and proud of what our students accomplished.

The Martha Graham Dance Company and Skidmore College have continued to build their relationship for more than four decades via short term residencies, summer programs, faculty and alumni connections.
Skidmore Dance Ensemble at Kaatsbaan International Dance Center
Sat. May 12, 2012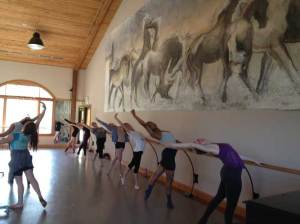 The Skidmore Dance Ensemble (including 25 students, six faculty, and two technical directors) traveled to Tivoli, N.Y., to present "Lineage," a program of classical and contemporary works, on Saturday, May 12, at the Kaatsbaan International Dance Center in Tivoli, N.Y. to an enthusiastic house. Click here for additional images.