Wellnes and Injury Management for Dancers
The Skidmore Dance Department provides access to specialized physical therapy services for matriculated students registered in dance courses. On site evaluation and care from a licensed physical therapist is available to students throughout the semester. Contact Sarah Avery for appointment
Email: sarahavery926@gmail.com
Telephone: 518-468-2017
Goodemote Physical Therapy
3 Maple Dell
Saratoga Springs, NY 12866
---
Dancer wellness screening
On Sunday September 13, 2015, the Skidmore Dance Department offered its first Dancer Wellness Screening, led by Sarah DiPasquale PT, DPT in collaboration with the Dancer Wellness Project and Sage Graduate School Physical Therapy Department. During this first annual event, 24 Skidmore dancers were tested for the strength, flexibility, balance, and aerobic capacity necessary to dance safely and efficiently. Teams of dancers and physical therapy students collected the measurements together to engage in an interdisciplinary learning process.

Following the screen, dancers were able to access their results using the Dancer Wellness Project. They also had a chance to meet individually with a licensed physical therapist to review their results create an individualized exercise plan based on their findings.

Visit the Dancer Wellness Project at www.dancerwellnessproject.com.

Visit the Sage Graduate School PT Department at www.sage.edu/academics/health-sciences/programs/dpt/.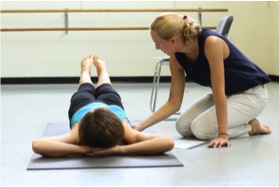 Photos by Stephanie Hon, Class of 2016